This was a tough trip to plan. We only had 8 days and that's very little time in such a diverse country. It's got a bit of everything – a desert, mountains, ocean, sea and a very rich and lively history. When most people think of Morocco, the first thing that comes to mind is the desert…and maybe some camels. But there is so much more! In between Marrakesh and Fes, is the Middle Atlas where woodlands, rivers, waterfalls and valleys show of Morocco's inland beauty. Snowy cedar forests, ski slopes and trout streams are not images normally associated with the country, yet all this beauty is just an hour away from Fez. Morocco is also home to plenty of waves, which makes it a great surfing destination….something we didn't know about Morocco!
So how does one pick? If we had 3 weeks we could do it all, but unfortunately, we did not. After doing some research, we decided to check out northern Morocco and take our time to enjoy each and every place. Also, Mike took a trip to Morocco last year and visited the desert and the south, so we decided to pick a different region.
Before I share our 8-day itinerary, here's a brief history on Morocco:
This northern African country has been ruled by different people including the Phonecians, Romans, French, Spanish, Jews, Arabs and Berbers. You can really see the influence in the language, food, architecture and clothing. Travelling from place to place in just the northern region made me feel like I was visiting different countries, so I can only imagine how striking the difference is if you have the chance to explore ALL of Morocco. The Berber people are considered the indigenous people and are the first inhabitants of North Africa. They ruled the region until it was conquered by the Phonecians, then the Roman Empire, the Byzantine Empire and so on. Many Berbers were forced to convert to Christianity, until the Arabs arrived in the 7th century, forcing them to convert to Islam and adopt the Arab culture. Idris I is credited as the founder of Morocco. Nowadays, most Berber people live in the South and Arabs in the North of Morocco. Fast forward to the 13th century, during the Christain Reconquest of Spain, many Muslims and Jews moved to Morocco, adding a Hispanic flavor to Moroccan life. In 1912, a treaty was signed (Treaty of Fez) dividing Morocco between the French and Spanish. Spain had most of northern Morocco and French had pretty much the rest of the country. It wasn't until 1956 that Morocco became fully independent. Phew! Quite the summery or what?
Getting there
Tip: Not sure if you need a visa for Morocco? Check Your Visa Requirements at iVisa.com Today! You can process a visa from a computer, smartphone or tablet. It's that easy! Travellers no longer need to research or get frustrated dealing with different Governments. Travel agents, Destination Management Companies and Corporates can use iVisa.com to process any travel visa. We provide the best solution in the market.
We flew direct from Montreal to Casablanca with Royal Air Maroc. The flight was 6.5 hours ( on the way back it's 7.5 hours) and cost $750. We had to buy a separate flight from Toronto to Montreal as there are no direct flights from Toronto. When we landed in Casablanca we decided to take a train directly to Fes. You can access the train directly from the airport which is very convenient. Just look for the train signs – there is no need to exit the airport.
When we arrived at the counter, we bought 2 second class tickets to Fes. The train from the airport took us to the main train station, Casa Voyageurs which is 4 stop from the airport. There we had to switch to a different platform going to Fes. We only had to purchase the ticket once, at the airport train station.
***Tip: The 1st class ticket is double in price but there isn't much of a difference between the two. There might be a bit more people in the 2nd class section, but the first class is NOT more luxurious.
Fes
The train ride from Casablanca to Fes was 4 hours. It was a scenic ride. This is where I first noticed all the olive groves – they are everywhere! Even when we arrived at Fes and exited the station, the first thing we saw was an olive tree – ready for harvest! So, I ate a few (duh!) and we grabbed a taxi to our hotel, Riad Anata.
There's a lot of dar's and riad's in Morocco and people often wonder what they are. A riad is a traditional Moroccan house with a courtyard and a garden at the centre. In fact, 'ryad' in Arabic means garden. In most cases, the large windows face the garden, instead of outside, for more privacy. A dar is similar but without a garden. Riad Anata is beautiful and pretty small compared to some other riads, but it's very central and the service was excellent.
A lot of people tend to miss Fes, which is a shame because it ended up being our favourite city. It's recognized as Morocco's intellectual and spiritual centre, home to one of the oldest universities in the world as well at the largest intact medieval quarters. Fes is one of Morocco's most authentic cities with outstanding history and culture and rivals Marrakesh as a top destination for all kinds of events and festivals. Mike actually visited Marrakesh last year, but since it wasn't his favourite, we skipped it. Since we were short on time, Fes was our priority.
What to see and do
Go To a Hamam
Similar to a Turkish bath, a hamam is a public bathhouse. Once upon a time, people didn't have bathrooms in their homes (can you imagine?), so a space was created where people can go to take baths, especially with hot water! In these bathhouses there is usually a steam room and cleansing black soap. The most traditional hamams are found pretty much everyone and they tend to be cheap, but if it's your first time and you're a bit shy, you might want try something a little more private. We booked something a little more luxurious and private at Spa Laroussa. Someone from the spa was suppose to pick us up at our hotel at 3:30, so we made sure to be there on time.When we arrived at the hotel, it turns out that we were an hour late because the time went forward the night before. We had no idea! They had no more availability so we couldn't re-book. We were pretty disappointed as we were told Spa Larrousa is one of the best in Fes! If you REALLY want to splurge, like $800/night room kind of splurge, go to Riad Fes! They have quite the spa, so we were told.
(We visited a Hamam in Chefchaouen and Asilah. You can read about it more below)
Chaoura Tannery
This is the largest tannery in Fes and the place where all the leather gets treated and dyed. It's worth a visit especially because it's been operating since the 11th century. That's a really long time! From the rooftops, you can see the workers dipping the leather into different stones, some which are filled with either dye or other liquids (cow urine, pigeon feces, salt, water, quicklime) to soften the leather. Hides of goat, sheep, cow and camel are processed here and then shipped around the world. The entire leather production process comprises manual labour only and involves no modern machinery, unchanged since medieval times.
***Tip: Even though it might be tempting, don't buy any leather goods here. The prices are double what you find in the market and not necessarily any better. It all comes from the same place.
Fes Medina
I think the medina was my favourite thing to explore. It's so easy (and fun) to get lost in the city's labyrinthine alleyways. People are selling something on every corner - bags, clothes, food, metalwork, ceramics and even camel heads. Crazy, I know.
University of Al-Karaouine
Unless you are Muslim, you can't go inside so there is not much to see other than the doors. Either way it's kind of cool to see since it is one of the oldest universities in the world.
Jewish Mellah
This is the Jewish quarter. Once upon a time there were many Jews in Morocco, but with the establishment of the state of Israel in 1948, most people left. There are only about 3,000 Jews left in Morocco, 150 of which still live in Fes.
Madrasa Bou Inania
This is an educational centre and one of the few religious places in Morocco accessible to non-Islamic visitors. It's also known for it's incredible Marinid dynasty (13-15th century) architecture. There is a small fee to enter.
Dar el-Makhzen
This is the Royal Palace of Fes. The architecture and gardens are meant to be impressive. Unfortunately, it's not opened to public so you can only see the gates. This is where the King of Morocco stays when he is in Fes. We never got a chance to go because it was pouring rain. Where was the desert sun when we needed it?
Where to Eat
***Tip: Most restaurants will serve fresh bread and olives on the house, so don't order a ton of food unless you don't plan on eating the bread and olives (why would you EVER do that?)
Cinema Café
This is a restaurant chain located in a few cities. The food is great and the portions are large, so this is good news for you hungry beasts! 😊 Their coffee is good too.
Café Clock
This is a casual café/restaurant in the medina and it's very popular with tourist but also locals. The food is consistently good. We ate here a few times.
Made in M
Cute little spot right in the middle of the medina. Nice coffee and good Moroccan pastries.
Barcelona café
A cool spot with awesome atmosphere. Stop by here for a drink in the evening!
***TIP: If you have more time in the area…..visit Meknes, Idris Moulay and Volubilis which are near all near Fes.

Chefchaouen
We arranged a private taxi to take us from Fes to Chefchaouen. There are much cheaper ways to get there, such as taking the train, but…..honeymoon. The drive was around 3.5 hours and cost us 1,800dh.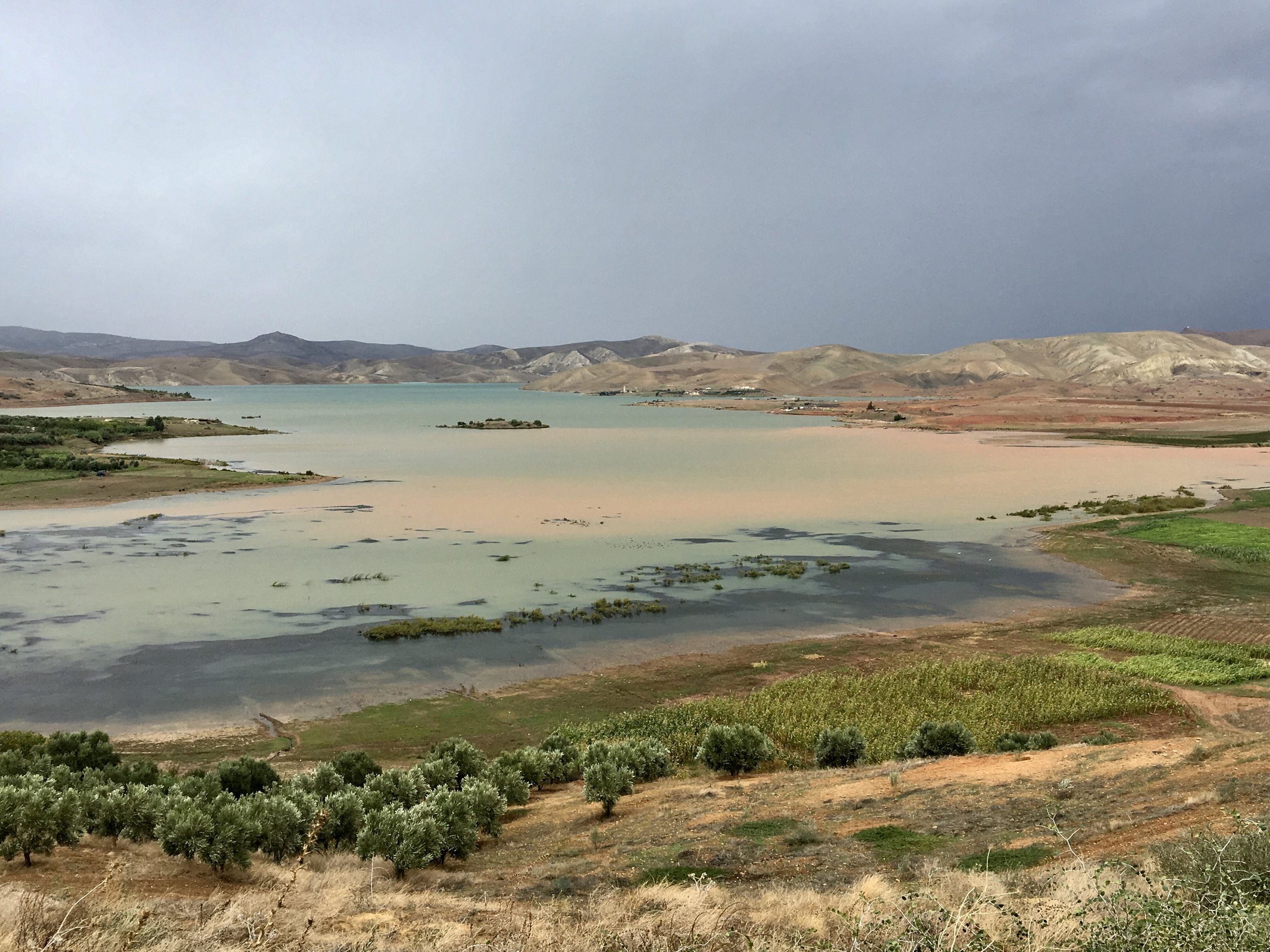 The ride was smooth and comfortable and very scenic. The closer we got to Chefchaouen the more mountainous it got. This region is known for the Rif Mountains and is an amazing place for hiking.
We booked a 3 night stay at La Petit Chefchaouen. It's centrally located and right in the center of the town which is great. There are no vehicles permitted in this area so the taxi had to drop us off a few minutes away.
The town of Chefchaouen is small, so if you are only here to see the town 1 night is enough. If you want to do some hiking in the area and just relax, I recommend at least a few nights. We met a few people who did 3 day hikes in the area and they loved it! Even though we didn't end up doing any hikes, we were happy we booked 3 nights because it was cold and pouring rain on the first 2 days. The town is definitely not the same on a rainy day especially because you can't enjoy all of the beautiful rooftop terraces.
***Tip: If you plan on shopping, don't do it in Chefchaouen. The selection isn't as good as other places, such as Fes.
Where to Stay
La Petit Chefchaouen
It's very centrally located with great service. It's very clean and the daily breakfast was delicious!
Lina Ryad and Spa
This is where we were going to stay initially, but they were all booked. We ended up going here for the hamam. It was very relaxing and worth it as long as you don't mind something washing you.
Where to Eat
Cafe Clock
This is a restaurant chain located in a few cities in Morocco, including Fes. The one in Chefchaouen just opened up 2 months ago. Great food and large portions. Try the lentil dish with chicken and sit on the terrace if you have the chance.
Aladdin
Another good spot with good views of the main square. Try the meatball kefta!
What to do
Hamam
Since we never made it to a hamam in Fes, we booked a 45 hour hamam at Lina Ryad in Spa. Chefchaouen is pretty small, so there are not many options. When we arrived at the spa, first we had to undress (with underwear on) and then we got escorted to a sauna/steam room where we relaxed for a few minutes. It was just the two us. Then. a woman came in and lathered our bodies with black olive soap (sabon beldi), rinsed everything off and scrubbed our entire bodies. And boy did she SCRUB! At times, it was kind of painful, but I figured she knew what she was doing. Once that was done, I was sure all the dead skin was gone. After that, she put on some clay, shampooed our hair and rinsed everything off once again. Our girl had even sang to us! How romantic 😊 It was quite the experience! After the hamam, we were served some mint tea. We felt like a million bucks after and it was worth every penny.
Explore the Blue City
Walk around and explore the town. It's not very big so it won't take you long to see everything unless you like taking photos. Every corner is a perfect photo opportunity.
Spanish Mosque
Hike up to the Spanish mosque to get a really impressive view of Chefchaouen. The mosque was built in the 1920s by the Spanish, but never used.
Kasbah and the square
Check out the fortress in the main square. There is a small fee, but it's worth it for the view from the tower and the beautiful gardens. The square is a great place to grab a bite to eat or to people watch.
If you have more time in the area... Akchor Waterfall and hike the Rif mountains.
Asilah
We booked another private taxi from Chefchaouen to Asilah, which cost us 900dh and took 2.5 hours. You can find cheaper ways to get there, like catching a bus or a regular taxi (around 400dh). Since Chefchaouen is in the mountains, the drive to Asilah was pretty windy and steep at times, but we never felt unsafe. It seems like thery have strict speed limit rules in Morocco, so most people drive very safe.
Where to Stay
We got dropped off right in front of our hotel Al Alba. It's located across the street from the beach and a 10 min walk from the medina. It's a beautiful boutique hotel, with Moroccan decor. We got the 'penthouse' room, which was huge! The staff was great, as was the breakfast. The hotel is known for it's restaurant and it's very popular for dinner. Even though we enjoyed it, we would have preferred to stay in the medina.
What to do
Explore the Medina
Wander around the medina and take in all the beautiful art. Check out the shop and the view of the Atlantic ocean from the medina walls! Somewhere within the walls, there is a small coffee shop - have a coffee there. It's great!
Watch the sunset
You can catch a beautiful sunset from the beach, or better yet, go to the rocks near the medina and watch it from there!
Check out the beaches
The beach in Asilah is not the best but there are nice nearby beaches. One that was recommended to us was Paradise Beach.
Take a day trip to Tangier
Tangier is only 35km from Asilah, so making the trip there is totally worth it. I feel like Tangier is underated. Even though we only spent the day there, we loved it.
The food was soooo good and fresh everywhere. We obviously ate a ton of olives, but we were obsessed with Msemen bread, especially with cheese!
Where to eat
Ali Baba's
This is a small, local restaurant located outside of the medina. In terms of atmosphere it's not much, but the food is great! We had the chicken couscous and harira soup!
**Fun fact: Fridays are known as couscous days. This is a tradition in Morocco. Fridays are also considered holy days for Muslims.
Al Alba
This restaurant was part of our hotel. You have to book dinner ahead of time. They only prepare enough food for the amount of guests who have a reservation. All the food is organic!
Dar Al Maghrebia
We went for dinner here. The food was amazing. The food is Moroccan with a Spanish flare. It's pretty small so try to go early if you want to get a spot for dinner. Beautiful decor as well!
Port XIV
Didn't have a chance to eat here, but this is more of an upscale restaurant know for it's farm to table experience.
We could have taken a train directly to the airport (about 4 hours), but we didn't want to rush or leave too early, so we opted for a taxi ride instead. This cost us a total of 1200dh. The airport is pretty unorganized and chaotic, so our advice is to go early especially if you have bags to check.
Hope you enjoyed the read and photos! :) You can see the entire gallery HERE!