SEPTEMBER 23 - OCTOBER 8
As soon as we boarded the plane in Belgrade, I passed out and slept through the entire flight. We flew with Pegasus Air, a low cost Turkish airline and paid $115 per ticket.
The next thing I knew we were in Istanbul. We arrived at Sabiha Gokcen airport, which is on the Asian side of Istanbul, and pretty far from the city centre. Because Istanbul covers two continental landmasses, it makes it half European and half Asian. Our hotel was on the European side, across the bridge. We needed to figure out how to get there without spending a fortune.
The taxi drivers wanted a ridicilous amount of money, so we needed to find a cheaper way. Luckily, as soon as you exit the airport, there's a bunch of buses waiting outside and one of the companies is HAVATAS, which provides a shuttle bus from the airport to Taksim Square. It was perfect. That's exactly where we needed to go. The ticket was 14TL/each (Turkish Lira) which is about $6.50CAD.
The traffic was pretty brutal, but after 1.5 hours we arrived at Taksim Square. It was pretty crowded with locals and tourists, as most city squares usually are, and we didn't exactly know in which direction to walk to. While Mike was trying to catch a free wifi signal from a nearby coffee shop, I was standing in the middle of the square completely dazed and confused. I was still so out of it. We finally figured it out and in 10 minutes, we were at our final destination, Ala Suites Hotel. The boutique hotel was really nice and our room was basically a condo, but the service was awful. Upon arrival, the girl at the front desk told us that we owed them money because the price we paid on Expedia was incorrect. We basically got a deal through Expedia and they wanted us to pay the full price. How ridiculous! We refused, of course. To make matters worse, our room wasn't cleaned - we had someone's make-up in the fridge and all of the garbage cans were full. The bed sheets were stained too. But hey, it could be worse. We were just happy there were no bed bugs. The one good thing about this place was the location. It was very central and close to everything. However, I'm still not going to recommend it.
Tip: Not sure if you need a visa for Turkey? Check Your Visa Requirements at iVisa.com! You can process a visa from a computer, smartphone or tablet. It's that easy! Travellers no longer need to research or get frustrated dealing with different Governments. Travel agents, Destination Management Companies and Corporates can use iVisa.com to process any travel visa. We provide the best solution in the market.
Once we settled in, i dropped everything and went to sleep. By the way...I still had a fever at this point and zero energy. I slept the rest of the day and didn't wake up until morning. I was actually feeling much better and the fever was gone. Yay! We were ready to explore this amazing city!!
A little sidenote: when I was researching places to visit in Turkey I was starting to get really overwhelmed. There is SO much to see and everything seemed equally as interesting and beautiful. Unfortunately, we only had two weeks in the country and we didn't want to move around every two days. We had to pick and choose what we wanted to see. I didn't think we could leave anything out...especially me because I suffer from FOMO (fear of missing out). This is when it hit me - we can't and won't be able to see everything on this trip. There just isn't enough time. Instead, we were going to sample each country and see what we can. Mike was ok with that, but I had to learn how to enjoy what was in front of me and not always think that I'm missing out on other things. Ah...the story of my life! Also, the more you move around, the more money you need, so we had to slow down a bit and work within our daily budget of $100.
We agreed that we would spend 8 days in Istanbul and another 7 in Cappadocia.
I don't even know where to begin. Istanbul is one of the coolest cities I've been to and it's now one of our favourites. We could have easily stayed here for 15 days and been fully occupied the entire time. Istanbul is so full of life. No matter what day of the week it is, there is something exciting going on. You could spend weeks exploring the mosques, baazars, markets and the cafe's - oh the cafes!! One thing I loved about Istanbul was that almost every coffee shop had a rooftop patio. I think EVERY city should do this! And the coffee was amazing, but we discovered that Turks drink more tea than coffee, so we started drinking tea on a regular basis. Maybe I should change the blog to Customs and Tea? Hmmm...
We spent most of our days exploring the city on foot, visiting different neighbourhoods, famous landmarks and eating the local food. I swear it's worth going to Turkey just for the food. It's so good, especially the traditional Turkish breakfast.
Neighbourhoods To Check Out
Bebek
This is probably one of the nicest neighbourhoods in Istanbul and the most expensive. It's located on the Bosphorus and on the European side. You can find all kinds of restaurants, bars and cafes here. It's also full of expensive apartments and yachts! There was also a Starbucks coffee shop that's probably one of the nicest ones I've been to. It has three floors and each floor has a open patio overlooking the Bosphorus! We might have completely missed Bebek if it wasn't for my friend Erdem and his girlfriend Kim. We spent the entire day with them and they took us all over this neighbourhood. First, we had breakfast at Lokma Cafe, which is totally worth checking out. The food is to die for! Check out the picture above.
Next, they took us to Rumelihisari (Rumeli Fortress), which was a minute walk from Lokma Cafe. The castle is is high up on a hill and overlooks the Bosphorus and the Fatih Sultan bridge which links Europe and Asia. To make a long story short, the story goes something like this: In the 15th century, Sultan Mehmet II wanted to build a castle on the European side to control the military and commercial traffic in preparation of the Seige of Constantinople. Because Mehmet's armies conquered Constantinople so fast, there was really no use for the fortress. In the years to follow it was used as a prison and toll booth, but never again as a fortress. It was completely abandoned in the 19th century, but re-opened as a museum and open air theatre in 1960. They recently built a mosque right in the middle of the Roman theatre, which is a bit of an odd choice.
You can visit the Rumeli Fortress most days of the week for a very small admission fee.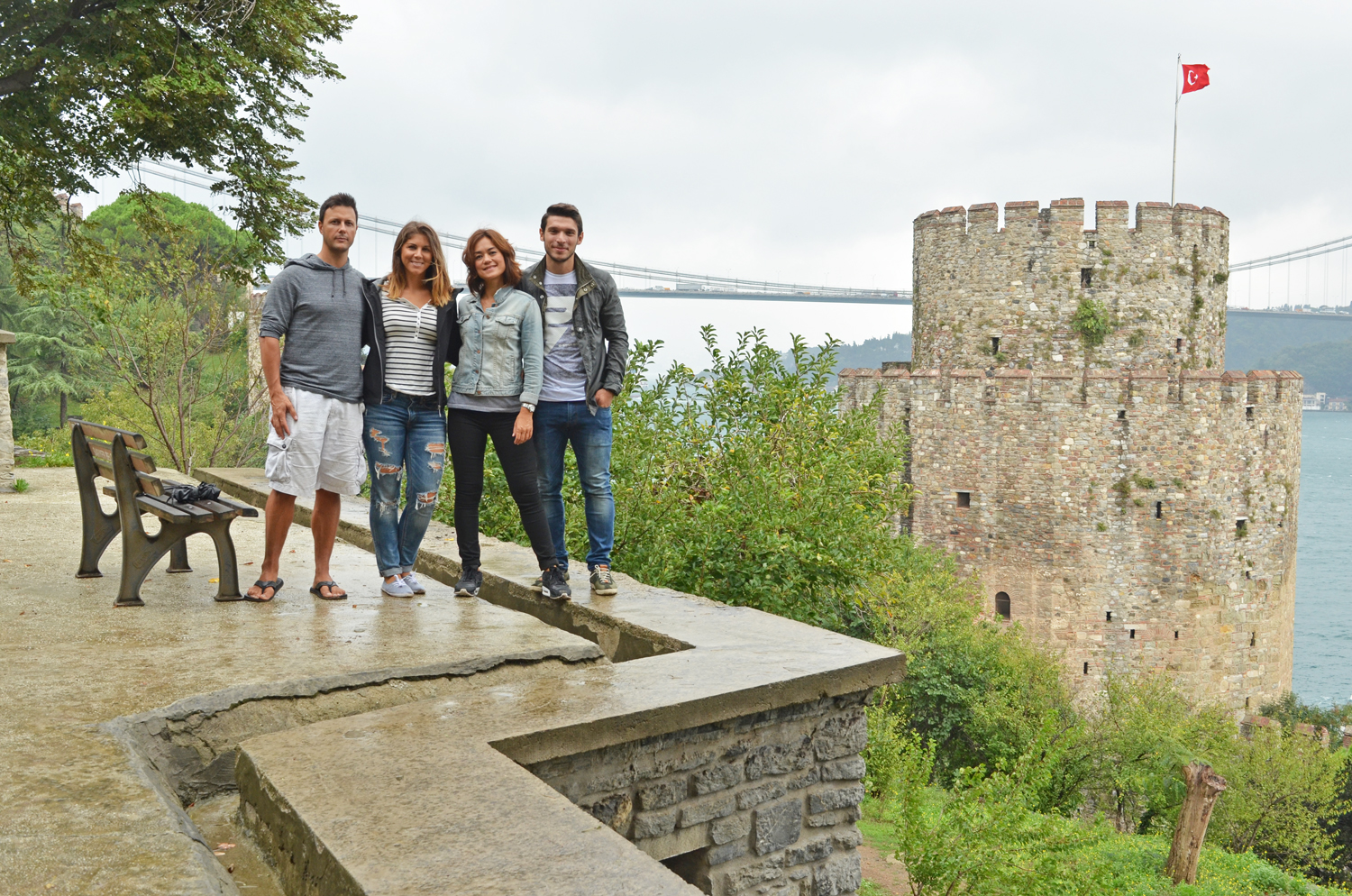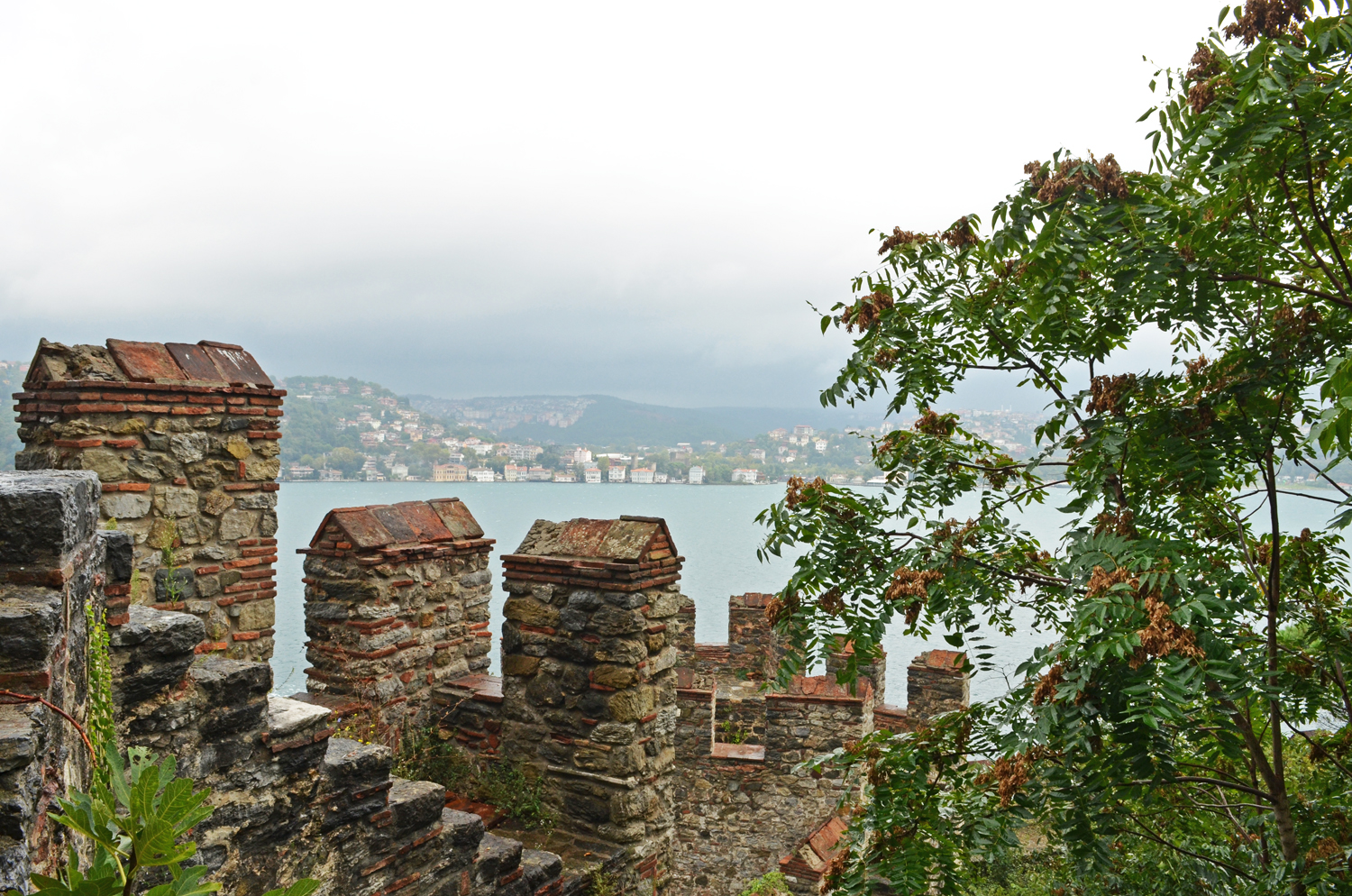 Karaköy and Galata
Karaköy was one of my favourite neighbourhoods in Istanbul. It's located on the northern side of the Galata Bridge and it's full of chic cafe's, bohemian boutiques and art galleries. If you like a hipster type of a neighbourhood, this is a good place to check out. We went here a few times for drinks and coffee, of course!
Galata is another hip neighbourhood, not too far away from Karaköy. It's one of the oldest neighbourhoods in Istanbul, dating back to the Roman and Greek times. It used to be a place filled with vineyards and gardens which is why the Greeks used to call it Sykai, a place of fig gardens. Now, it's a beautiful and hilly neighbourhood, full of artsy cafes and souvernir shops.
At the center of it all is the Galata Tower, a structure that offers some pretty amazing views of the city. The tower dates back to the 5th century, but the structure today is a reconstruction from the 14th century. At one point, it was actually the tallest building in the city. The line-ups to get to the top are usually very long at the admission fee is around 40TL.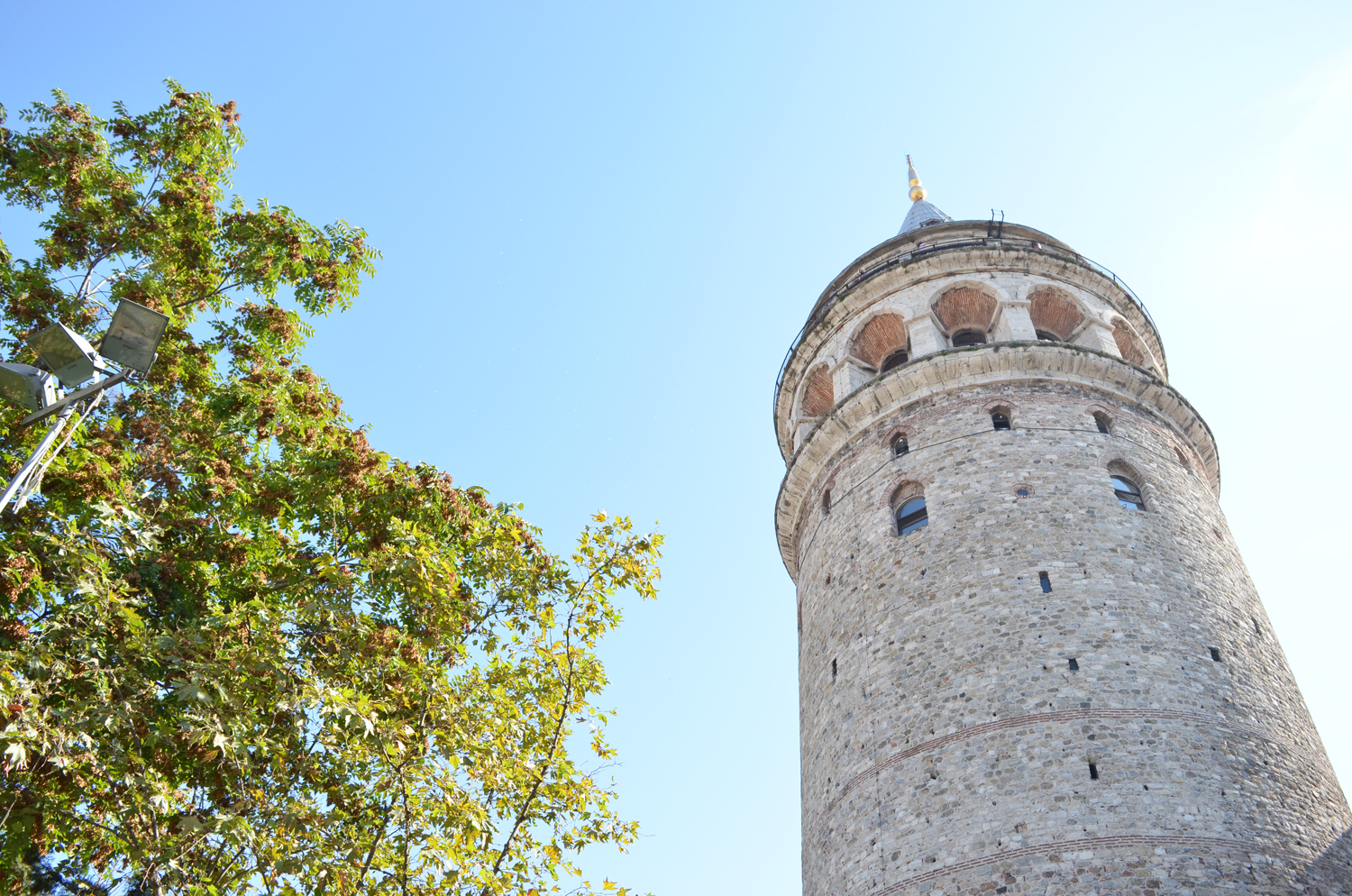 From the tower, you can walk down hill until you reach the Galata Bridge, which will lead you to the Istanbul's Old District. And good luck trying to cross the street in the city. It's an adventure for sure. On a daily basis, we witnessed at least a dozen people almost get killed. But nobody seems to care. It's totally normal in Istanbul.
Ortaköy
This is yet another nice neighbourhood. It's located right along the Bosphorus river and it's full of waterfront cafes, bars and clubs. At the centre of it is a beautiful baroque mosque built in the 15th century.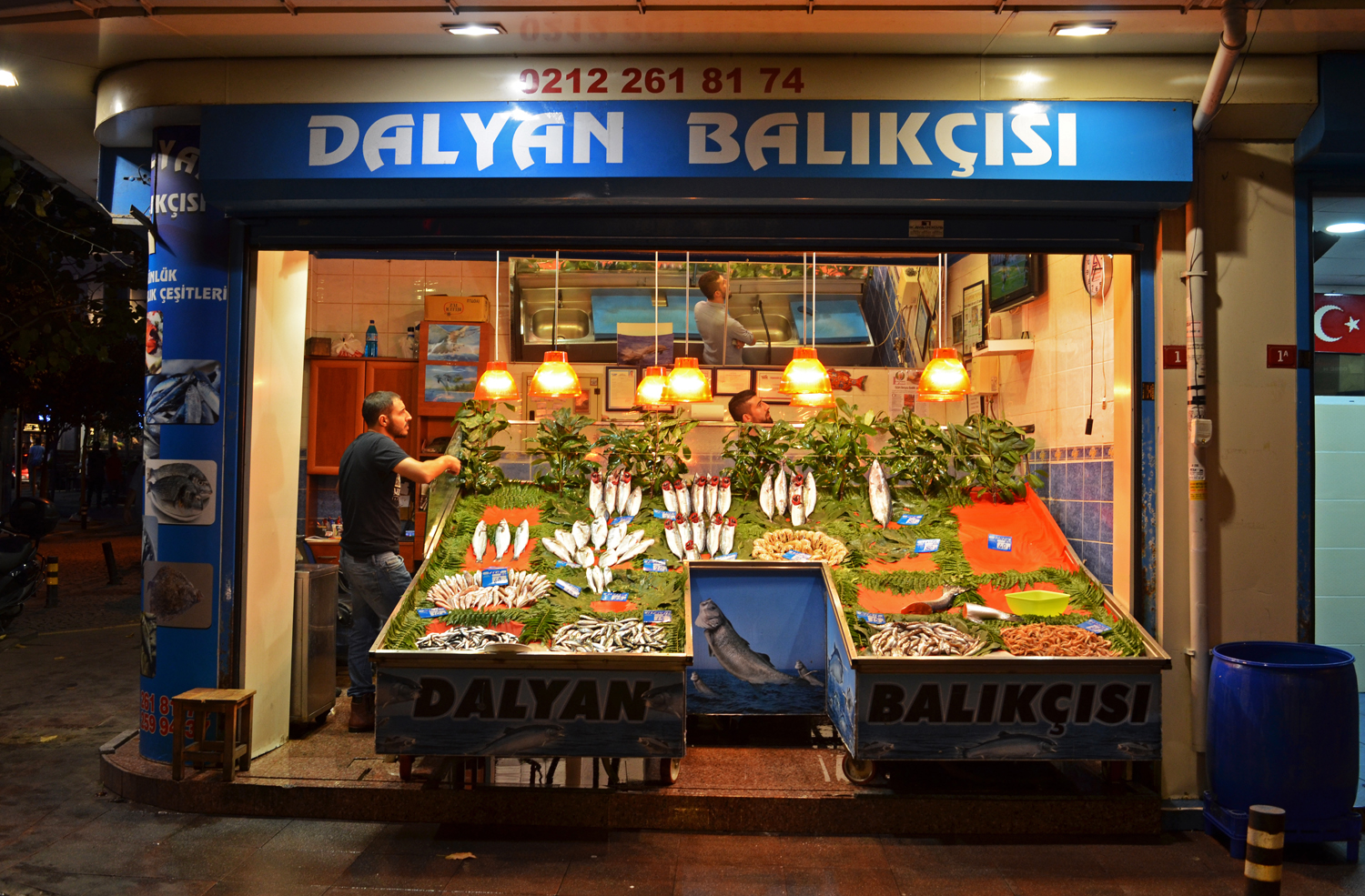 We also stopped by The House Cafe for a drink. Another fantastic place with beautiful views and great music!
Sultanahmet
When you cross the Galata bridge you' end up in the Sultanahmet district, which is the historic district of Istanbul. Here you'll find the Grand Baazar (Kapalıçarşı), Hagia Sophia (Ayasofya), Blue Mosque (Sultan Ahmet Camii), Basilica Cistern, Topkapi Palace and more.
The Hagia Sophia was very impressive. It was originally built as a cathedral in 6th century in Constantinople (present day Istanbul), the capital of the Byzantine Empire. When the Turks conquered Constantinople in 1453, the cathedral became a mosque. It's really beautiful and I wouldn't miss it. The admission fee is 30TL/per person.
Also worth checking out is the Blue Mosque, which was built in 1609. Even though it's still used as a mosque, it's become a popular tourist attraction.
Topkapi Palace
So this is a pretty cool place. If you want to see how the Sultans lived back in the Ottoman days, this palace is worth checking out. You can see an impressive collection of jewels, arms, armour and tons more! I believe the entrence fee is 20TL/per person.
Grand Baazar (Kapalıçarşı)
This is actually one of the oldest and biggest markets in the world with thousands of shops. You can get lost in this place for days! You can find anything your heart desires and for a good price. I got a couple of things but I always made sure to bargain because they offer you a price that's double of what they would actually sell it for. It's a pretty chaotic place and a few hours at the Grand Baazar might just not be enough time to check everything out!
This is just a random fun facts but we also noticed the huge ratio difference between men and women. We were sitting on a patio one day, counting every man and woman that passed by and after a couple of hundred we came up with this ratio: 1(woman):21 (men). So ladies, if you're looking for a Turkish husband you know where to go. :)
CAPPADOCIA
It took us a while to decide whether we should go to the coast or Cappadocia. After talking to a few people we decided that Cappadocia would be a better choice because it's different than anything we've seen before. Yes, we had enough time do to both, but not enough dough. So, we HAD to pick. Either way, it was a GREAT choice and we loved it. What an incredible place.
We flew from Istanbul to Keyseri, the closest airport to Goreme National Park. We booked our tickets with the budget airline, Pegasus, and paid about $130/per person. Not too bad.
We actually almost missed our flight because the traffic from our hotel in Istanbul to the airport was so bad. We literally just made it! After 1.5 hours of flying we were in Keyseri. From there, it was another hour to get to Goreme National Park and we arranged a shuttle through the hotel. It all went very smooth without any hassle.
Once we were approaching Goreme National Park, both me and Mike were in awe. It was a land of fairy tales with natural wonders at every turn. We arrived at our budget hotel called Cave Life Pension and the friendly staff greeted us with some delicious apple tea. This place was truly incredible - amazing Turkish breakfast, good value and the 'cave' experience. With breakfast included, and a shared washroom, it only cost us $230 for 7 nights! It was pretty much a steal.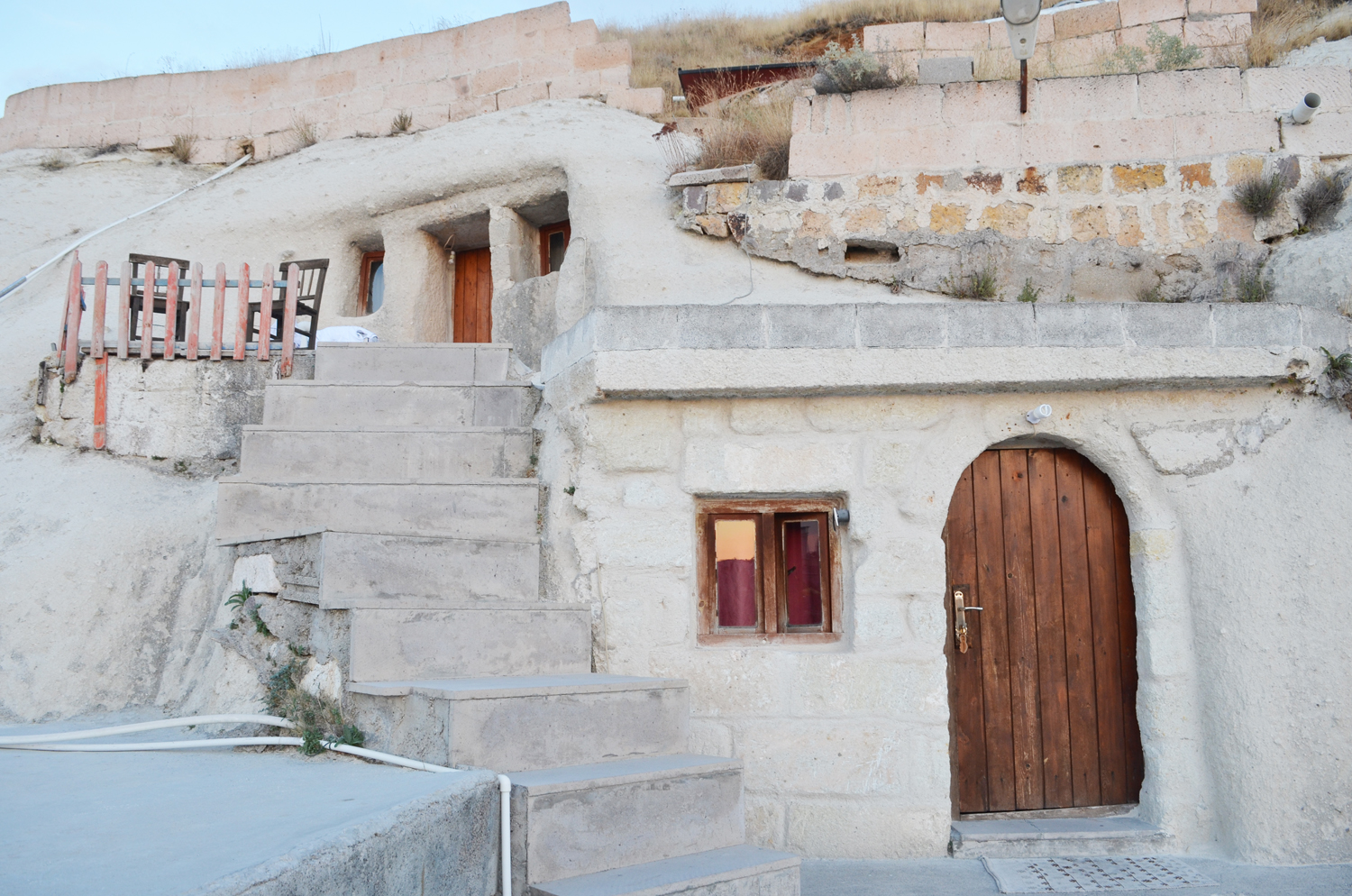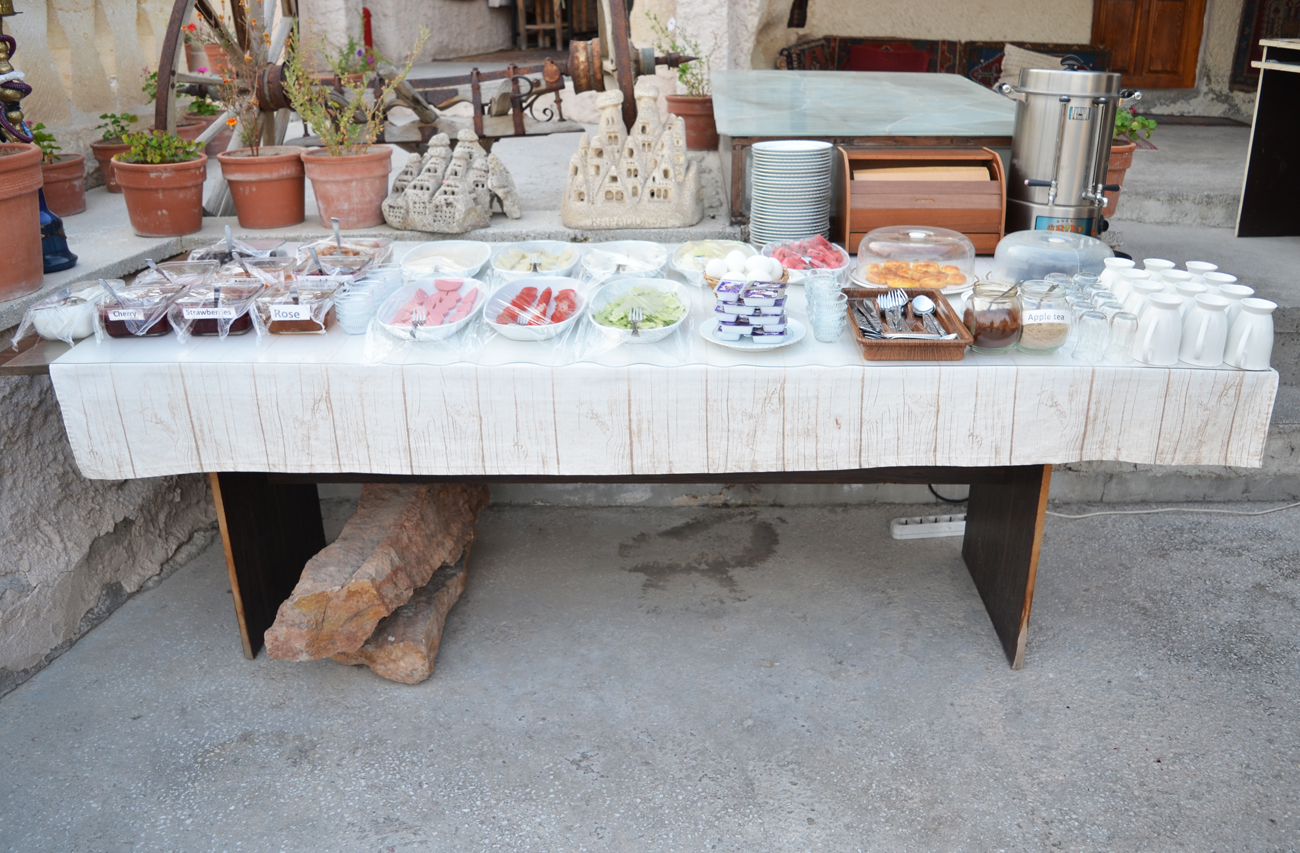 For the first couple of days we pretty much just chilled and explored the town of Goreme. In case some of you don't know, Goreme is a town and national park in Capadoccia. The town itself is very small and quiet but full of good restaurants, cafe's and souvenir shops.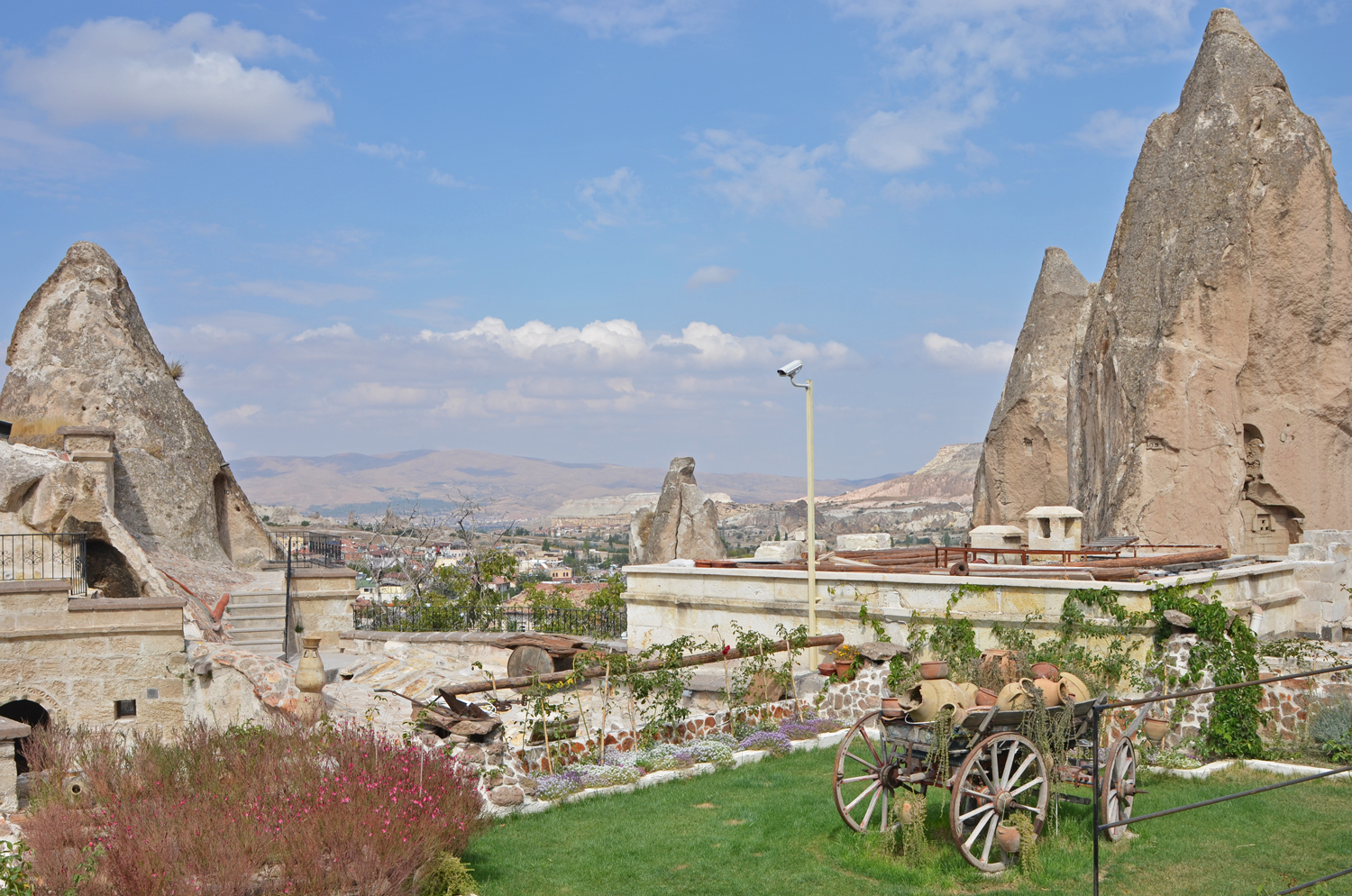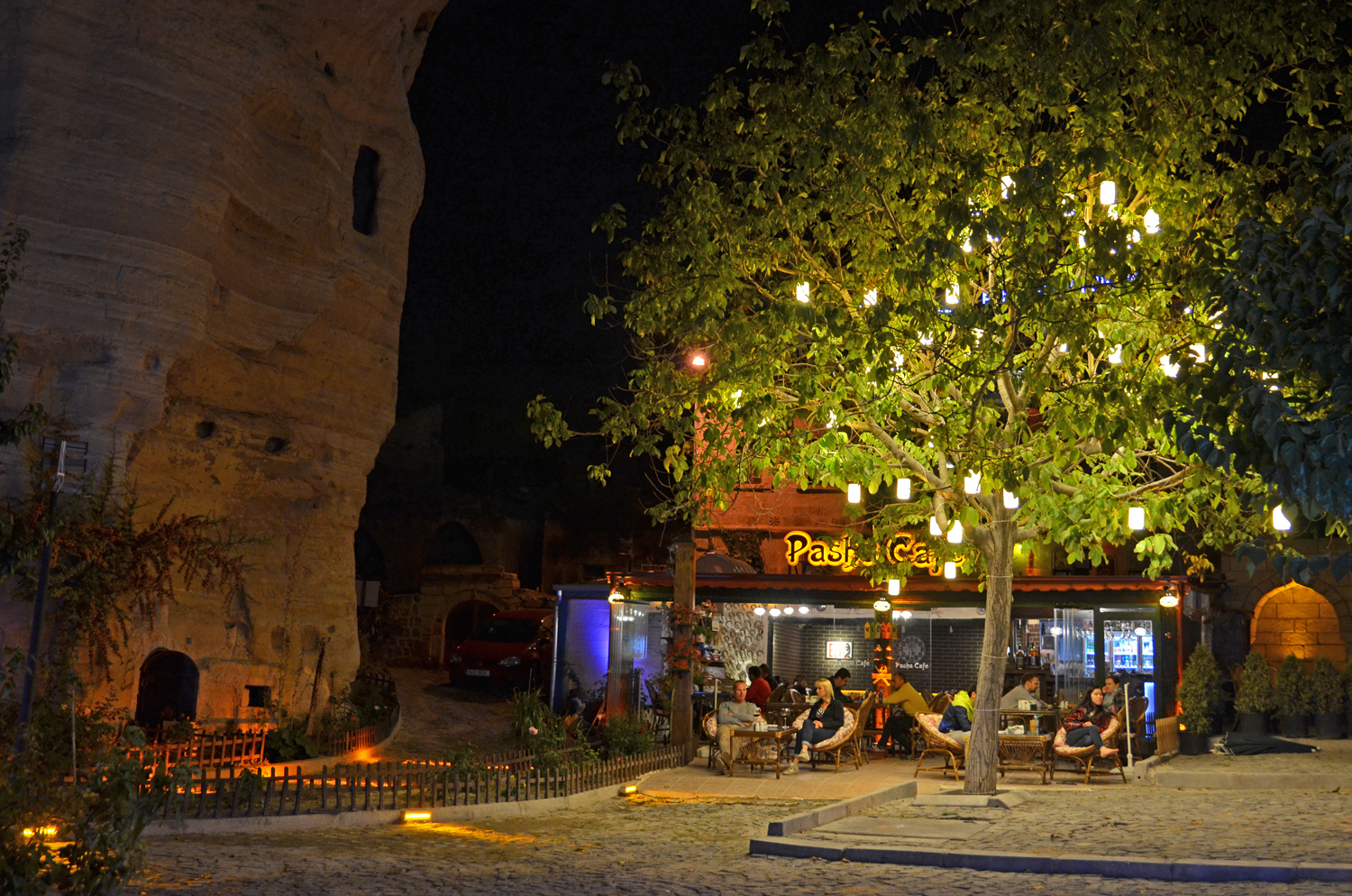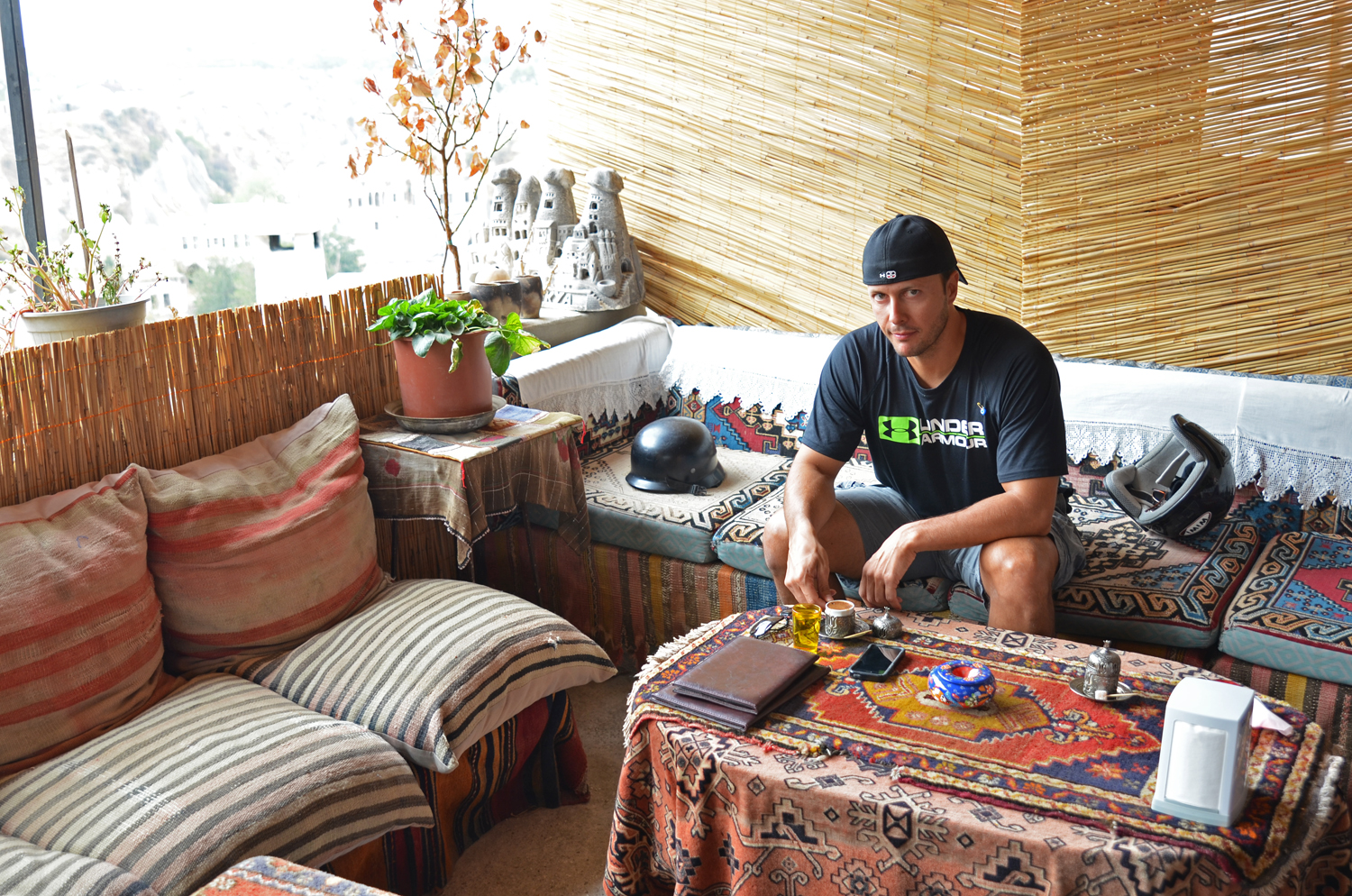 There really is no nightlife here - most people are in bed early because they have to be up at 4am for the hot air balloon rides. Also, the air is so fresh that by 9pm you're pretty much ready to hit the sack anyway.
Once we were familiar with the area, we decided to venture out a bit further and do some hiking. The landscape s breathtaking! Everything is entirely shaped by erosion and formed millions of years ago.
Here's a fun story for ya...
We got a bit too far off the main road and all of a sudden we heard a scooter coming up behind us. A friendly, Turkish guy named Ramazan stopped and started chatting with us. After talking for a couple of minutes he asked us if we wanted to check out restaurant that he was working on a bit further down the street. He called it The Secret Garden. He said that both of us could fit on the scooter and once we checked out the place he could drive us back to the exact same spot. At first we said no, but eventually we ended up at the back of that scooter, with a random dude, driving to...only god knows where! At first we were ok with it but after 5 minutes on the scooter I had the worst thoughts coming into my head. At this point, I was pretty sure we were being kidnapped, then possibly tortured and finally buried in this Ramazan's secret garden. What have we got ourselves into?!?
Another few minutes went by and we pulled in front of a cute restaurant in the making, which was pretty much hidden deep within these fairy chimneys.
We were greeted by the Ramazan's father and another couple who looked a little malnourished. I thought that maybe these were his prisoners and he wasn't feeding them properly and that soon enough we were going to be just like them. But after talking to them we found out that they were originally from Ukraine and currently volunteering in Capaddocia with an organization called World Wide Opportunities with Organic Farms (WWOOF). At this point, I felt a little better.
When Ramazan asked the couple to give us a tour of the property and to show us the TUNNELS, i freaked out a bit. Tunnels? I'm not going into any tunnels! At this point, i thought that Ramazan, his father and the Ukranian couple were all in on it. They wanted to kill us or imprison us in these tunnels. I know it sounds crazy, but I'm sure it's happened before. Also, you had to be there to understand what I mean.
I didn't want to seem like a paranoid freak so we went along with it. As we're walking I wanted to make sure that I was the last person walking in case one of them pulled a fast move. Then they stopped and offered us some wild grapes. You gotta be kidding me? Now, we were going to get poisoned and burried in the tunnels...FOR SURE! Mike declined the offer for the grapes and i decided to try some. I figured if i died, Mike would still be alive since he didn't eat the grapes. One of us had to try the grapes so that we don't look so paranoid. It turns out we were fine. However, once we went down one tunnel and they suggested that we go down another, I had to lie and say that i was clausterphobic because i felt like this whole thing was going a little too far.
Well, we survived the walk to the tunnels and the grape tasting but then it was time to sit down and have some Turkish tea. Ramazan poured a cup for all of us and i waited until everyone else took a sip before me and Mike...juuust to be sure. :)
Once again, we were perfectly fine but the whole experience was so random. Sure enough, after we finished the tea, we jumped on Ramazan's scooter and he dropped us of exactly where he picked us up. We were in one piece. Thank god!
The next day we decided to rent a scooter for a couple of days and explore the surrounding area on our own. We first stopped and checked out a couple of churches from the 5th and 9th centuries including the Church of St. John the Baptist and Çavuşin Church.
Not a long ride from there was Pasabag or Monks Valley. This place is known for striking pillars called the fairy chimneys. They are actually churches, monasteries and homes that were constructed between the 4th and 13th century A.D. The area is also known as Monks Valley because monks used to take refuge here including St. Simeon.
Then we arrived at the Red and Rose Valley which is probably one of the best areas for hiking. In fact, this whole area is a hiker's dream!
All of this took us about a day. Once the sun set, we went back to our cave and tried to pick a place for dinner.
We decided to check out a restaurant near by called Organic Cave Kitchen. The food was alright, but nothing spectacular. The next day, I woke up to Mike freaking out about not being able to find his bag. He realized that he left it at the restaurant the night before and we were pretty sure that it wasn't going to be there anymore. His passport was in the bag and a bunch of other important stuff. We both started freaking out. We asked the owners of our hotel if they knew the number of the restaurant and LUCKILY they were part owners so they assured that if we left the bag there the night before, it would still be there. What are the odds of that? There was a glimmer of hope.
We waited anxiously at our hotel counting the seconds for the restaurant to open. The next thing you know, we see the manager of our hotel, far in the distance on his scooter and wearing Mike's backpack! He actually made the effort to go there and get it for us. We were so thankful and relieved...and in need of a drink, or two. :)
Since we had the scooter for one more day, we headed over to check out one of the underground cities. There are 36 underground cities in Cappadocia but the one we visited, Kaymakli is the widest. The deepest is Derinkuyu.
If you are closterphobic, stay away from the underground cities. This one in particular is 8 floors deep but only 4 have been uncovered. Some of the tunnels are so small that you have to actually crawl through them. Nobody really knows the exact time of when this city was built but some speculate it was between the 5th and 8th century, or possibly earlier.
It was about 20km from Kaymakli to Goreme and we froze our butts off, especially Mike. He started to feel really weak and feverish. Not again....
Later that night he came down with a fever. It seems that every time we rent a scooter, one of us or both of us gets sick. :(
For the next couple of days, Mike spent most of his time sleeping so I went out to check out a few more places on my own.
I wanted to see the Open Air Museum as it was something that everyone was talking about. It is a UNESCO World Heritage Site and full of really old monasteries and churches which were built between the 10th and 12th centuries. The entrance fee was 20TL.
This took up the whole morning and it was one of the hottest days! I was sweating buckets! That's another thing - the weather was really drastic in Cappadocia. During the day it felt like 35 degrees but at night it was about 12. It was nice because there was no humidity and if you were lucky enough to find shade you could always cool off there.

Next, I started hiking towards Uchisar which was 6km from the Open Air Museum. I was drenched by the time i got to the town, nevermind the top of the castle. But, it was worth it. Not only was the hike amazing but the views from the top were even better.
I made a couple of friends from China here and because they thought I looked like Jennifer Aniston, we decided we were going to have a little photoshoot. haha
The city of Uchisar is located at the highest point of Capadoccia and both the city and castle are visible from a great distance. Here's a view from Goreme.
As I walked through the town I noticed that Uchisar had more higher end hotels and restaurants. I think that Goreme is geared more towards backpackers than Uchisar, which was perfect for us. Without a doubt, Uchisar has the best view in Cappadocia (unless you're in a hot air balloon, of course).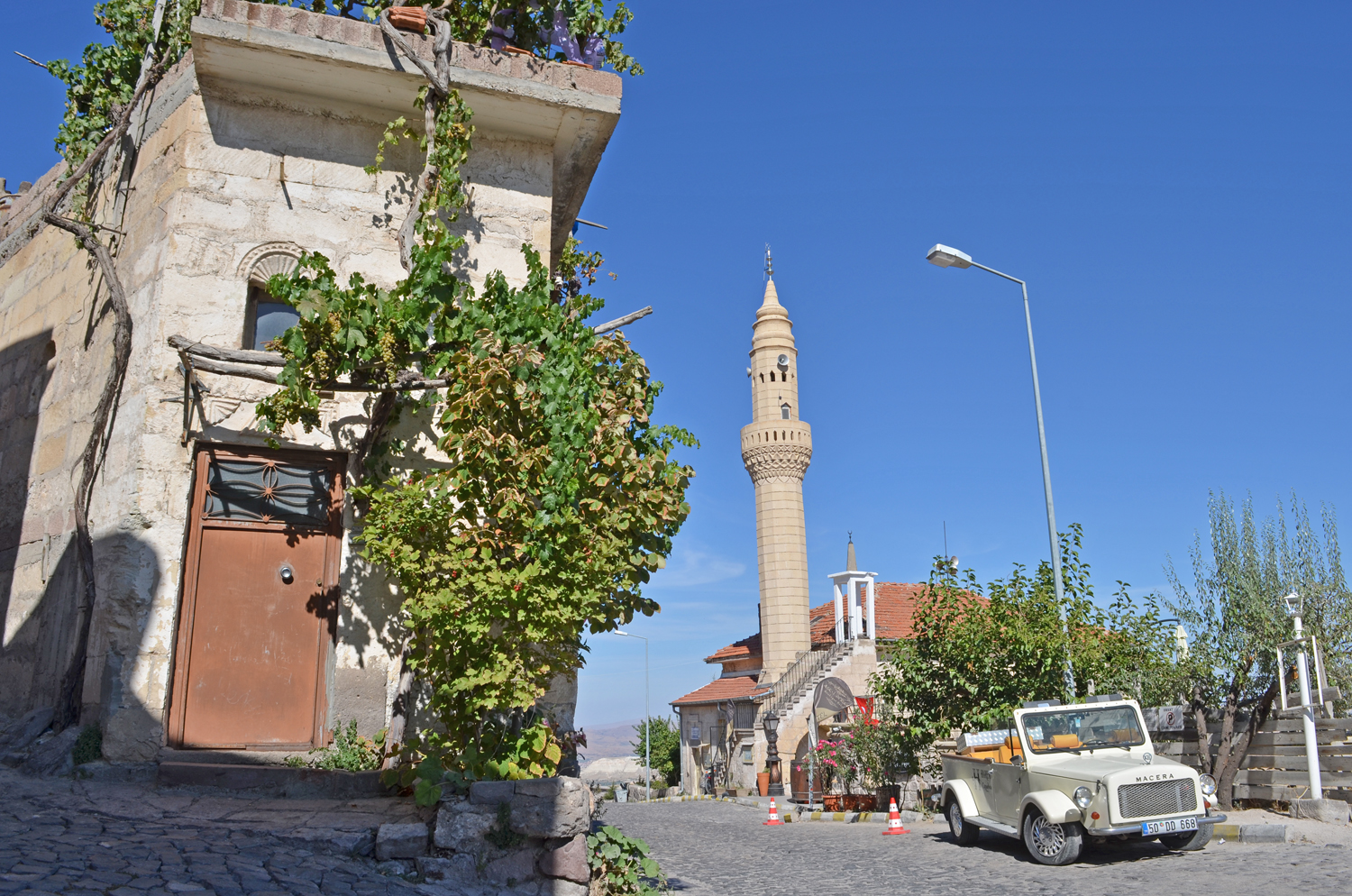 Along the way stopped at Pigeon Valley which is yet an amazing place for hiking. The name comes from the many pigeon houses carved into the rocks. Back in the day, pigeons were used as message carriers, and their droppings were used as fertilizer. Even though it's called Pigeon Valley, I didn't see that many pigeons. There are probably more in Sarajevo's Baščaršija (if you've been, you'll know what i mean).
You could spend half a day to a full day hiking here. If you want the best pictures of Uchisar and Pigeon Valley, plan to be there around sunset time. On the way back to Goreme, i walked along the main road and i spotted a cafe with a great view so i sat down and enjoyed a Turkish coffee.
Mike was feeling a lot better by now and we decided that we'd get up early the next morning to catch the hot air balloons in the air. We didn't actually pay for the ride because it was $250/per person. That's more than our accomodation for the week in Cappadocia so we just couldn't justify it. I also don't like heights, so I didn't feel like I was missing much...except for getting some cool shots from above.
We had one more day left in Goreme before we headed back to Istanbul. We had to soak up all the beauty around us. Cappadocia is really an amazing place. The wonder of it all - the fairy chimneys set against the vastness of the landscape, the deep valleys and underground cities really transforms your sense of time and place. If you eve get a chance to go, do it!
We arranged a shuttle from our hotel to Keyseri airport the next day and we got there without any problems. Once we got to Istanbul, we had one night in the city before catching our flight to United Arab Emerates! Abu Dhabi....here we come!
Here's the breakdown of how much we spent for 16 days:
Accommodations: $660
Food: $437
Activities: $69
Domestic Transportation: $474
Misc: $121
Tourist Visa: $80 per person

Total: $1921
Daily Average (per person): $60

*Excludes one-way flight from Belgrade to Istanbul ($115 each)
**Currency exchange 09/23/2015: $1 (CAD) = 2.3 TRYS
Don't forget to check out the FULL GALLERY!