OCTOBER 23 - NOVEMBER 9
"What's your favourite country so far?" We get asked that a lot. If we had to pick one, we'd have to say Sri Lanka. We had no idea what to expect before visiting this beautiful country, but the two weeks we spent there was barely enough to get a taste of the country's diversity and character. If we could do it all over again, we would have stayed for a few months.
A part of me doesn't want to share anything about Sri Lanka. I want to keep this place a secret. The country still remains largely untouched by Western tourism and that's partly why it was so great. There are no McDonald's, Burger Kings or Starbucks coffee shops - none that we say anyway. Following the end of the country's 26-year-long civil war in 2009, more and more people are flocking to Sri Lanka every year, so this beautiful country won't remain a hidden gem for much longer. We were so happy to visit when we did.

We were technically there during the low season, so I'm not sure what it's like in the high season but I can't imagine it being that much busier.
Also, Sri Lankans are the friendliest and most welcoming people I've ever met. They are always smiling and eager to help if you need anything.

Tip: Not sure if you need a visa for Sri Lanka? Check Your Visa Requirements at iVisa.com! You can process a visa from a computer, smartphone or tablet. It's that easy! Travellers no longer need to research or get frustrated dealing with different Governments. Travel agents, Destination Management Companies and Corporates can use iVisa.com to process any travel visa. We provide the best solution in the market.
Here's our 18 day itinerary and some tips and tricks for first time visitors:
Colombo is the capital city of Sri Lanka and a gateway for a lot of travellers. Since we were limited on time, we decided not to stay in Colombo for very long. It's worth checking out especially because of it's rich colonial heritage.

From Dubai, we got flights for $165/pp. We also had to get a visa for Sri Lanka which you can buy upon arrival for $40. We booked a hotel through Booking.com and we were shocked at how expensive Colombo was considering how cheap the rest of the country is. We paid around $75/night for a very basic room. The hotel shuttle picked us up from the airport and that was roughly $30.
The cab company was called Kangaroo cabs and it had free wifi in the car! Amazing!

We wanted to try some good street food so we went down to the pier and stopped by NANA'S (Rauff Nana). It's the oldest pier stalls in Colombo! The food is really good and cheap!
We booked a 1st class train ticket from Colombo Fort to Kandy. It was comfortable, air-conditioned and we even got a meal. The only reason we booked 1st class was because we weren't sure how good or bad the lower class trains would be. Turns out they are perfectly fine. From then on, we always took the 2nd class trains. The only difference is the AC and meals (sometimes you get a meal and sometimes you don't). You don't really need the AC anyway because the windows are all open. It's also much cheaper. The 2nd class train from Colombo Fort to Kandy was around $2/pp or 20,000 LKR (Sri Lankan Rupee). So cheap! This train ride through the central highlands was probably one of the highlights of our trip. It was so beautiful.
We used this site for train schedules/tickets, but you could also go to the train station and buy them from there.
SRI LANKA TRAINS

QUICK TIP: Don't bother taking the first class trains. Second class trains are the way to go and much cheaper.
KANDY (3 DAYS)
When we got off the train we were approached by a few taxi drivers and we finally agreed on a price with Mr. Hetti. He drove us to our guesthouse and the next day he was going to give us tour of a few key landmarks. Look him up - he's on Trip Advisor. For a full day tour he charged us 7,000LKR ($70).

We stayed at Satodaya Training Centre. We were high up in the hills, so we had a great view of Kandy. Unfortunately, it was monsoon season and it rained every day. A superior room with a fan and breakfast cost $25/night.
WHERE TO EAT IN KANDY? A really good Sri Lanka restaurant called White House. We were there every night for dinner.
SIGIRIYA: THE LION ROCK
Mr. Hetti picked us up in the morning and we drove straight to Sigiriya, a UNESCO World Heritage Site. This is probably one of the most popular tourist attractions in this area and it's not surprising why. The famous Lion Rock is 200 metres higher than it's surroundings so when you get to the top, you have the most incredible view of the jungle!
What was the purpose of Lion Rock? Well, it was used as a monestary in the 3rd century, then as a palace by King Kashyapa in the 5th century. Once he died it was used as a monastery once again until it was completely abandoned in the 14th century.
(DRUM ROLL) So, we actually never climbed the Lion Rock. The fee was 45,000LKR ($45/pp) - a little too much for us. It's worth seeing though especially because it's said to have the oldest surviving landscaped gardens in Asia and in the world, plus the awesome view. Instead, Mr. Hetti told us about another, cheaper option - the Pidurangala Rock.
QUICK TIP: Very close to Lion Rock is Pidurangla Rock which is the exact same height and costs only 5,000LKR ($5/pp). You get the same view and you can actually get a picture of the Lion Rock! Also, we were the only two people at the top!!!
If you have the time and money, do both!
GOLDEN TEMPLE OF DAMBULLA
After the climb, we were soaked but that didn't stop us from going to check out this temple. Another UNESCO World Heritage site, the Golden Temple of Dambula is the best preserved cave-temple complex in Sri Lanka. It has been the centre of pilgrimage for Buddhists and Hindus for 22 centuries.
Cost: 1,800 rupees.
On the way back, Mr. Hetti dropped us off at a Ranwelli Spice Garden. We learned all about spices, oils and ayurvedic medicine. Here's me...the spice queen!
Mr. Hetti was great. If you ever decided to visit Kandy, give this man a shout!
TEMPLE OF THE SACRED TOOTH RELIC
On the second day, we explored the town of Kandy. There's a few good markets and everything is dirt cheap. I got the most comfortable pair of flip flops for $2! :)

Our first stop was the Kandy Lake and then the Temple of the Tooth, which is said to contain the tooth of the Buddha. It is also the most sacred place of worship in the Buddhist world! The tooth relic is locked within a series of seven solid gold and jewel-encrusted caskets, so our chances of seeing it were very slim.

We couldn't have picked a better day to visit the temple. It was a full moon that night and full moons are sacred in Sri Lanka. They are known as Poya. The temple was packed with devotees and everyone was wearing white. Everyone's hands were full of gardenia flowers. One girl looked at us and when she realized we didn't have any, she gave us a couple. We sat down with the crowd (mostly Sri Lankans) and waited to get a glimpse through the opened door of the Tooth chamber. Unfortunately, we didn't get to see the tooth and I don't think anyone ever will.


5,500 STEPS TO SUNRISE: CLIMBING ADAM'S PEAK

(NALLATHANNIYA: 1 DAY/1 NIGHT)
We left Kandy and took a train to Hatton. This was the closest town to Adam's Peak that was accessible by train. From Hatton, we had to grab a taxi to Nallathanniya (Tamil name for Dalhousie) which was a town right at the bottom of Adam's Peak.

At the Hatton train station we met a couple from Germany who were going to the same guesthouse as us, so we split the fare between the four of us. The ride to Nallathanniya was about 1 hour and along the way we passed a few waterfalls, lush tea plantations and a lot of smiling Sri Lankans!

We stayed at Mango Tree. The guesthouse was very basic, cheap and the host was really nice. Because it was pouring rain when we arrived, we had a bunch of leeches in the living room. Not the warmest welcome. Both me and Mike were a little bit nervous sleeping in the bed that night! Hey, at least we didn't have bed bugs.
For dinner, the host made a delicious dinner and everyone ate together. We also met a couple of guys from England and we all agreed that we should hike up together. We all went to bed early since we had to be up at 2:30am and try to make it to the top before sunrise.

When 2:30 rolled around, we were all really excited. There was 6 of us. When we left the guesthouse, it was pitch black and wet outside. Luckily it wasn't raining. We all had flashlights but you could barely see where you were walking. Along the way, we only met one other person. However, we managed to gain a following of 7 dogs all the way to the top.
The hike up was very challenging. The further up we went, the steeper the stairs got. Every 10 minutes we stopped to do a 'leech check'. A few of us discovered a few leeches around our ankles. Our socks were bloody and pretty gross but the leeches had sucked enough blood that they'd already fallen off. Luckily, we didn't have to look for any salt or fire to get them off. :P

After 3 hours, we reached the top. It was still dark and windy. There was about 20 people at the top waiting for this magical sunrise.
Most of you have probably not heard of Sri Pada (Adam's Peak) but it is actually Sri Lanka's 5th highest mountain standing at 2,100m (6754ft). There are many legends about Sri Pada. The original Buddhist story claims that this is the footprint of the Buddha himself. In the 8th century, Muslims began to claim that Adam's Peak was the footprint of Adam who is set to have set foot on earth first after being cast out of heaven, and who stood on the mountain's summit on one leg, patiently waiting until his sins were forgiven. The Hindus and Portuguese have their own theories as well. Despite all these claims, Adam's Peak is mainly a Buddhist place of worship.
It was pretty amazing to be a part of something so special. Adam's Peak has been an object of pilgrimage for over a thousand years and it's said that people like Marco Polo once took part in it as well.
The sunrise was beautiful. We took it all in and finally started walking down the stairs. I think the walk down was much harder. The stairs never seemed to end and after hours of climbing up, we didn't have any strength left to walk down. What made us suck it up was looking at these Sri Lankan men carrying HUGE bags of rice to the top. They did that every day. EVERY DAY! These guys were champs. If only you could see their calves. ;)
Three hours later, we were back at Mango Tree. The host prepared an amazing, traditional breakfast for us. After we ate, we took a shower and had the most incredible nap. Not too long after that, we made our way to the train station and headed to Haputale.
When to go: We went during low season (October) and even though some people don't recommend it, we thought it was perfect. There were barely any people. During high season (December - March) you can be hiking along 20,000.
HAPUTALE (3 DAYS)
A lot of people head to Ella or Newara Eliya after climing Adam's Peak, but we decided to visit a town that was not as popular.
At the Haputale train station, we were greeted by our host from Awinco Rest. I can't remember his name, but he was very friendly. We loaded our bags into a tuk tuk and drove through the thickest fog I've ever seen in my life.

Haputale was pretty high up, 1,414m (4,640ft) to be exact. It was cold. Once we got to Awinco Rest, we met the hosts' lovely wife and son. We were excited to be in a homestay and really get to know this family. We ate a delicious homecooked meal and hit the sack shortly after that.
Lipton's Seat and Dambatenne Tea Factory
We got up pretty early in the morning and once again the fog was as thick as the day before. It was raining too. Since we only had a couple of days in Haputale, we figured we should check out the Lipton tea factory and Lipton's Seat. This was awesome. Now I know exactly where those tea bags come from!
We hired a tuk tuk driver and for as little as $15 he gave us a tour of the tea plantations and dropped us off at the factory. As we drove up extremely narrow roads, I was a little bit nervous. It was raining and even a little bump in the road could have sent us over the hill. Luckily, the fog was so thick that I couldn't really see how high we were.
Once we got to the top, we paid a small fee to get a tour of the factory. Once upon a time, it was owned by Sir Thomas J. Lipton. Today it is owned by some rich man from India. When Lipton visited Sri Lanka in the 1800's, he apparently fell in love with the place. How could he not? The first estate he acquired was the Dambatenne estate. Apparently, he loved entertaining people at the estate - sipping on a good cup of Ceylon tea at what is now known as Lipton's Seat. The 360 degree view from here is said to be amazing. Unfortunately, it was so foggy so we couldn't see anything.
We were the only ones in the factory on a tour. One of the workers walked us through the whole process of making Ceylon black tea - from collecting the leaves in the tea plantations, to tea leaf grading.
FUN FACTS:
- smaller leaves are more valuable than big ones. Separating the leaves is one step in the process.
- tea grades are classifies in different qualities. There's OP (Orange Pekoe), BOP (Broken Orange Pekoe) and BOPF (Broken Orange Pekoe). BOPF is the most common grade in Sri Lanka. It is finely grated with a neat appearance.
Here's a few pictures from the factory.
These woman work extremely hard. For only 650 rupees a day ($6.50), they work regardless of the weather conditions. They pick the leaves three times a day: at 9:30, 12:30 and 2:30pm.
A few locals asked us if we wanted to sit down for a cup of tea so we did. It was a random 'cafe' that was the size of a washroom but we had some tea, fresh coconut sugar and really good samosas. This only cost us 520 rupees ($5).
We really wanted to do some hiking in the area and check out Horton Plains National Park, but due to the weather we decided it wasn't worth it.
UDAWALAWE (1 DAY/1 NIGHT)
We really wanted to see some elephants especially in their natural habitat so we decided on Udawalawe National Park. There are quite a few national parks but since we were heading south to the coast, this one was on the way.
We booked one night at Udawalawa Nature House. It was a beautiful place. We 'splurged' a little bit and spent about $35/night at this cottage. We had an incredible dinner and went to bed pretty early. We had to be up at 5am to head on the safari.
The jeep cost us around $35 and the entrance to the park was $30/each. Totally worth every penny. We witnessed a pretty awesome sunrise and saw all kinds of animals. Our driver did tell us not to get too excited and expect 100 elephants swarming the car. Some days you might see a couple of elephants and others you might see 50. You never really know. So, we had no expectations.
We saw a bunch of elephants, crocodiles, peacocks, water buffalo, monkeys and all kinds of birds. Apparently, there are a few leopards as well but they are extremely hard to spot.
TANGALLE (3 DAYS)
We hired a tuk tuk driver from Udawalawe to Tangalle. Actually, we had the same driver from Haputale to Udawalawe and for two days, we paid him $75. Not bad for a VIP ride.
Tangalle is a really quaint beach town in the southern part of Sri Lanka. I'm not sure what it's like during high season but it was pretty quiet in October and there weren't too many Westerners around. We booked a couple of nights at Ananda Homestay. Ananda is a really nice lady and probably the best cook in Sri Lanka. Some people say ownig a million dollar home is making it. I say waking up to this traditional breakfast overlooking the Indian ocean is absolute paradise is making it. :)
If you ever visit Tangalle, go stay with her and her lovely family. At $18/night we had a spacious room and breakfast included.
Here we met a friend, Connie Wang from NYC! She was also on a world adventure and travelling solo. She has an amazing blog, so check it out: www.wangtrain.com
MIRISSA (2 DAYS)
From Tangalle, we had to decide whether to move east or west. Eventually we had to end up in Colombo so it made sense to head west. This meant that we were going to miss out on Arugam Bay, a town said to have the best sunsets and surfing in Sri Lanka.
Mirissa is another small beach town. There's a beautiful beach and there's something for everyone. Mirissa has some ridiculously expensive hotels and also a lot of very affordable homestays. There weren't too many hostels in Sri Lanka but we preferred the homestays anyway.
We booked a couple of nights at Sunbird Eco Guest and paid only $14/night with breakfast. The room was quite small and we had a shared washroom but we didn't really care. We were there for only 2 nights anyway. The host was nice but talked a little too much. Still, Sunbird Eco Guest fit our budget so we had no complaints.
UNAWATUNA (4 DAYS)
From Mirissa we decided to take a train to Unawatuna, another cool beach town especially known for surfing. It's a little more developed than Mirissa and Tangalle but not by much. It was yet another beautiful train ride. Sometimes, the train was only a few metres away from the water!
We stayed at a really nice homestay called Sam's Guesthouse which was right on the main road. In other words, a good location to be in. The rooms were very spacious and we had AC. Yay! Breakfast was also included. We also had dinner there almost every night because it was home cooked and delicious.
There's a lot of good restaurants, little cafe's and a chill vibe on the beach. I can see this place becoming like the Thai islands in 10 years - overcrowded with tourists. Hopefully not though.
Most of the time we were pretty lazy and just stayed on the beach or walked around the area. There's a lot of other nice beachesclose by. Only about 5km from Unawatuna is Koggala. The beach here was our favourite! It's a must see! It was quiet and the waves were huge. This is a good place to see stilt fisherman BUT a lot of them are posers and ask for money if you try and take a picture.

DAY TRIP TO GALLE
Because Galle is so close to Unawatuna, we decided to go there for the day. The town is very picturesque and you can immediately notice the Portuguese and Dutch influence. The main attraction is the Galle Fort which has been around since the 16th century.
There's a lot to see here and I'm glad we checked it out. You can hang out at fancy wine bars, watch locals dive off cliffs or buy fish from the local fisherman. It's a pretty great spot.
We wanted a little break from the curry and spice so we went to check out a place called Sugar Bistro and Wine Bar. It's a bit pricier, but the food was good and the atmosphere even better.
The next day we packed up our bags and took the train to Colombo. We bought a second class ticket for a couple of dollars. Once again, the train ride was incredible. As I said before, riding the trains in Sri Lanka was one of the highlights for both of us.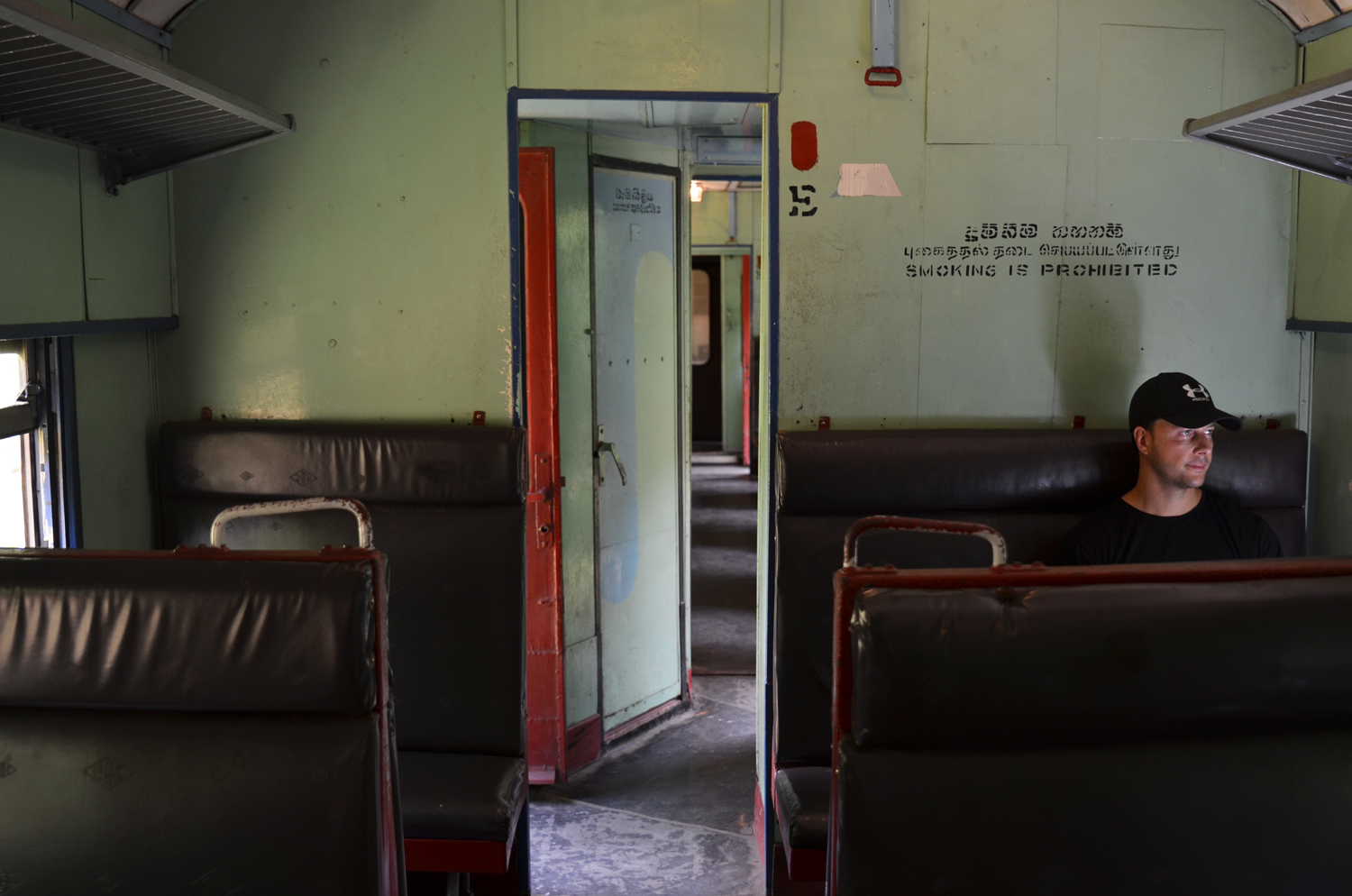 When we arrived in Colombo we took another train all the way to the airport. We had to get a separate ticket for that. We only had 5 minutes to make the train, so we were running and knocking people over with our bags trying to make this train that clearly had way too many people on it. It was a pretty uncomfortable ride but one that we won't forget!
Here's the breakdown of how much we spent for 18 days:
Accommodations: $595
Food: $536
Activities: $134
Domestic Transportation: $328
Misc: $187
Tourist Visa: $30 (USD) per person

Total: $1855
Daily Average (per person): $52

*Excludes one-way flight from Dubai to Colombo ($165 each)
**Currency exchange 10/23/2015: $1 (CAD) =109 Rupees
Don't forget to check out the FULL GALLERY!