AUGUST 17 - AUGUST 26
I finally managed to get this post up. I had a feeling this one would set me back and I'll tell you why. I normally write a blog post about a country once we head for our next destination so that I can gather all the photographs and information. Since we were heading to Croatia, Bosnia and Serbia next, I knew that catching up with family would leave me with no time to work on the blog. Because of this, the photos started piling up and the people and places were getting all mixed up in my head. Not good.
The other reason I kept you all waiting for SO long (does anyone REALLY care by the way?) is a very poor wifi-connection and sometimes no internet access at all. In some places it would take me 30 minutes to upload 5 photos. Ain't nobody got time for that!
The good news is that we are in Istanbul and we finally have stable connection! But we're not here to talk about Turkey. Let me tell you about beautiful France.
We took the National Express bus from London to Paris because it was cheaper than taking the Eurostar train. We didn't have a chance to take this train but from what I hear it's comfortable and a lot faster than the bus. So, if you're in a rush take the Eurostar.
The bus ride was about 8 hours and we got dropped off right in the city centre. This was perfect because we needed to take the metro to get to our apartment.
We were staying at a place that was right beside the metro station called Porte de Lilas. It's not the best area, so I would not recommend staying there unless you are on a tight budget. We found the apartment through AirBNB. The place was tiny and it felt like a student dorm, but we weren't planning on spending much time indoors anyway. We only had a few nights in Paris.
We arrived pretty late. Our Austrian roommate filled us in on everything but we really wanted to know where we could get a bite to eat! We were exhausted and starving at it was 11pm. Luckily, there was McDonald's right across the street, but I'd rather starve than eat there, so instead of eating some French fries we decided to have a chicken shawarma dinner instead. Mmmm...
Just when we were about to pay, we found out we couldn't use our debit card so we had to get some cash. We walked over to the ATM machine, selected the option to take out 60 euros but the cash never came out. Just what we needed. We were loving Paris already.
It gets better though. We head back to our apartment, which was a pretty old building with no elevators, and each floor had two apartments. Ours was on the second floor, but for some reason I couldn't remember which one we were staying at. There was no name or number anywhere. I was confident it was on the on the right side. I put the key in but then I started to struggle to unlock the door. I kept trying for a good two minutes and all of a sudden I hear someone from the other side of the door freaking out in French. I nearly had a heart attack! I can only imagine what the woman on the other side was thinking. It clearly looked like I was trying to break in. We we both startled, but she would not stop screaming. I apologized a hundred times and tried to calm her down, but she refused to shut up. At one point I thought she was going to come out and shoot us, so we unlocked the other door effortlessly and ran inside. She kept screaming at the top of her lungs. I was starting to hate the sound of French already and we only just arrived. The only thing i managed to understand was that she was going to call the police. PERFECT! All we needed now was to get arrested.
In the morning, I was woken up by a loud knock on the door. Mike went to open it and there she was - grumpy, French lady screaming at the top of her lungs. You'd think that at this point she would have realized that we didn't speak French. I was so angry. I pounced out of bed and went straight to the front door. I basically told her to shut up so that I could explain to her what happened. Sometimes being nice to people just doesn't cut it. Waving my hands around, I told her that I put the key in the wrong door and that I was sorry for scaring her. It finally got through her thick head. Hopefully, she wouldn't bother us again. Unfortunately, I don't have a picture of her to share with you all.
We made some delicious breakfast and headed out to explore Paris!
 
We hopped on the metro (it costs about 1.70€ one way) and the first place we wanted to check out was the Louvre, which is one of the largest and most famous museums in the world. The museum itself is located right in the middle of the Louvre Palace which was built in the 12th century by Phillip II. In 1682, Louis XIV decided to move to the Palace of Versailles (Château de Versailles) and use the Louvre mainly as a place to display the royal collection. During the French Revolution, it was decided that the Louvre should be used as a museum to display the nation's masterpieces and it was opened to the public in 1793.
We were pretty excited, but once we got there we found out the museum was closed. Unfortunately, we couldn't come back the next day. So, we never got to see the famous and very tiny painting of the Mona Lisa. I guess we will just have to go back one day. We did, however take a lot of fun pictures in front of the Louvre. :)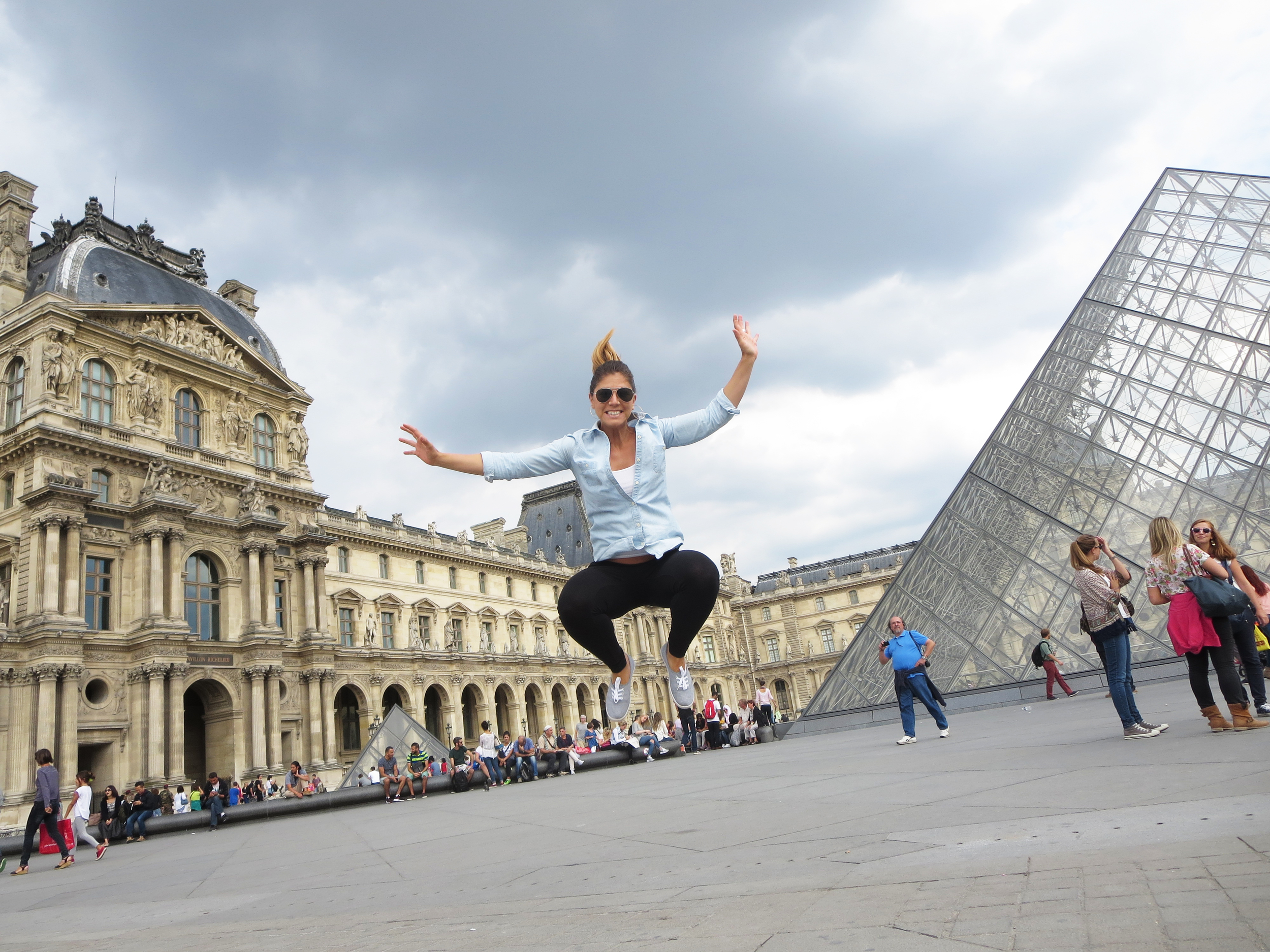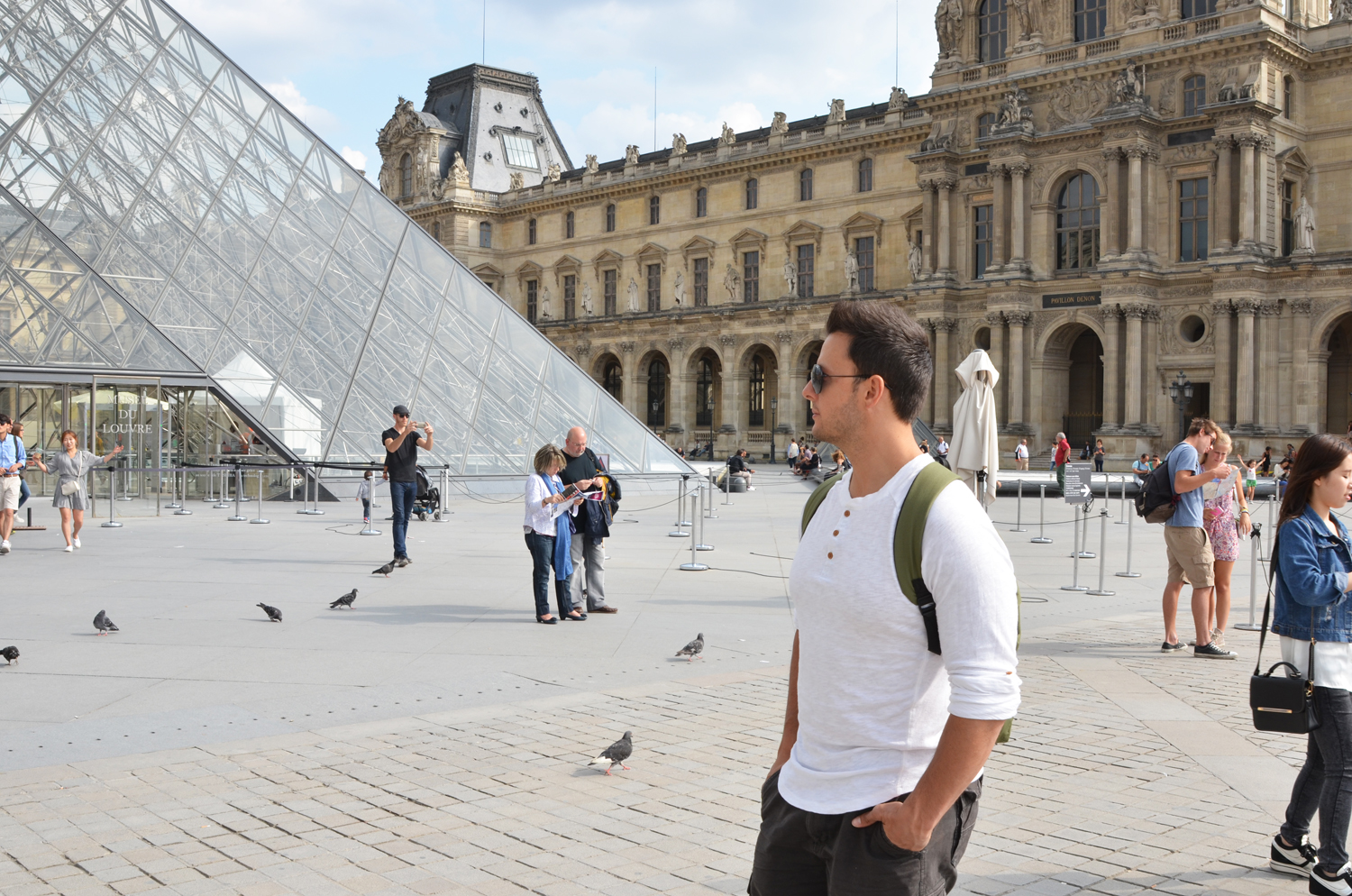 These are just a few of the pictures I was able to save from this day. At some point in France, I realized that my memory card had an error and I wasn't able to recover any photos. What a nightmare. :(
Next, we checked out the Jardin des Tuileries and Place de la Concorde, the largest square in Paris. What I loved about Paris and France in general was all the gardens. They were everywhere!
And of course, you can't come to Paris and not have some coffee and crêpes. So we did just that. We sat near the Louvre - it was definately a tourist trap, but we fell for it.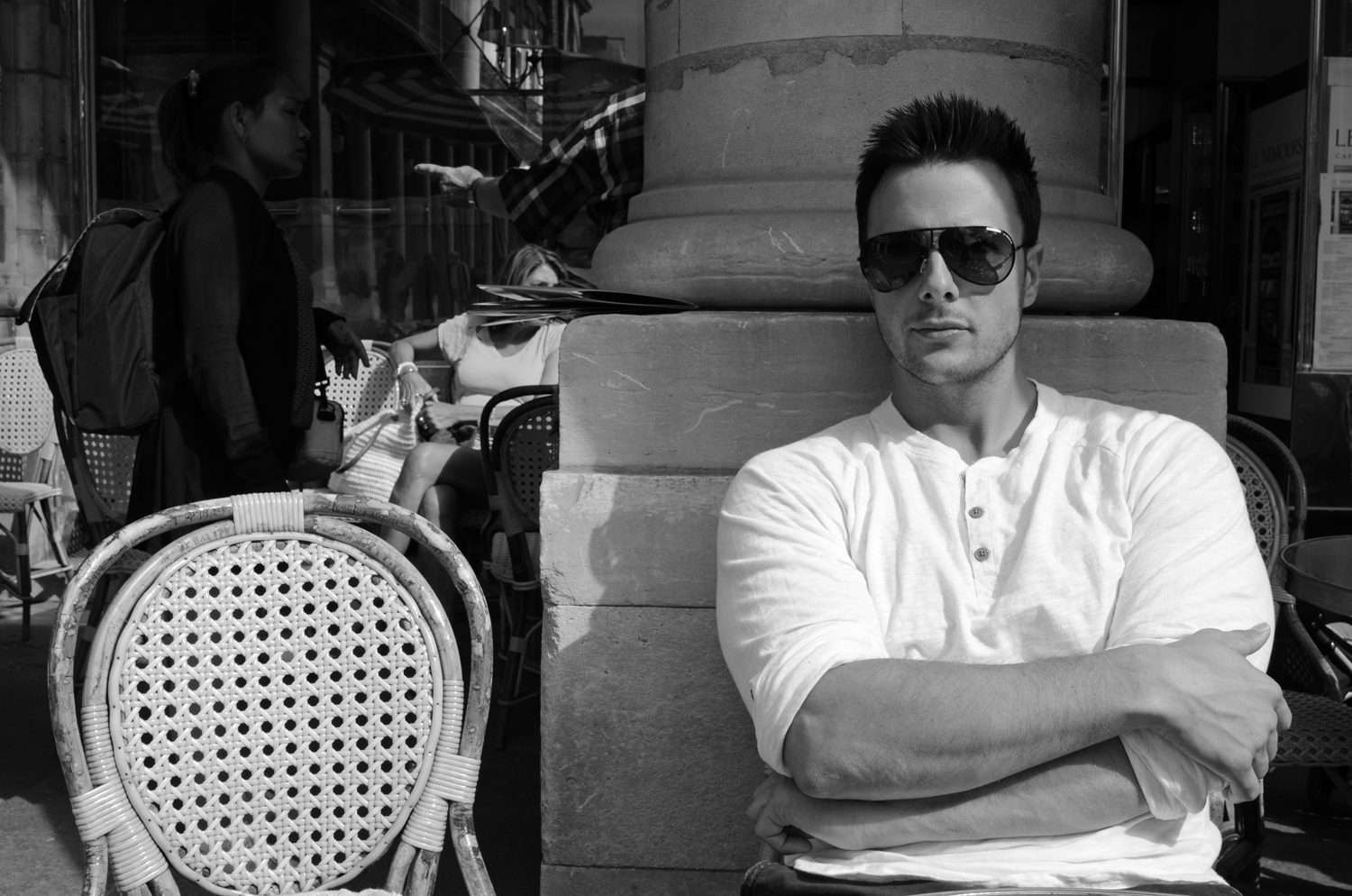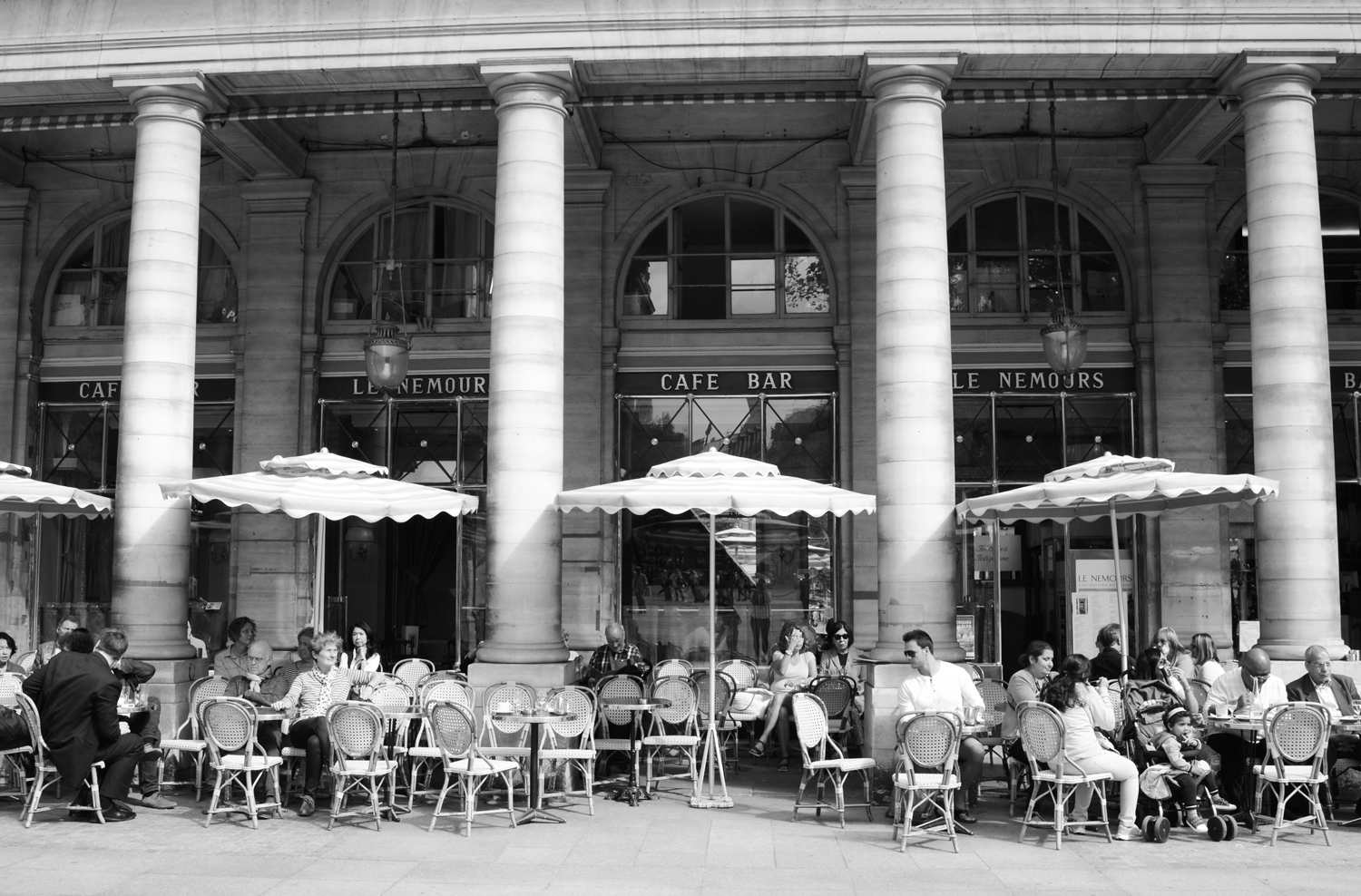 This probably isn't news to anyone, but we found that no one really spoke English. However, I found the people a lot friendlier than I expected, so that was a pleasant surprise.
Next up, was the Arc de Triomphe de l'Étoile which is one of the most famous monuments in Paris. To make a long story short, when the Grand Armee (French Army) conquered most of Europe, they were considered invincible. Napoleon wanted to honour them, so he ordered the Arc de Triomphe to be built in 1806. It was completed by 1836, long after Napoleon's death.
*Fun Fact: If you try to cross the street to et to the Arc de Triophe, you will die. Instead, take the underground path and you will thank me later.
We went up to the top and the entrance fee was 10€.
We walked over to the Eiffel Tower and both of us were immediately turned off by the number of tourists. After taking some photos, we bought a bottle of wine from one of the gypsies and sat on the grass. Ahhh, Paris, je t'aime.
We didn't even bother going up because the line up was a two hours long and the entrance fee 25€. We also wanted to get away from all the gypsies trying to sell us anything from laser pens to beer.
I was really excited to check out the Château of Versailles today. In fact, I was looking forward to it more than anything in and around Paris. We left the apartment pretty late and we thought we weren't going to make it because it was already 3pm. It takes about 1-1.5 hours to get to Versailles, depending what neighbourhood you're going from. We hopped on the metro and eventually had to get off at the stop called Javel, where we switched trains and travel to Versailles Rive Gauche. We also had to buy separate tickets for the second train because Versailles is out of Paris and falls into the Île-de-France region. It seems complicated at first, but it's actually not that bad. The train ticket was 7€ each way.
One we got there, we had enough time to check out the interior. It was impressive. The Château de Versailles has been on UNESCO's World Heritage list for many years and it's definitely worth seeing. In my opinion, you need at least one full day to see everything.
The site began as Louis XIII's hunting lodge before his son Louis XIV transformed and expanded it, moving the court and government of France to Versailles in 1682. Each of the three French kings who lived there until the French Revolution added improvements to make it more beautiful. It's quite something, especially the garden and the Hall of Mirrors.
Once we figured out that the garden didn't close at the same time as he palace, we stayed at the garden for a while, nibbled on some cheese (Mike had a banana) and enjoyed people watching. Eventually, we got back to the city and checked out Cafe de Flore - one of the oldest and most prestigious coffeehouse in Paris.
Today, we were catching a train to Montpellier, which is located in the south of France. Our plan was to stay 6 nights with my cousin, her husband and their new baby!
We took a train from Paris Gare de Lyon to Montpellier Saint Roch. Finding the station in Paris was very easy because it's connected to the metro. We also had to buy a return ticket, which cost $143 per person, because we had to be back in Paris to catch our flight to Zadar, Croatia next.
It was a 3 hour train ride - comfortable, but no food or wi-fi available. We used a couple of websites to find the best deal, and Voyages SNCF was the winner!
Voyages SNCF
Oui Bus
At the station in Montpellier, we were welcomed by my cousin's husband, Daniel. He helped us with the luggage and we made our way to their apartment, which was about a 45 minute walk.
Within 15 minutes of being in Montpellier, I liked the vibe of the city - it was smaller, close to the sea and very sunny. We were going to dedicate the next 6 days to some sightseeing, wine-tasting and sunbathing! Sounds perfect to me.
Because we were staying for almost a week, we figured it would be cheaper to get a bus/train pass for the week than to keep buying individual tickets, and it was. It only cost us 15€ each.
The first place that we checked out was the Place de Comédie. You can't miss it because it's probably the most central part of Montpellier and a great meeting spot. In the middle of the square is a large statue of the Three Graces, Montpellier's emblematic goddesses.
After a nice stroll though the narrow medieval streets, we ended up by the Porte du Peyrou. The arch was built in 1691, on the old city walls, dedicated to the glory of Louis XIV. Just across the street is the Promenade de Peyrou, which contains a massive statue of Louis XIV and also great place for hanging out.
Later that evening, we went to check out Les Estivales de Montpellier - a summer food and wine festival. We just happened to be there at the right time since that was the closing night. It was packed! There were over 100 exhibitors selling a variety of foods, artisan products and most important wine form the Languedoc-Roussillon region.
The next couple of days we wandered around the city and checked out the beach. It was a bit further than I thought. It took us about 40 minutes by bus to get to the beach. Not bad, but nothing to rave about either.
My cousin suggested that we go on a day trip with one of her friends and we agreed to join them on a wine and cheese tasting tour in Roquefort. The village best known for it's blue cheese made from sheep's milk. It's about 1-2 hours away from Montpellier, but worth the visit. Unfortunately, it was a rainy day but we still managed to get a few good pictures.
The legend goes something like this:
Ages ago, at the base of the Combalou Mountain, a shepherd spotted a beautiful young woman. He ran after her leaving behind his flock and forgetting his meal, composed of bread and ewe's milk curds, in a cave. As he couldn't find the beautiful shepherdess after days of searching, the shepherd came back to his flock and the cave where he found his less than appealing meal. The ewe's milk curd was now marbled with green veins and the bread had molded. Starving, he tasted the cheese and he loved it. Roquefort was born!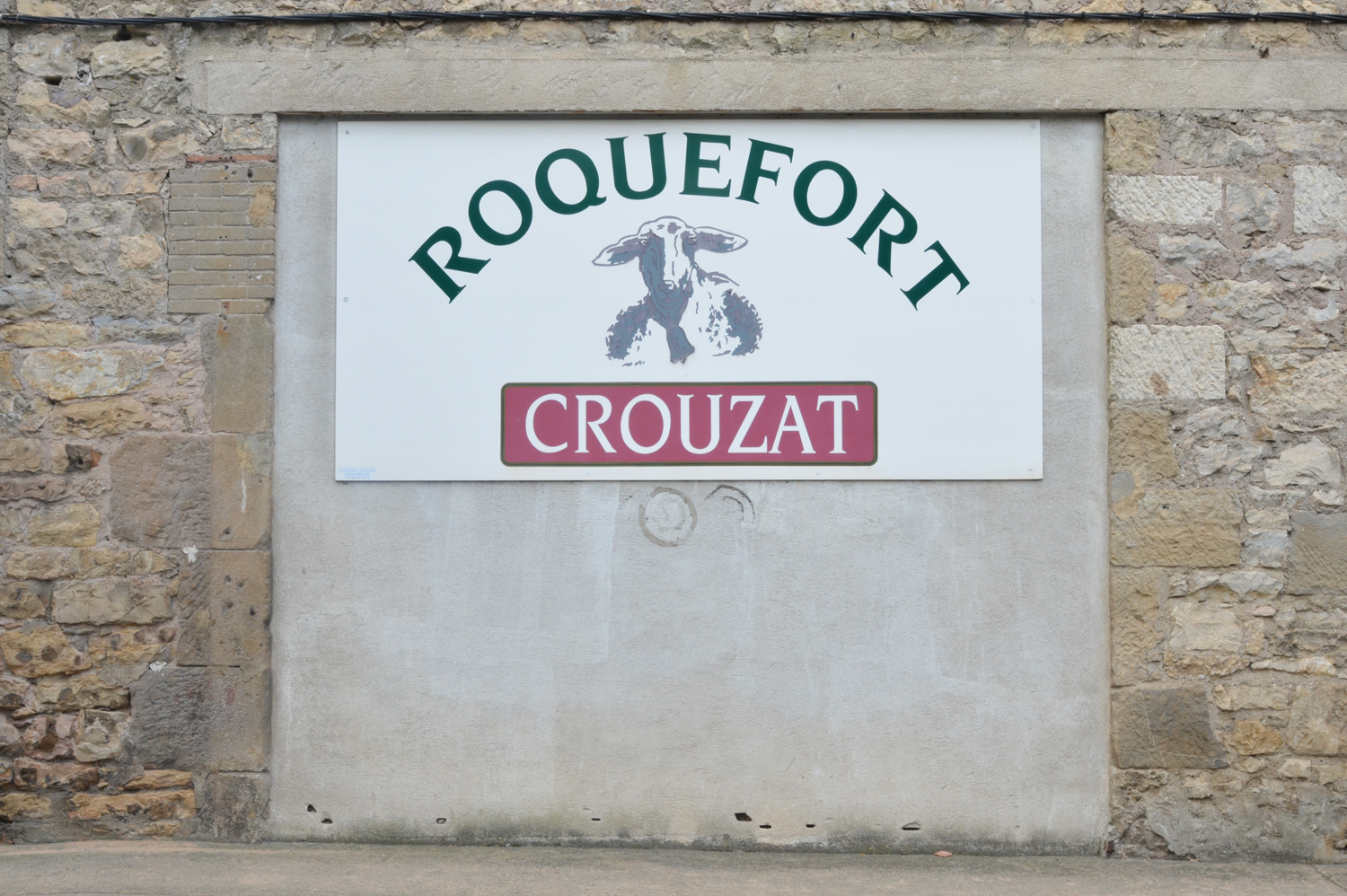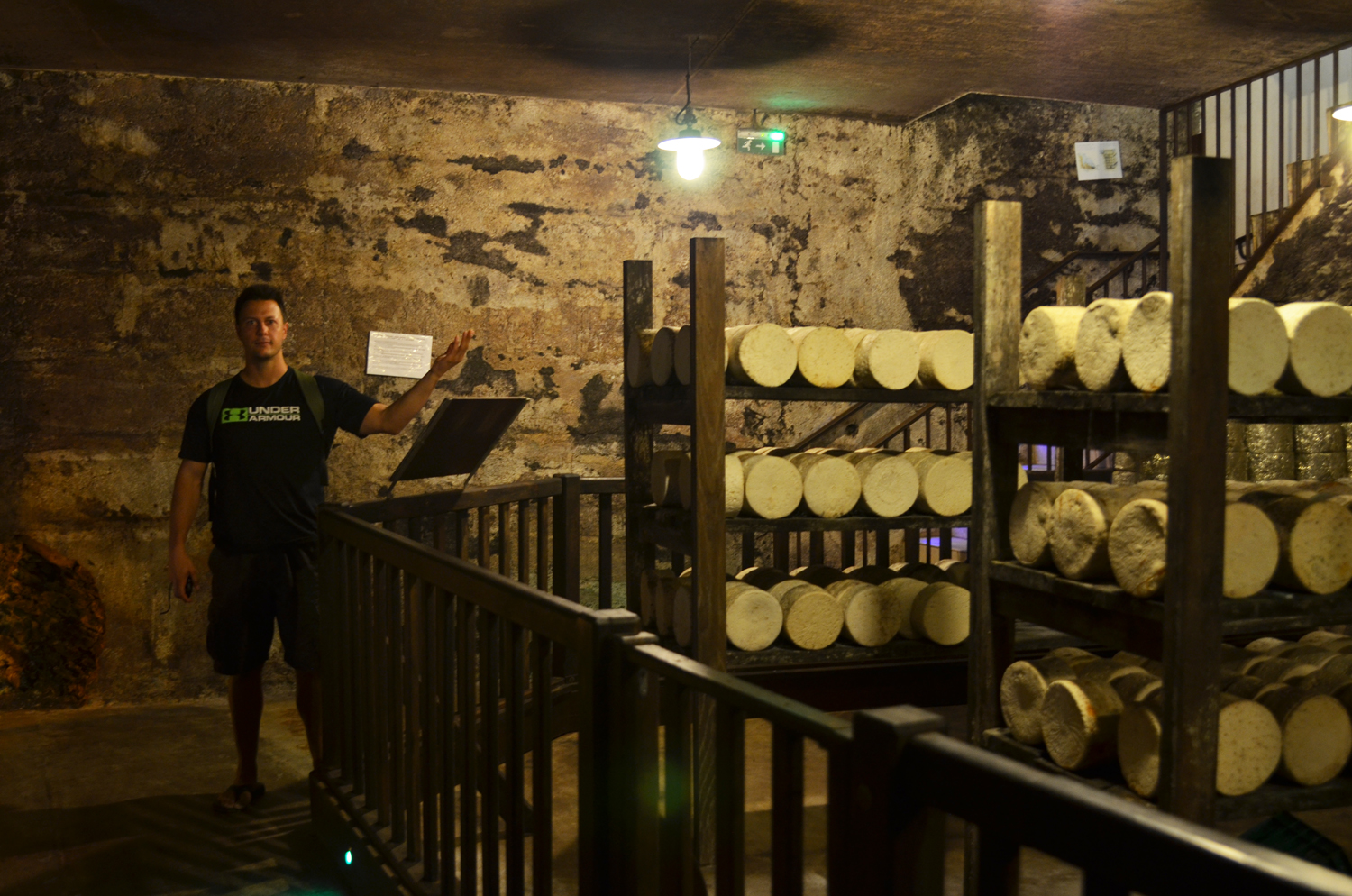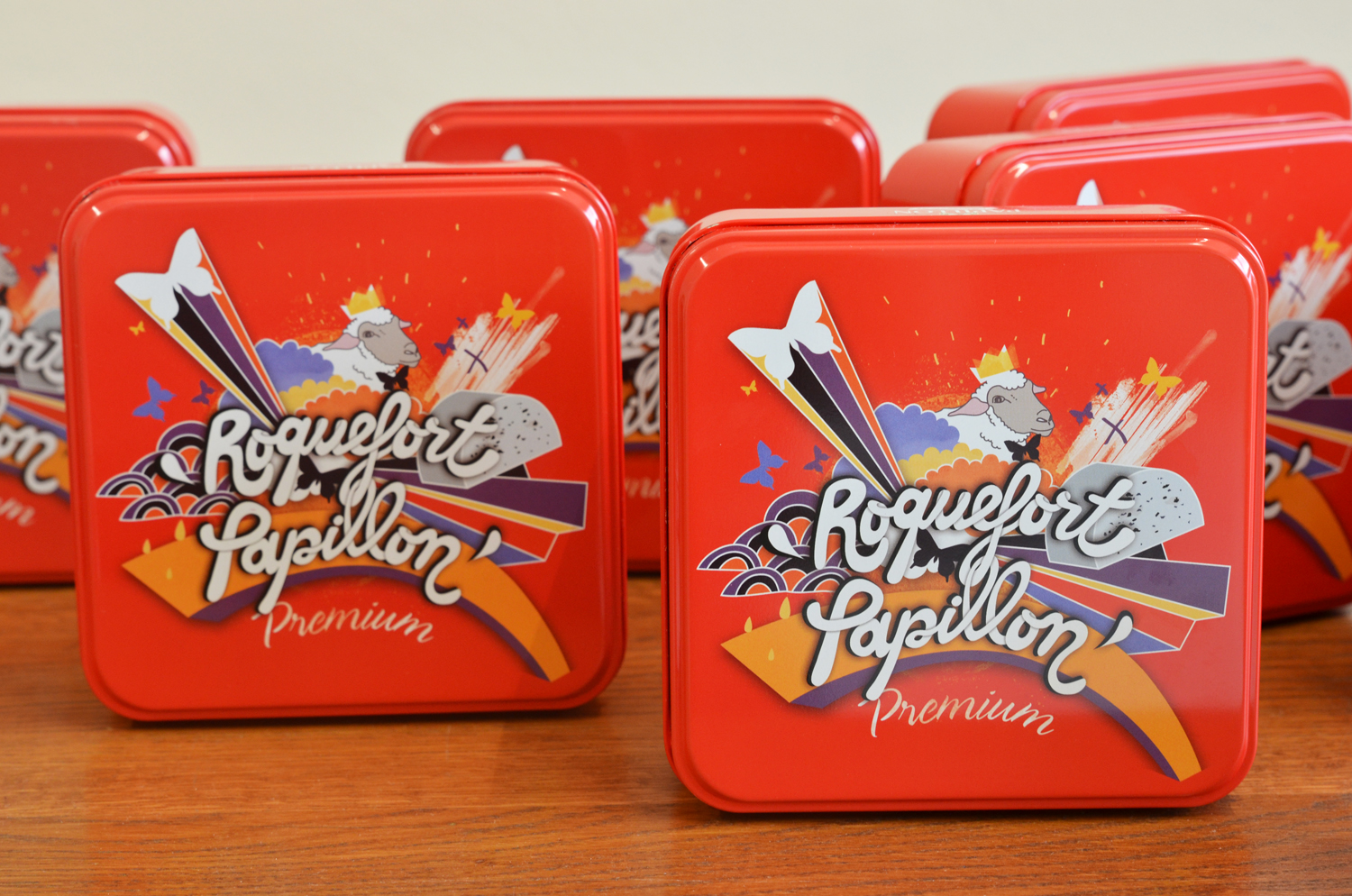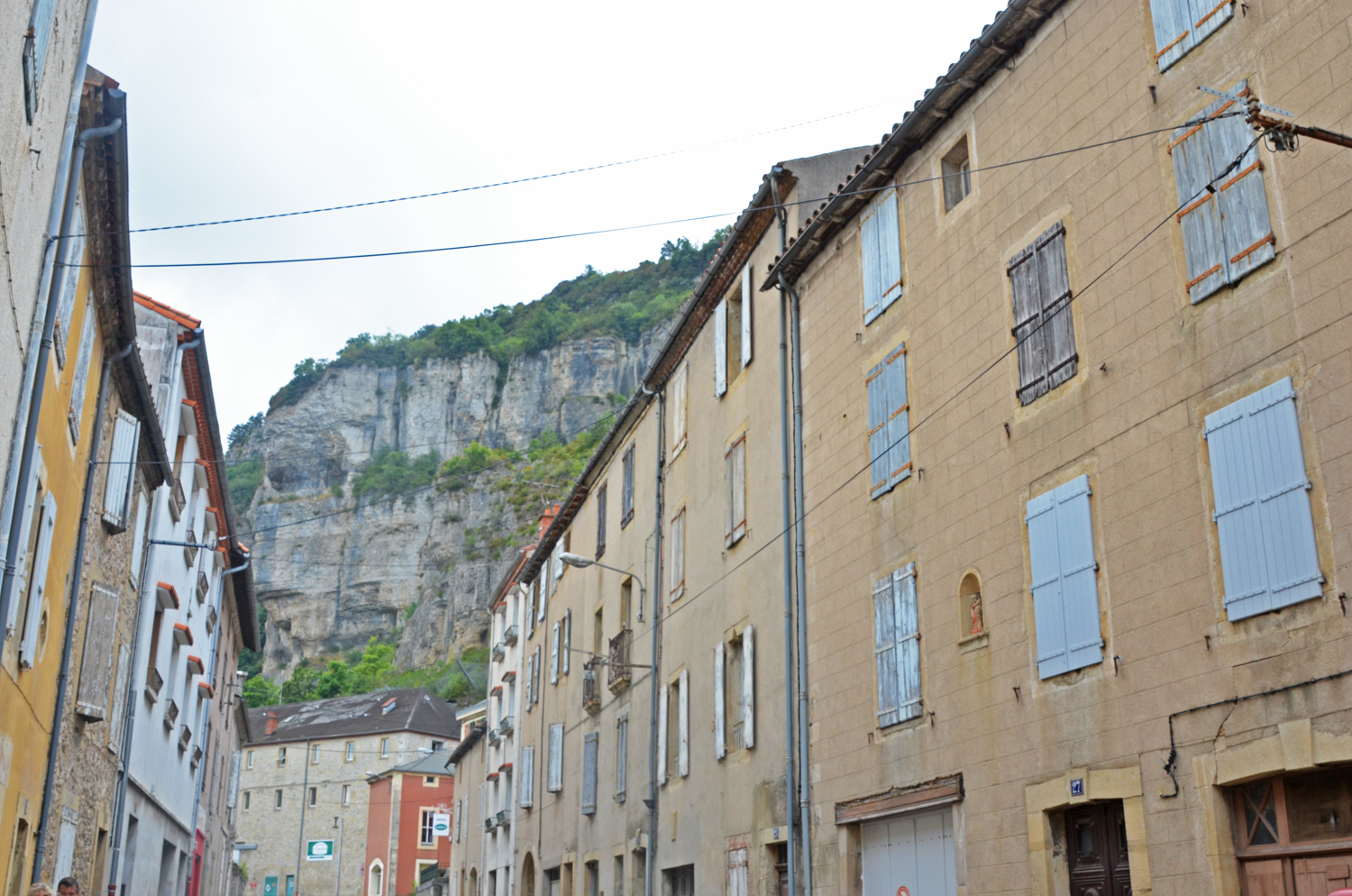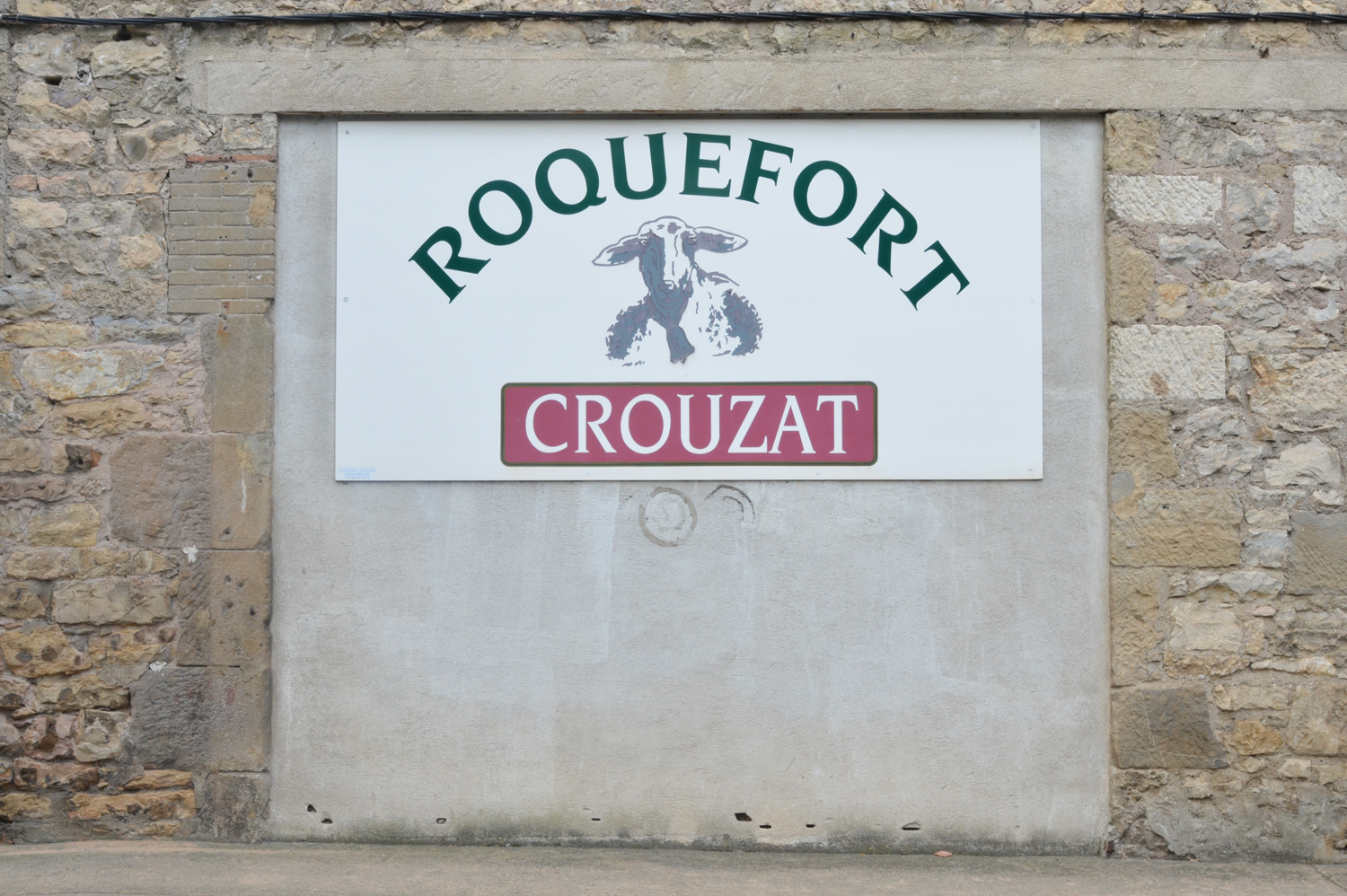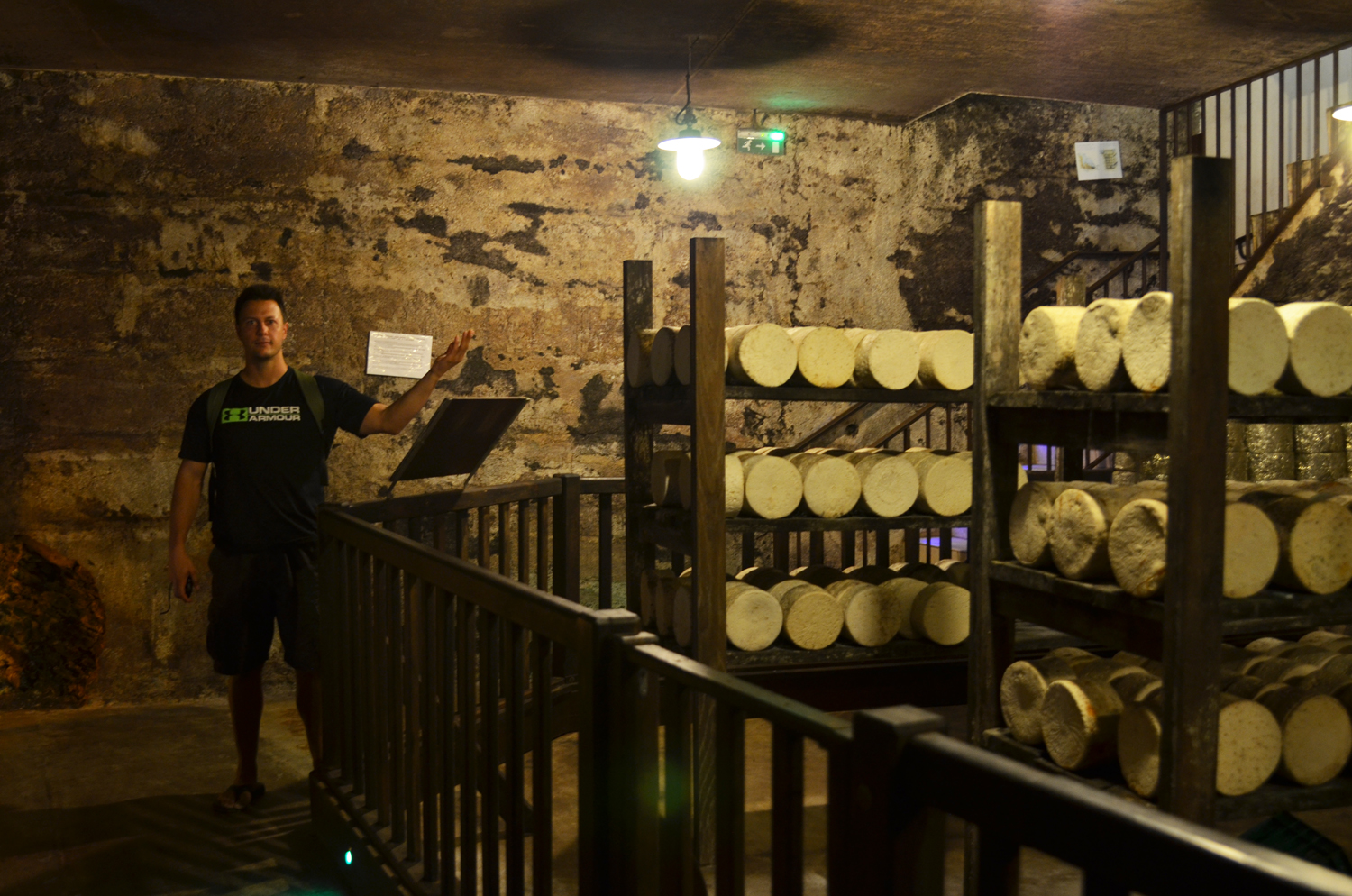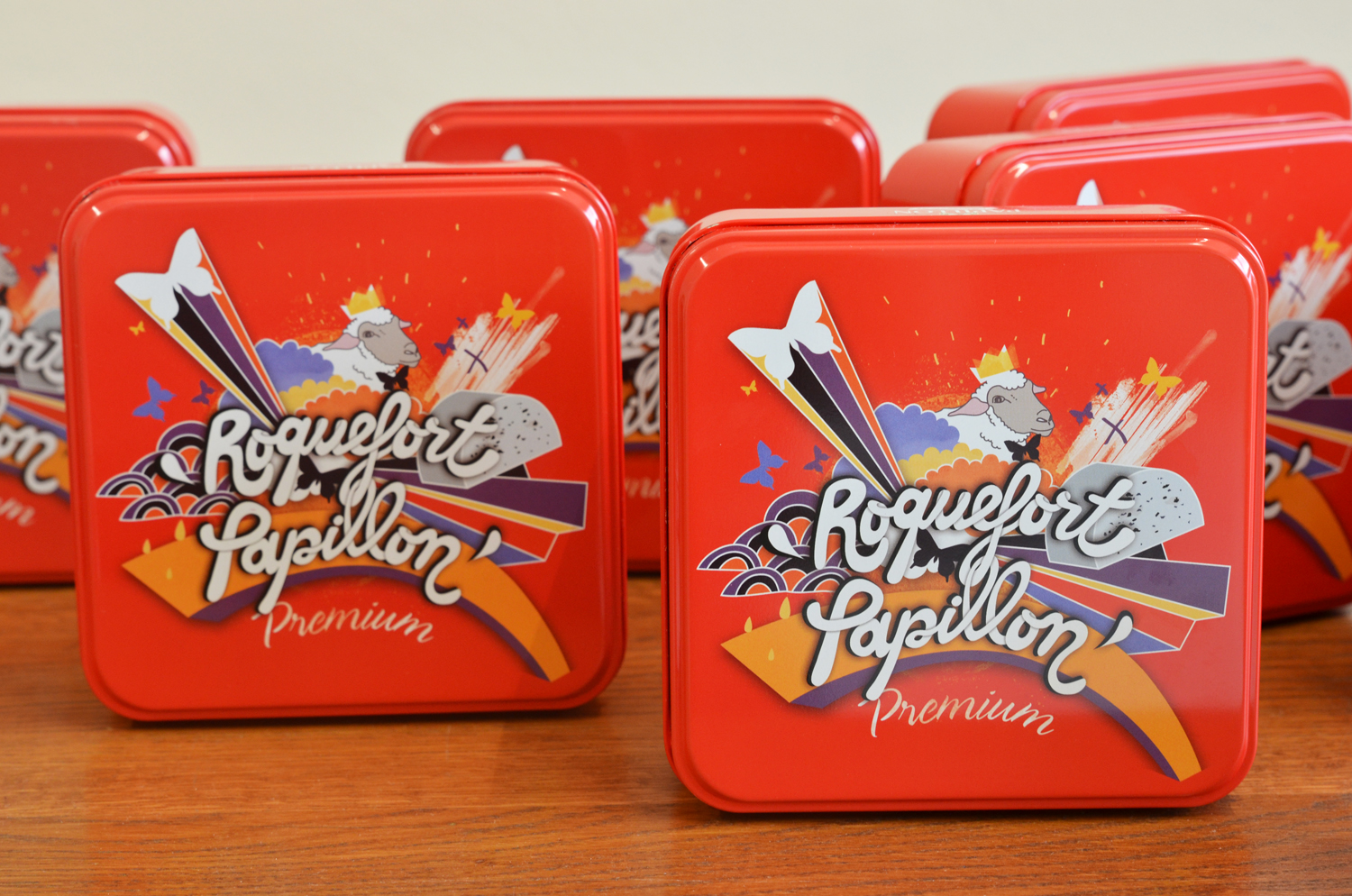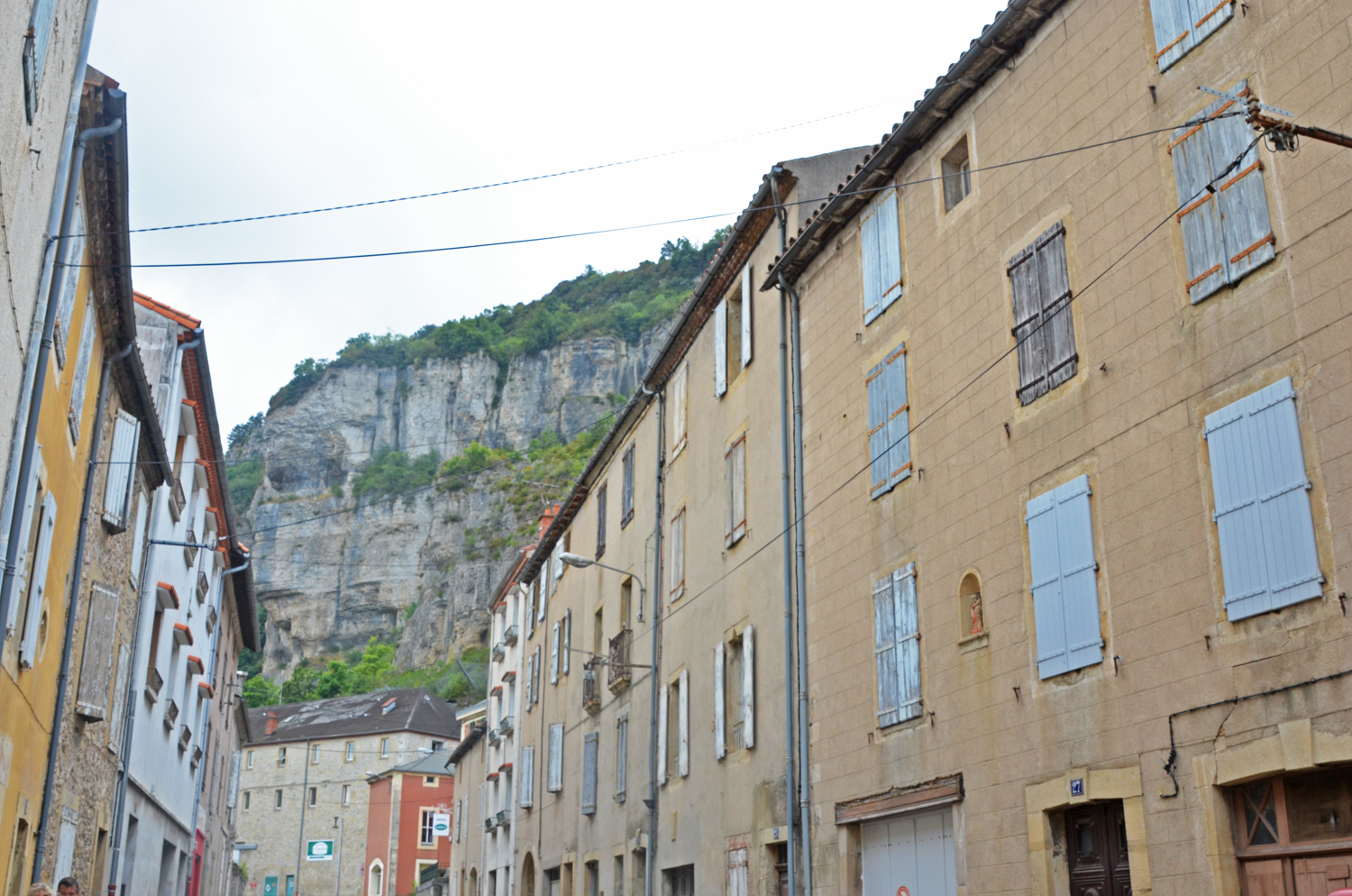 The next stop was a goat cheese farm in Villeveyrac called La ferme des Saveurs. What was pretty cool about this place was that it was a biodynamic farm. This means that not only is everything organic, but the approach to agriculture, food production and nutrition is spiritual, ethical and ecological. Biodynamic agriculture is part of the work of Rudolf Steiner known as anthroposophy. The cheese was SO good and really cheap. I even tasted some very fresh, unpasteurized goat and sheep milk. Yumm!
Just a short drive away was the village of Bouzique - a small fisherman town known for oysters and mussels. From the shore you could see thousands of oyster beds. They are produced in the Thau lagoon using a method unique to France.
We didn't stay too long because of the bad weather, but the town had a bunch of restaurants where you could order some of the best oysters and mussels in the south of France! Maybe next time.
One our last day, we hung out with my cousin and soaked up the sun as much as we could. I also learned that Serbian people aren't the only ones who kiss three times on the cheek - the French and Swiss do too!
The next day, we had to catch a train back to Paris at 5:30am and we figured the best way to get to the station was to walk. And we did just that. We left the apartment at 4:15am, with our massive backpacks and we walked a good 45 minutes. What a workout! Along the way, we encountered more than a few crazies yelling after a long night of drinking, but not one quite as nuts at the old French lady in Paris! ;)
Once we got to Paris, we took a shuttle to the Beauvais-Tillé Airport , which serves mainly budget airlines. If you buy the shuttle tickets online, you can save a good 15%-20%. We paid 16€ each.
So, what did we think of France? I preferred the south of France over Paris, but Paris is PARIS, so it's worth a visit. I think I'd like to go back someday especially because there's so much to see and three days is just not enough. However, I found Paris very dirty and way too touristy. Mike was not a huge fan of Paris at all and he doesn't really care to go back. To make this long story short - Paris is overrated. Versailles on the other hand is awesome!
We both enjoyed the south. The pace of life was slower, everyone was more relaxed and it was cheaper! In general, France was pretty expensive, but if you looked around you could definitely find some deals. We bought groceries and cooked most of the time, but somehow we ended up spending a lot more on food than we expected.
Here's the breakdown of how much we spent for 10 days:
Accommodations: $150
Food: $550
Activities: $120
Domestic Transportation: $405
Misc: $40
Tourist Visa: $0

Total: $1265
Daily Average (per person): $63

*Excludes one-way bus ticket from London to Paris ($47.50 each)
**Currency exchange 08/17/2015: $1 (CAD) = 0.69 Euros
Don't forget to check out the full gallery below!