A couple of days ago we went to check out a coffee plantation just north of Ubud. There are many in Bali because this island has the perfect conditions for coffee beans to grow. We decided to visit Bali Pulina Agro Tourism. We were really curious about the Kopi Luwak coffee. It's regarded as the most expensive coffee in the world. In Bali, a cup usually goes for about $5-$15. In North America, you can expect to pay $30-$50 per cup. When you understand the production process it totally makes sense why.
TIP: Not sure if you need a visa for Indonesia? Check Your Visa Requirements at iVisa.com! You can process a visa from a computer, smartphone or tablet. It's that easy! Travellers no longer need to research or get frustrated dealing with different Governments. Travel agents, Destination Management Companies and Corporates can use iVisa.com to process any travel visa. We provide the best solution in the market.
It's also the shittiest coffee in the world - quite literally! To make a long story short, the civet cat (known as Luwak in Indonesia) eats the best coffee cherry and poops out the coffee bean (which remains intact throughout the entire digestive system). Then, the beans are collected, cleaned, de-shelled and roasted. This is why some people call it cat poop coffee. Yumm!

Upon arrival we were greeted by a very friendly staff member who gave us a quick tour of the grounds and the production process. There was no entry fee either. We also saw the civet cats in cages which was kind of sad.
Originally, the beans were collected from feces of civet cats living in the wild, which would make the process very time consuming. As the demand grew, farmers realized it was easier to keep the civet cats in captivity, making the process a little easier. This raised some ethical issues, as you can imagine. I did some research and found one coffee plantation that is the most ethical in Bali: the Munduk Moding Coffee Plantation Nature Resort and Spa. Supposedly, the civet cats are not caged here. We didn't have a chance to see it for ourselves, so who knows. Unfortunately, it's about two hours north of Ubud and we just didn't have time to go there.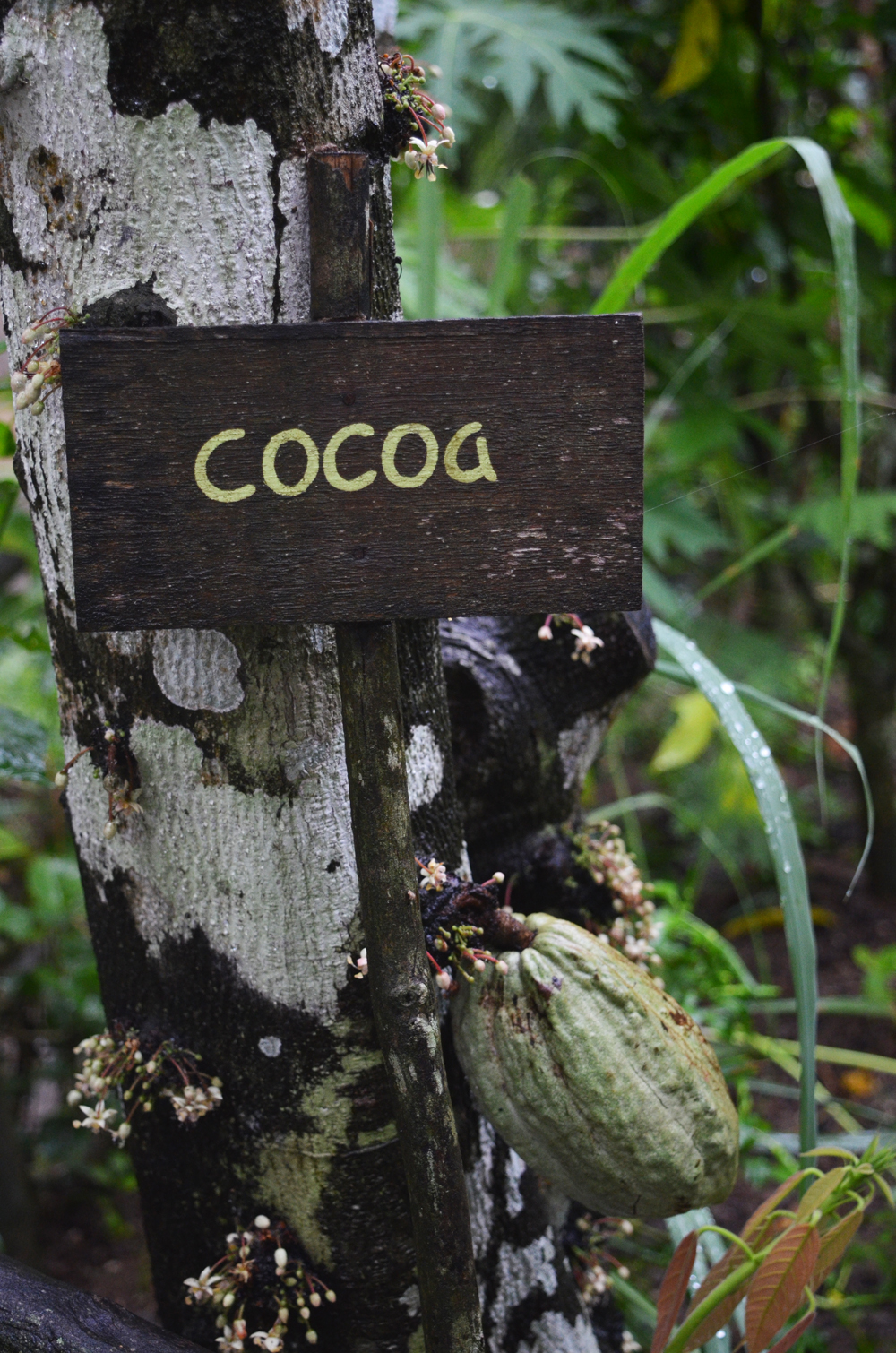 This man was roasting coffee beans for a while and he looked pretty tired. So I helped him out and took over. :)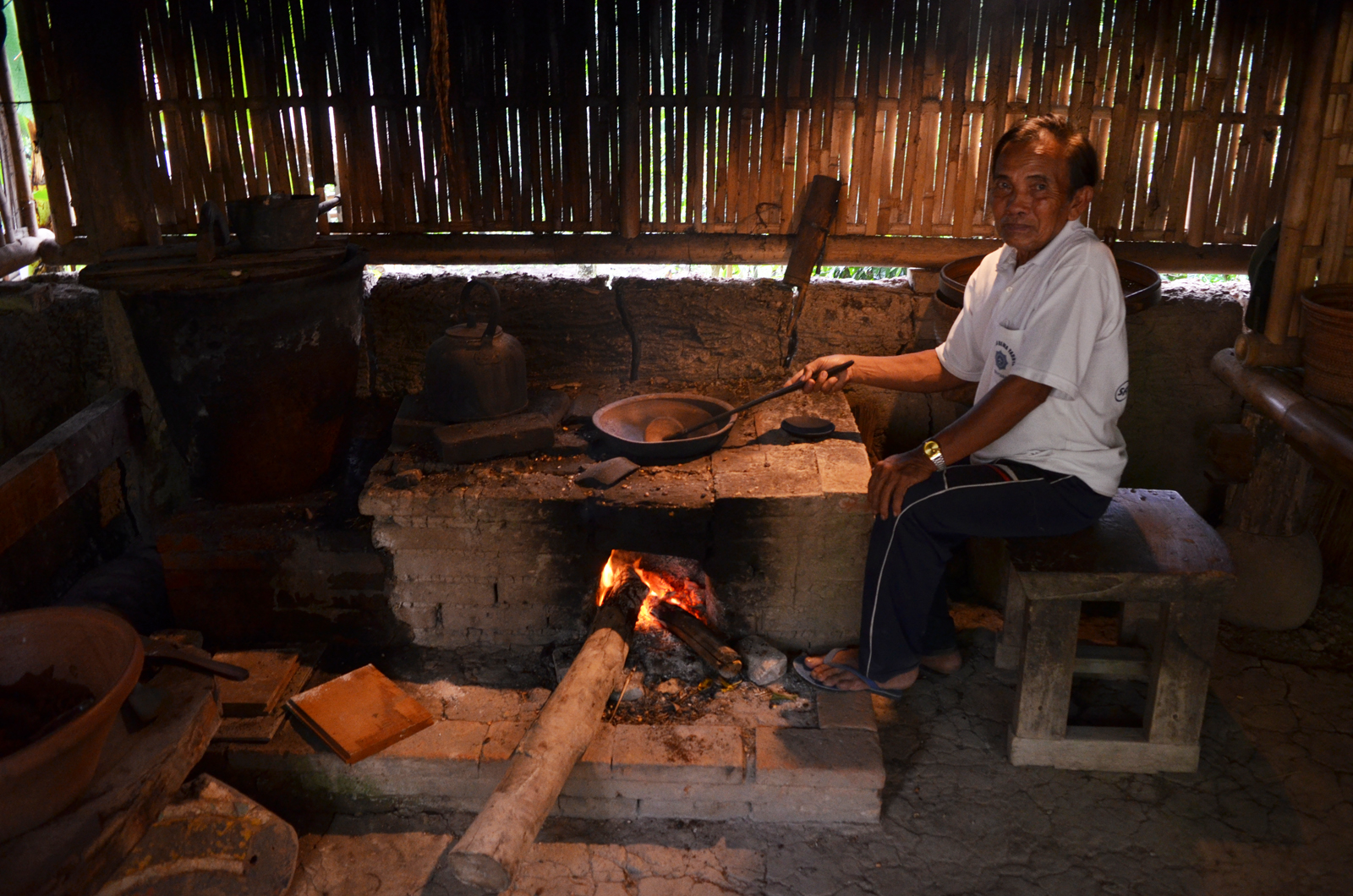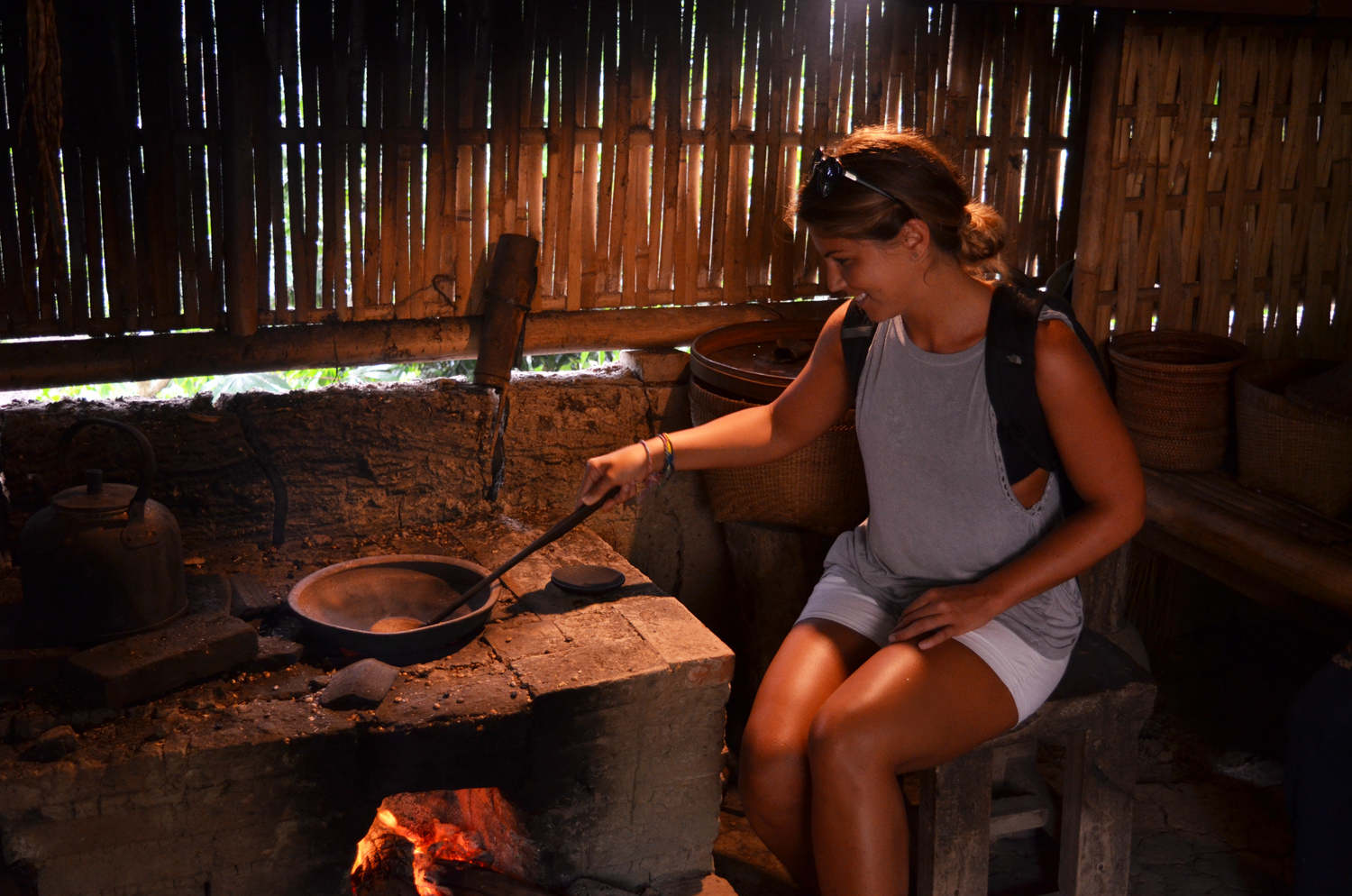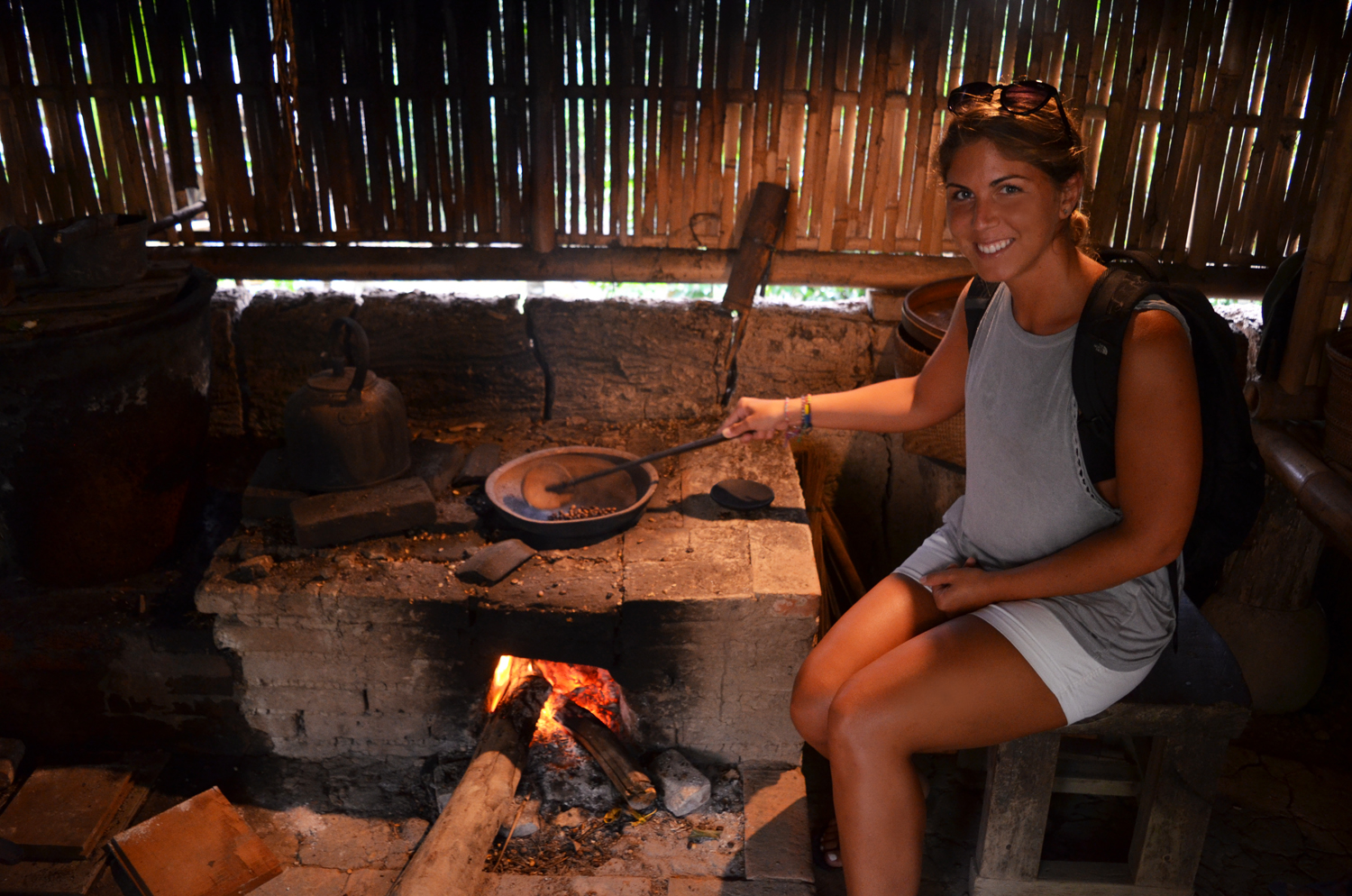 Once the coffee beans are roasted, they are ground using a mortar and pestle.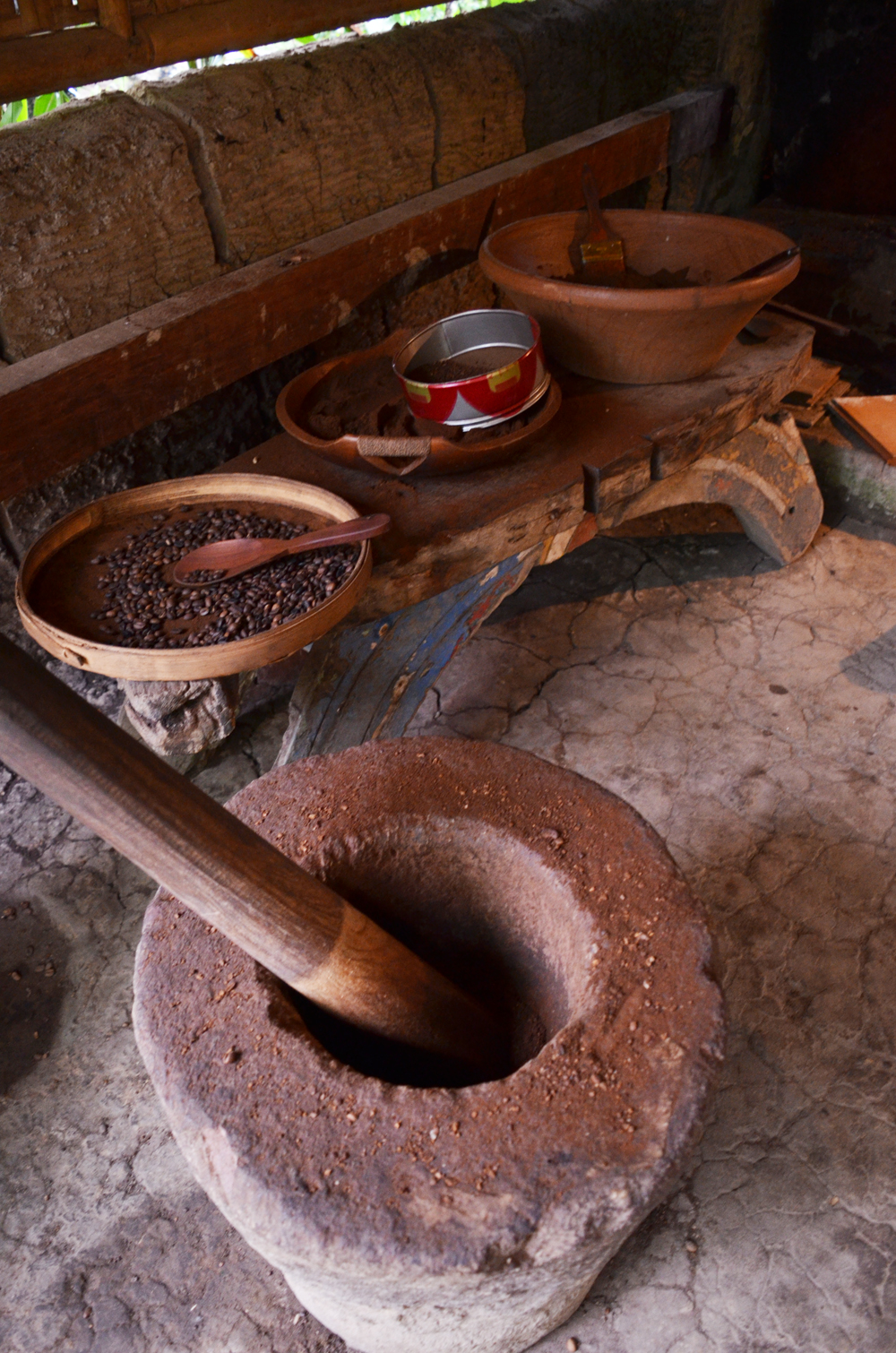 After the tour we were ready to sample some coffee...and tea! We waited for our samples, which were free and ordered two cups of kopi luwak coffee which cost us $5/each.
We weren't expecting much, but when we walked down to the terrace we had the most incredible view of the rice terraces!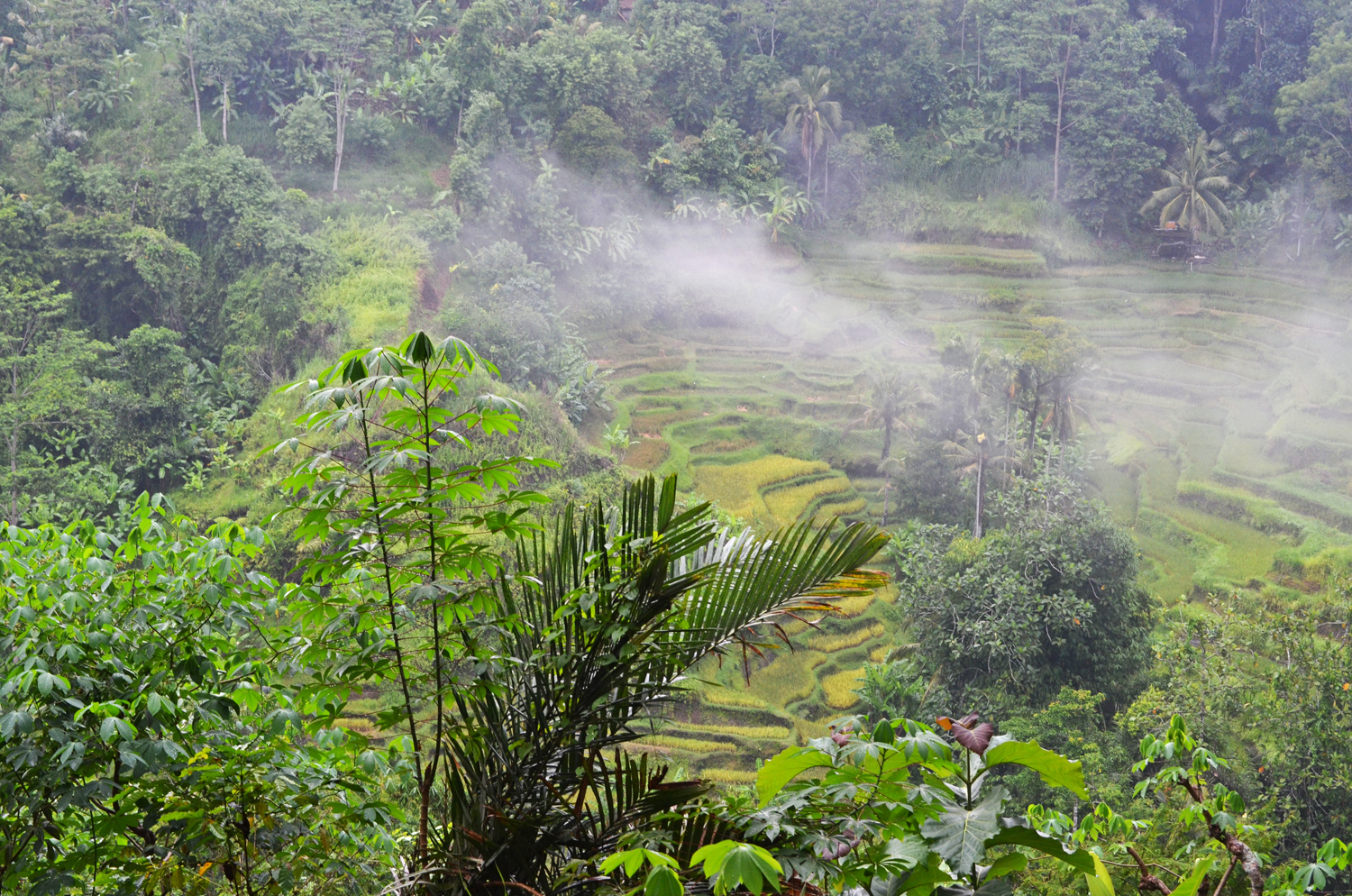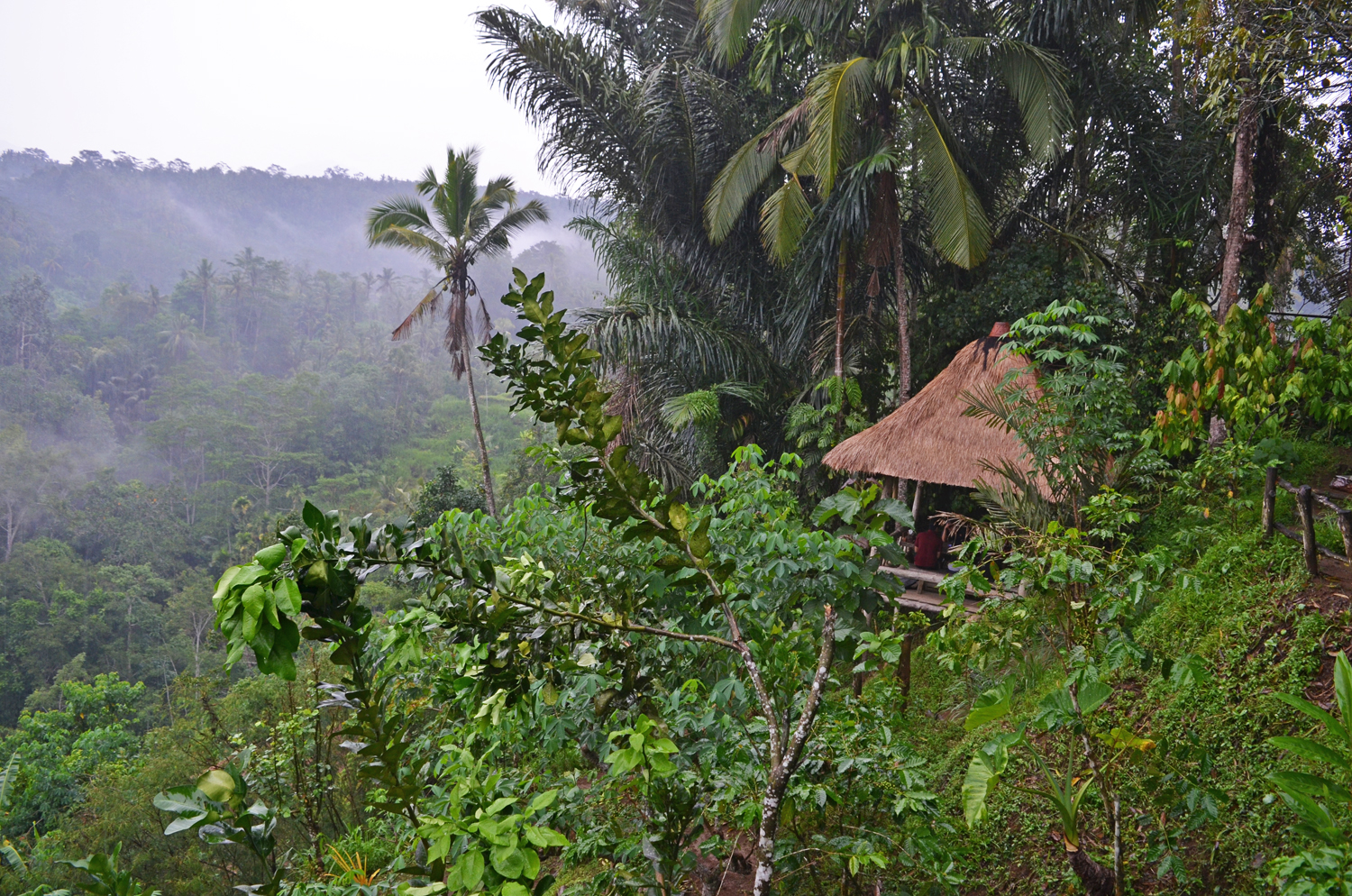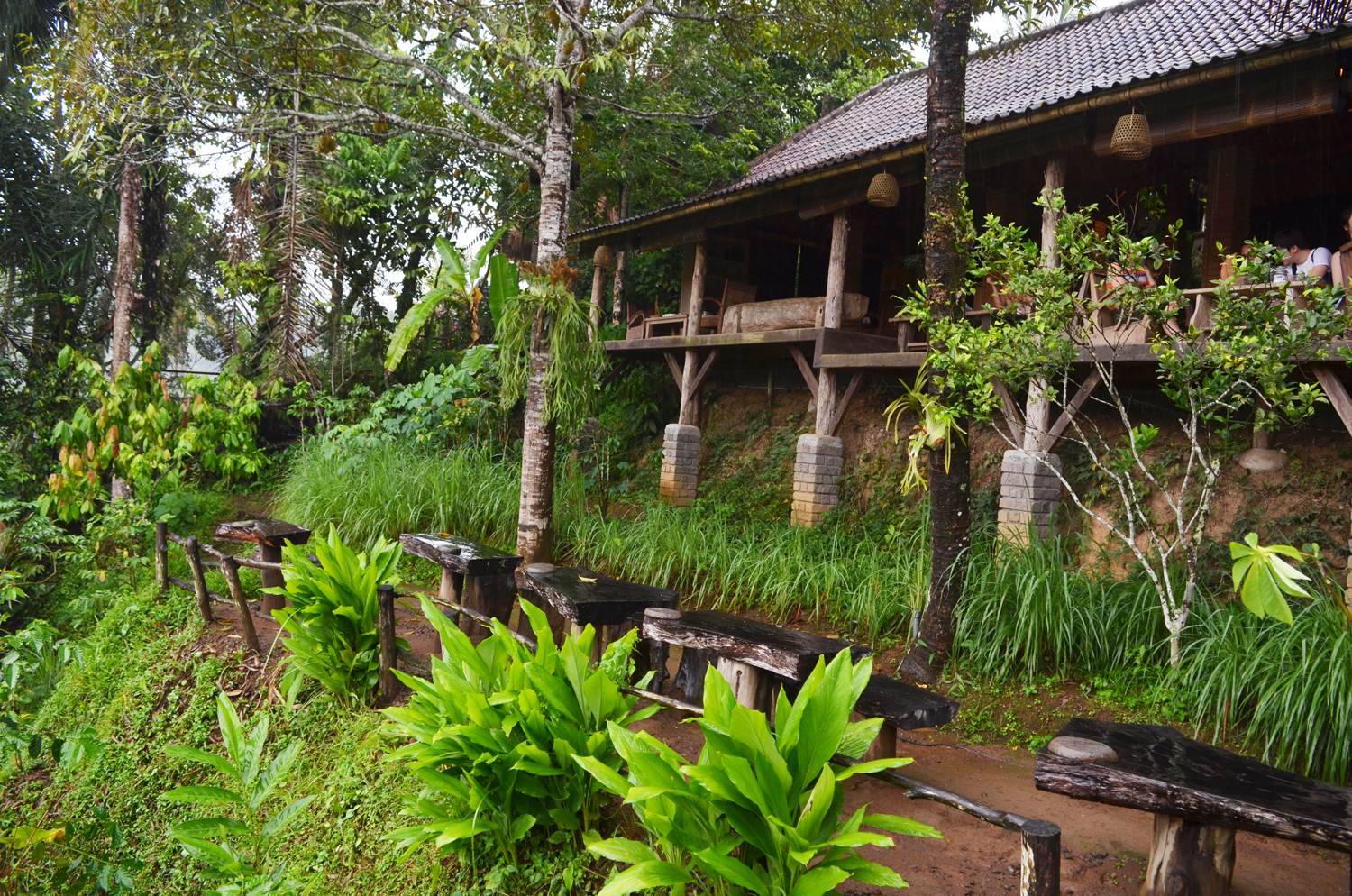 In total, we sampled 9 different things. Starting from the left side: lemon tea, ginger tea, ginger coffee, ginseng coffee, chocolate coffee, pure cocoa, vanilla coffee, pure Bali coffee. The two large cups are kopi luwak.
My favourite was the pure Bali coffee and the ginseng coffee. Mike's favourite was the ginseng. All I can say is that we were both pretty wired after, especially Mike. Just look at his eyes! HAHA!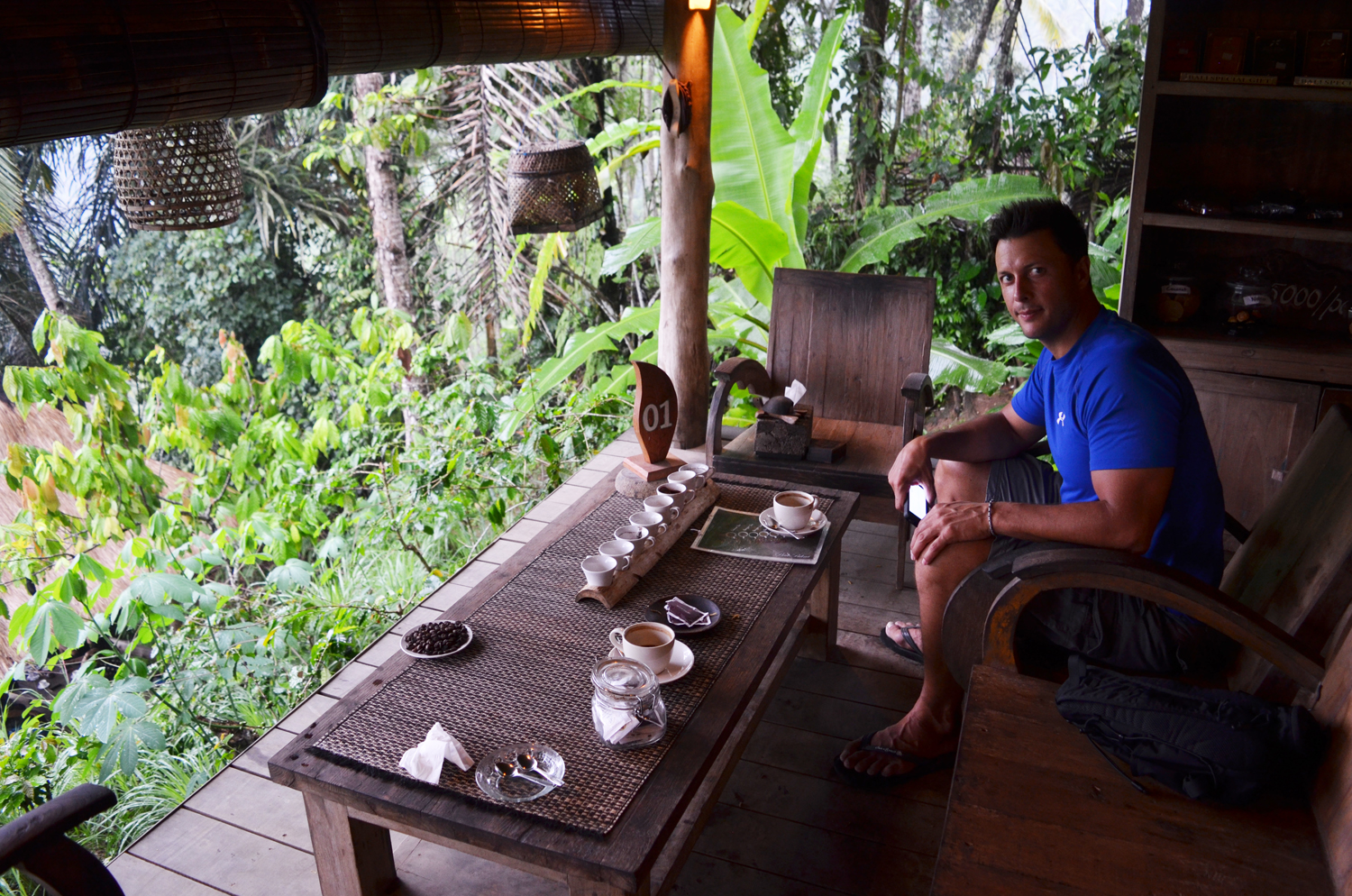 What about the kopi luwak coffee? It was ok. I'm glad we tried it but it wasn't amazing. The experience itself was interesting - learning about the production process and also knowing that the cup of coffee we drank passed through a furry cat. :)
We couldn't leave without taking a few photos of the surrounding area. It was stunning!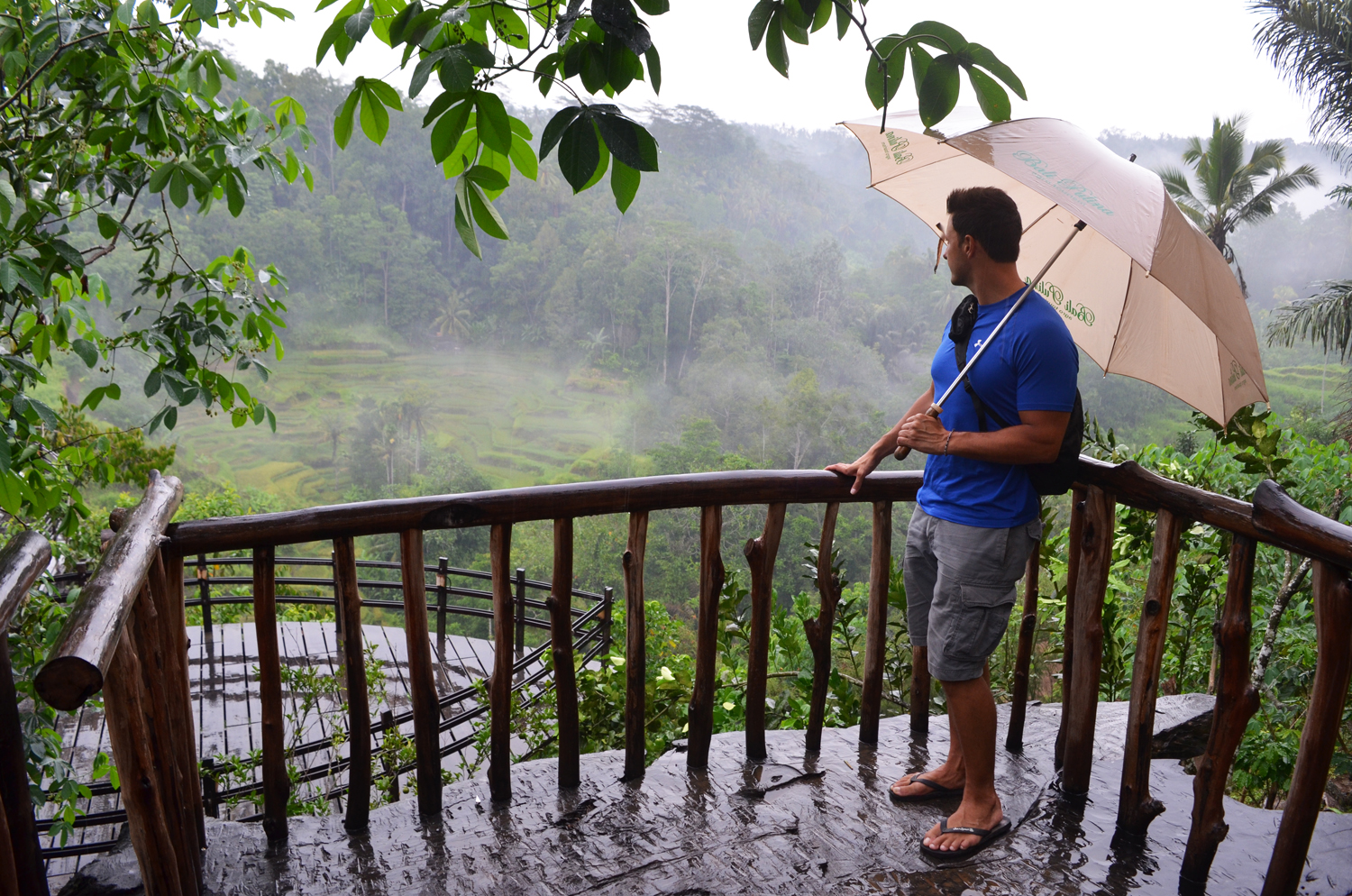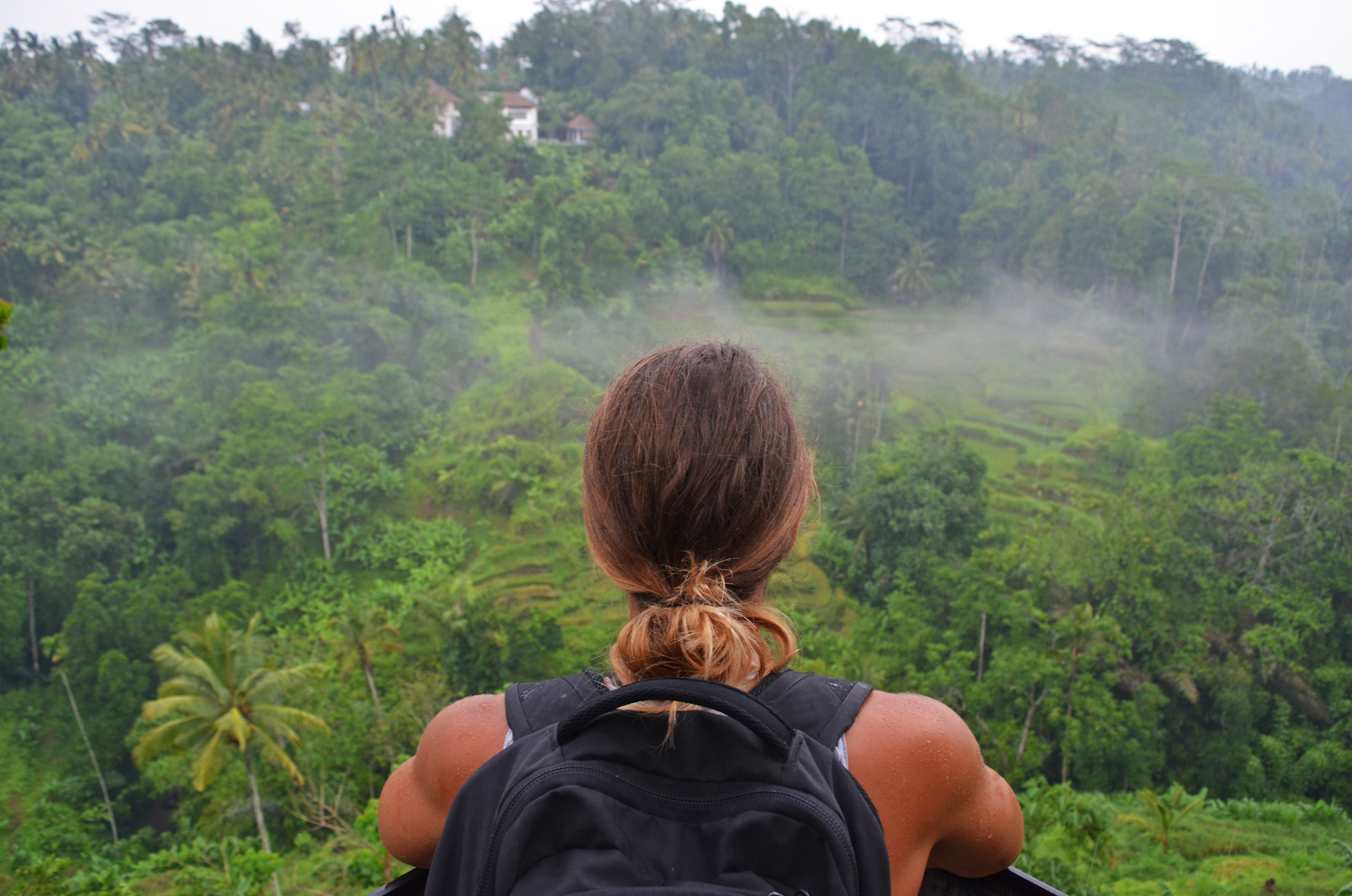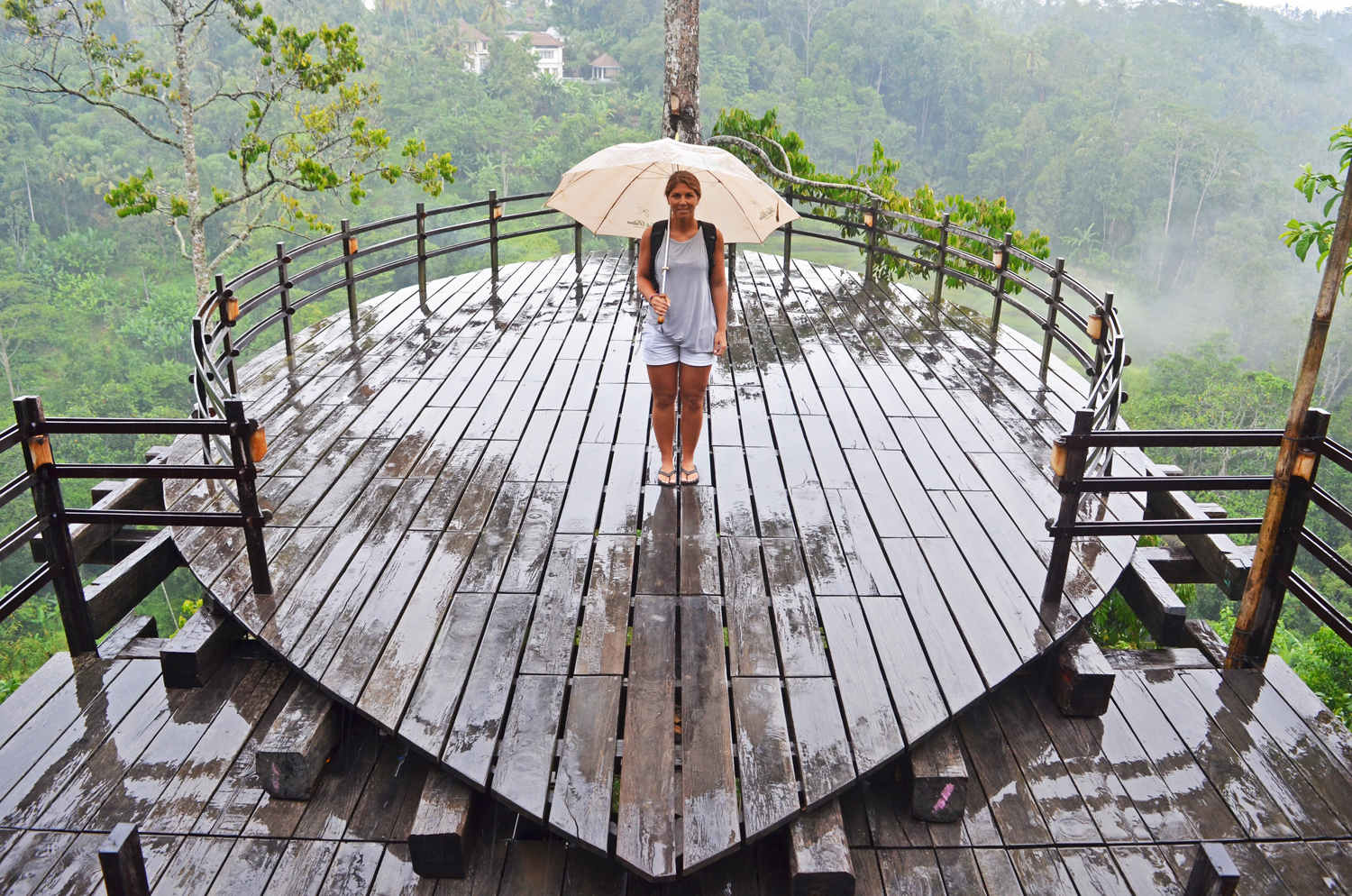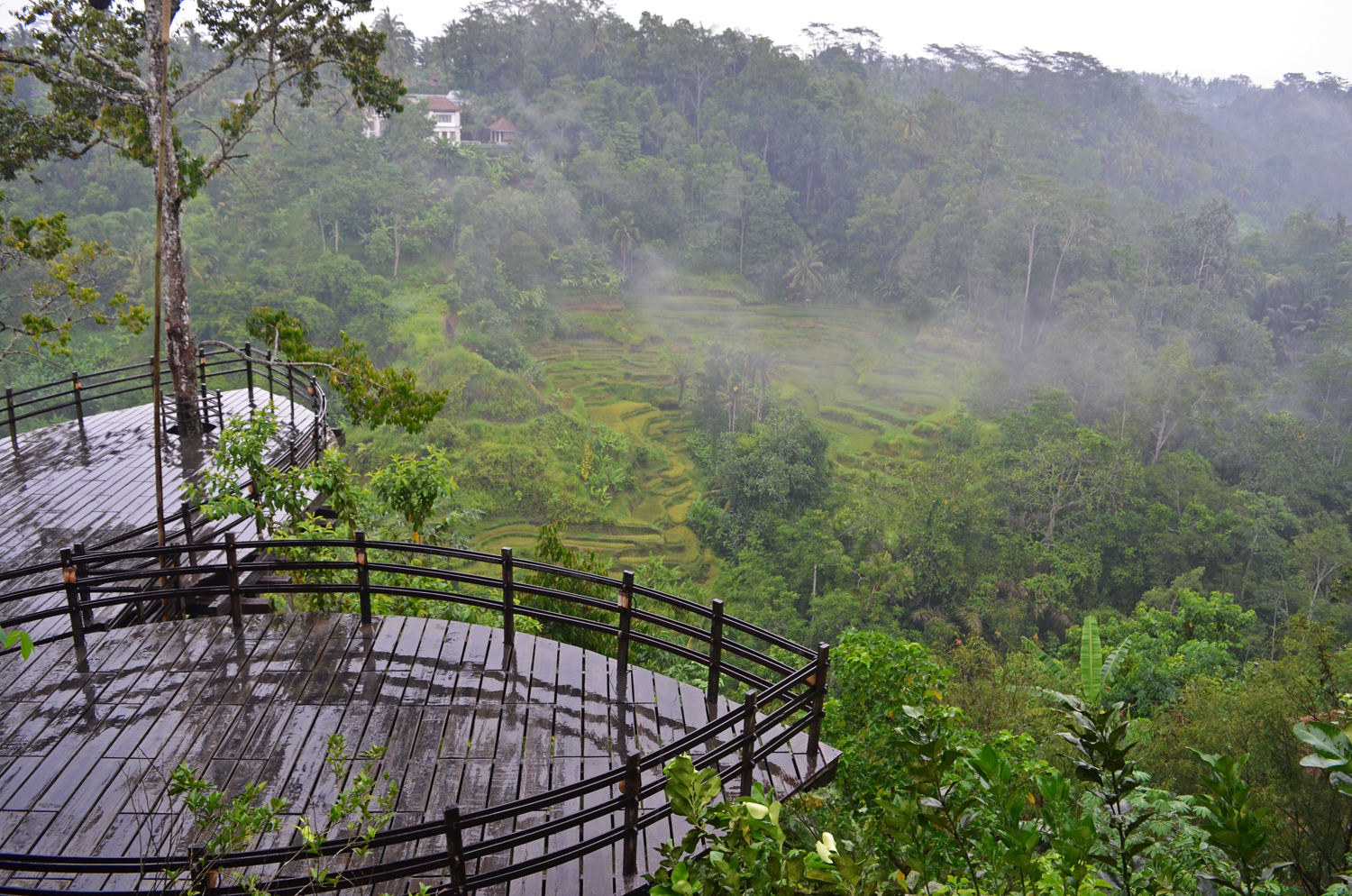 Bali Pulina Agro Tourism (or maybe the more ethical coffee plantation) is definitely worth a visit especially if you are on a budget...and a coffee lover like us! :)