March 2, 2016-March 30, 2016
We almost never made it to Brazil. That would have been a total shame because I've been dying to go there since I was a teenager. I don't know why. Maybe it's the people, the music or just the joy for life that every Brazilian person has. Whatever it is, I'm just glad that Mike and I were on the same page for this one and that we both couldn't wait to go!
Getting the visa for Brazil was a pain in the ass. I mentioned it a while back in my post on Thailand, but it was the most difficult visa to obtain - only because it was time consuming. While we were in Bangkok, we decided it was a good time to apply for the visa because we had a month in the country. We had to fill out a bunch of documents, get photos done, have tickets in and out of the country and an loosely planned itinerary. We also heard that it would take at least 3 weeks to get approved! The hardest part about this was that we had to spend a lot of money booking flights 3 months in advance and we also had no idea when we wanted to go, where we wanted to visit in Brazil and what country we wanted to go to after Brazil. We had an idea, but nothing was set in stone. It never really is when you're backpacking. So much for being spontaneous!
Long story short - we ended up getting our visas the NEXT DAY and we couldn't believe it. I guess all that paper work was worth it.
Tip: Not sure if you need a visa for Brazil? Check Your Visa Requirements at iVisa.com! You can process a visa from a computer, smartphone or tablet. It's that easy! Travellers no longer need to research or get frustrated dealing with different Governments. Travel agents, Destination Management Companies and Corporates can use iVisa.com to process any travel visa. We provide the best solution in the market.
SAO PAULO
We found a really good flight from Sydney, Australia to Sao Paulo, Brazil. Even though this was out most expensive flight, it was still a good price considering the distance. After roughly 36 hours and $1600 ($800/pp), we landed in Sao Paulo. I apologize for the blurry picture, but you get the idea. :) I will say one thing though - flying with Etihad Airways made the trip very enjoyable. The plane was massive and it felt like we were on a spaceship. The food and service was amazing. We barely felt like we were on the plane for that long.
We were welcomed by my friend Nathalie and her boyfriend Marcelo. They were nice enough to pick us up from the airport and show us around the city for a few days.
We stayed in a pretty fancy, gated neighbourhood. Marcelo even drove a bullet proof car. That's gotta make you just a little bit nervous. And to be honest, we kind of were. I think it was because most people who gave us tips for Brazil told us to be careful because it's so dangerous, blah, blah. But the truth is, it really wasn't that bad. As long as we weren't flashing any fancy jewellery or cameras, we were fine. We just made sure to be fully aware of our surroundings at all times.
We basically spent 2 full days in Sao Paulo, so it wasn't enough time to do a lot but at least we got a little taste. I noticed two things right away: one, the city was pretty expensive and it was very much business oriented. It was also huge...12 million people huge! And two, very few people spoke English.
Mercado Municipal
Nathalie and Marcelo took us to one of Sao Paulo's most popular markets. You can find all kinds of fruit, veggies, meat and dairy. But, the real reason you want to go there is for the famous mortadella sandwich! (Rua da Cantareira 306, Luz São Paulo SP)
Where to Eat
Veloso: This was another popular place with locals. They serve traditional foods as well as the famous caipirinhas! We tried a bunch of different things including coxinhas which is basically fried dough stuffed with meat. Yumm!
Fogo de Chao
If you love meat and want to eat until you pass out, go to this place. Brazil is known for it's all you can eat meat buffets and Fogo de Chao is one of the most popular chains. This type of a restaurant is called a Churrascaria and it's a Brazilian staple. The franchise is owned by gaúchos from the cattle farms of south Brazil, and their dedication to excellent beef shows in the food they offer. All you can eat per person is $50/pp. It was excellent, but it was way too much meat for me and a little expensive for the poor backpackers.
Ibirapuera Park
This park is one of the best known urban parks in the city. It's a nice place to go for a walk and that's exactly what we did.
After a whirlwind tour of Sao Paulo, we were ready for the next stop. Even though we enjoyed Sao Paulo, it didn't quite make our top three favourite places in Brazil.
TOP 3 PLACES TO VISIT
#1. RIO DE JANERIO
We booked a flight with TAM (LATAM) Airlines and paid $45/pp for a one way flight. After a short 1hr flight, we were in Rio.

*Tip: A few other good airlines include GOL and Azul.
We stuck around for a while and waiting for my friend Anita to arrive, who was flying all the way from Portland to meet us. This was going to be an epic reunion - the last time I saw Anita was 8 years ago in Thailand! Once she arrived, we got a taxi from the airport straight to Ipanema. We paid close too $40 (100BRL) from the airport and I'm pretty sure we got ripped off. We later found out that if we called an Uber, it would have cost us half the price.
*Tip: Use Uber in Rio. It's cheap and safe.
Accomodation
The best deal we found for the 3 of us was on Airbnb. We rented a nice 1 bedroom apartment in between Ipanema and Copacabana beach and it cost us $535/week ($76/night). Considering the location, and the fact that we had our own place, it was a very good deal.
Food and Drink
Even though there was affordable places to eat, we still found it cheaper to buy groceries and cook our own food most of the time.
If we did eat out, we usually went somewhere where they served Acai bowls! This is a typical dish in Brazil made of frozen and mashed acai berries and served as a smoothy or in a bowl and topped with granola, banana and pretty much anything else your heart desires. Anything with acai is really expensive in Canada, but in Brazil it is super cheap so we made sure to take advantage of that and have a bowl, or two, almost every day.
Bibi Sucos for acai bowls and smoothies.

Dicas Cafeina for breakfast, lunch, coffee or acai bowls.

Balada Mix for lunch or dinner.

Braseiro da Gavea for bbq meats and other Brazilian specialties.
The coffee is also very good and you could get a cup cup almost anywhere. Every time I ordered one, I had to also get a brigadeiro, a dessert made from condensed milk, cocoa powder and a whole lot of goodness. I'm pretty sure this is where our weight gain began. :P I blame it on the delicious brigadeiros, acai bowls and endless amounts of meat!
BEACHES
You can't really go wrong with any beach in Rio. They are all pretty incredible. Because the coastline is 8km long, the beach is divided into 12 posts. Each one is spaced out about 1km from the next and they are very clearly marked! We spent the majority of the time at Ipanema Beach near post 8 or 9. Some of the other well known beaches are Copacabana, Leblon, Arpoador and Leme.
It's hard not to fall in love with this city. It has an energy that's hard to describe. We spent most of our days soaking up the sunshine, drinking caipirinhas or fresh coconuts and listening to samba all while enjoying the city's tropical landscape. It's no wonder the Rio is called Cidade Maravilhosa.

I also love how active everyone is. There are always people running along the boardwalk, cycling or playing soccer on the beach. This made us want to work out too. We went for a few sunset runs and Mike even managed to get a cheap pass at a local gym!
Corcovado Mountain and Christ the Redeemer
This is obviously a must see. I'm pretty sure most people think of Rio when they see the famous Christ statue on a mountain.

Getting there
We called an Uber and the guy dropped us off right in front of the Trem do Corcovado (Corcovado train). We were told that taking an Uber was completely safe in Rio and maybe even safer than a taxi. A return trip on the train costs $23/pp (56BRL). It's not cheap, but it's worth it, even though it gets so busy at the top and it's almost impossible to get a good picture. We also decided to go at the hottest time of the day, which was a huge mistake, because it felt like 50 degrees at the top of the mountain. Apparently, it's best to go first thing in the morning if you want to avoid the crowds and a heat stroke.
Pão de Açúcar (Sugar Loaf Mountain)
Without a doubt, the best views of Rio are from the Sugar Loaf Mountain.
Getting there
We took an Uber from Ipanema and we got dropped off right at the cable car entrance. We got there late in the afternoon in hopes of catching the sunset from the top of the mountain. The entrance fee cost us $29/pp (71BRL).
Escadaria Selarón (Saleron Steps)
The famous and colourful mosaic steps in Rio are the work of a Chilean artist, Jorge Selarón. The staircase is made up of over 2,000 pieces of tiles, mirrors and ceramics. Like many people, Selarón fell in love with Rio and so he dedicated his life to this project which became his tribute to the Brazilian people.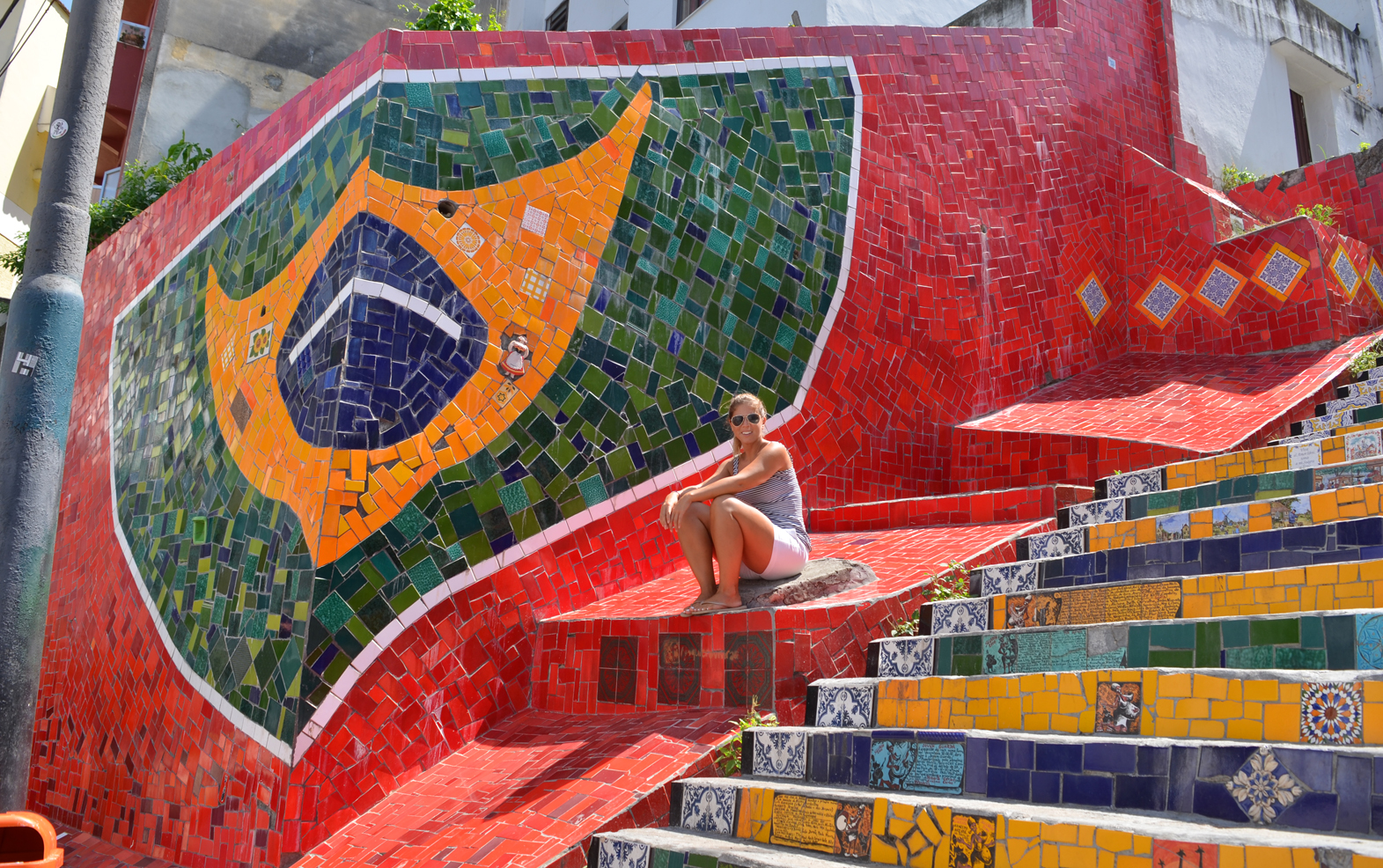 We also met some Brazilians who showed us around some pretty cool spots in the city. One night we went to a street party at Pedra da Sal in the Saúde neighbourhood. It was one of the highlights for us in Rio. There was music, street food and dancing and a mixture of locals and tourits. Definately worth checking out!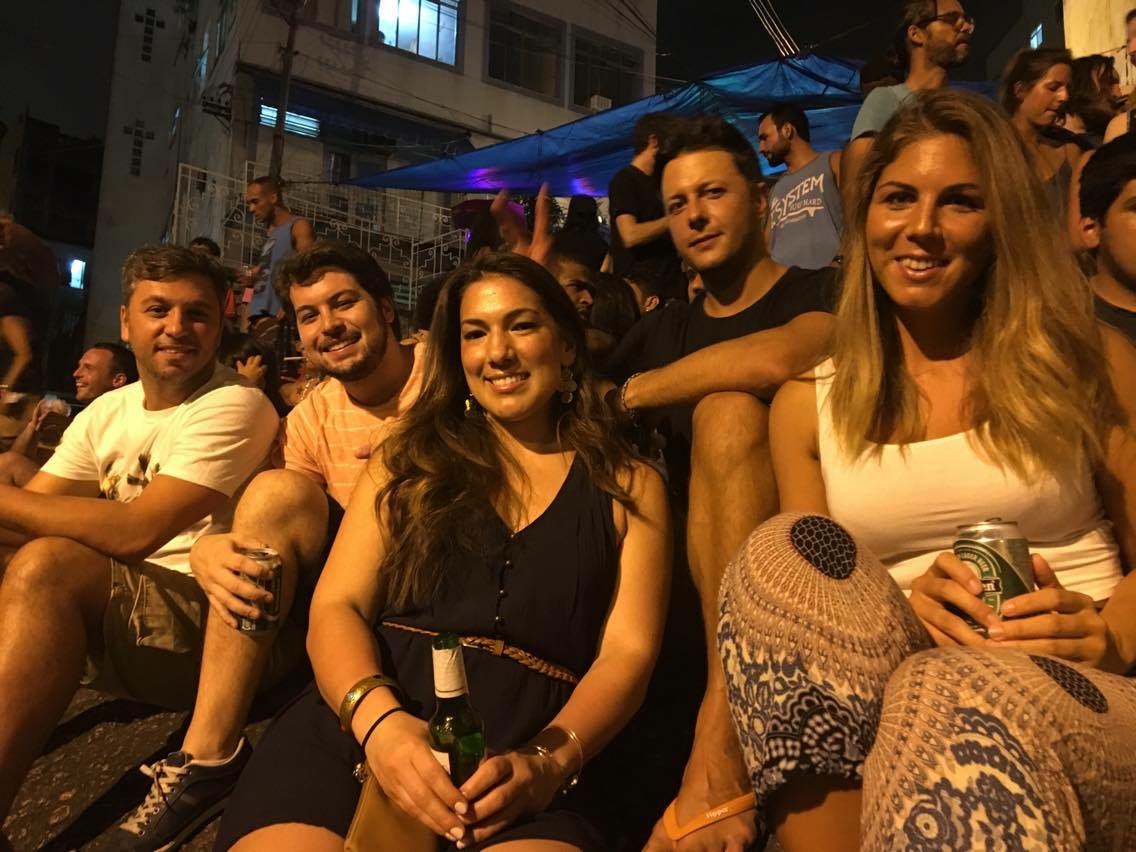 #2. PRAIA DA PIPA (Pipa Beach)
We were not ready to leave Rio, but there was so much more of Brazil to see. We flew to Natal, a city 3 hours away by flight from Rio de Janiero. The flight cost us $127/pp. We were now in a different state of Brazil, called Rio Grande do Norte which is known for pristine beaches, sand dunes and cashew trees. Also, the region is said to have the second cleanest air after Antarctica!
At the airport we got picked up by someone who was working at the hostel booked. We arranged this ahead of time. The drive to Pipa was scenic and took roughly 1.5 hours. It cost $83 (200BRL).
WHERE TO STAY
Chales da Pipa : This place was perfect. It was centrally located and a short walk from the beach. The hostel is owned by a couple of surfers from Argentina. Really nice people! We got a private 1 bedroom home and paid $235/week. It was perfect for 3 people. It was very basic accommodation, but it was clean and the price was right. Plus, we had a hammock right in from of the house - what else do you really need?!
These little guys visited frequently and they come right up to us as long as we had some bananas to give them. :)
So why Pipa, you ask? The small town has a very relaxed and rustic feel. You can stay and eat for cheap. The scenery is stunning and most of the beaches are semi-deserted. Not only is this a surfer's paradise, but Pipa is also home to dolphins (they swim up close to shore every day) and turtles! Actually, a lot of travellers who make a stop in Pipa end up staying there for good. It' paradise.
There's a bunch of beaches in the area - Praia do amor, Praia dos golfinhos, Praia dos Afogados and many more. Those were nice, but my favourite was a stretch of beach near Tibau do Sul which is just a short bus ride away from Pipa Beach. It's deserted and absolutely stunning!
They also had really cool looking telephone booths, but this was not exclusive to Pipa. These were all over Brazil. They reminded us of those massive hair blow dryers you sit under in a hair salon. Right?
My friend Anita left half way through our stay in Pipa and we were sad to see her go. :(
#3. JERICOACOARA (aka Jeri)
We arranged a ride to the airport in Natal and flew to Fortaleza, which is very fart north and belongs to the Ceará state. This flight was also 3 hours! It cost $98/pp. I knew Brazil was big, but after all the flying and bus travel I realized just how massive it really was. We saw quite a bit of the country, or so I thought, but looking at the map again I realized that we only covered a small fraction.
GETTING THERE
Once we landed, we walked straight to the Fretcar booth where we purchased return bus tickets to Jericoacoara. The total cost for tickets was $64/pp (150BRL).
Purchasing tickets was not easy. NOBODY spoke English and communicating was like pulling teeth sometimes. We almost missed the bus which wouldn't really have been a big deal, but the next one wasn't leaving until the following afternoon. Thank god I knew some Spanish. It really helped.
The bus was big, very comfortable with AC and all the fancy stuff. We were on this luxurious bus for 300km. Once we arrived in Gijoca we had to get off and switch to a different mode of transportation - a truck that looked like the magical school bus. We had to do this because the last 30 minutes of the journey we had to go off-roading through dunes and wild beaches. I won't lie. It was pretty epic.
What's so amazing about Jeri? It is very close to the equator which makes for very stable and pleasant temperatures, 25-30 degrees, year round! The town is very small and it's built on sand. Yup, you better believe it. When you leave the beach, you are in sand pretty much until you get to your hostel. This sounds like a nightmare to some, but to me, this was the most amazing thing ever! I don't think I wore shoes the entire time we were there. #LIFEGOALS

Also, unauthorized vehicles are not allowed, the only vehicles that you would see around would be either ATV's or trucks.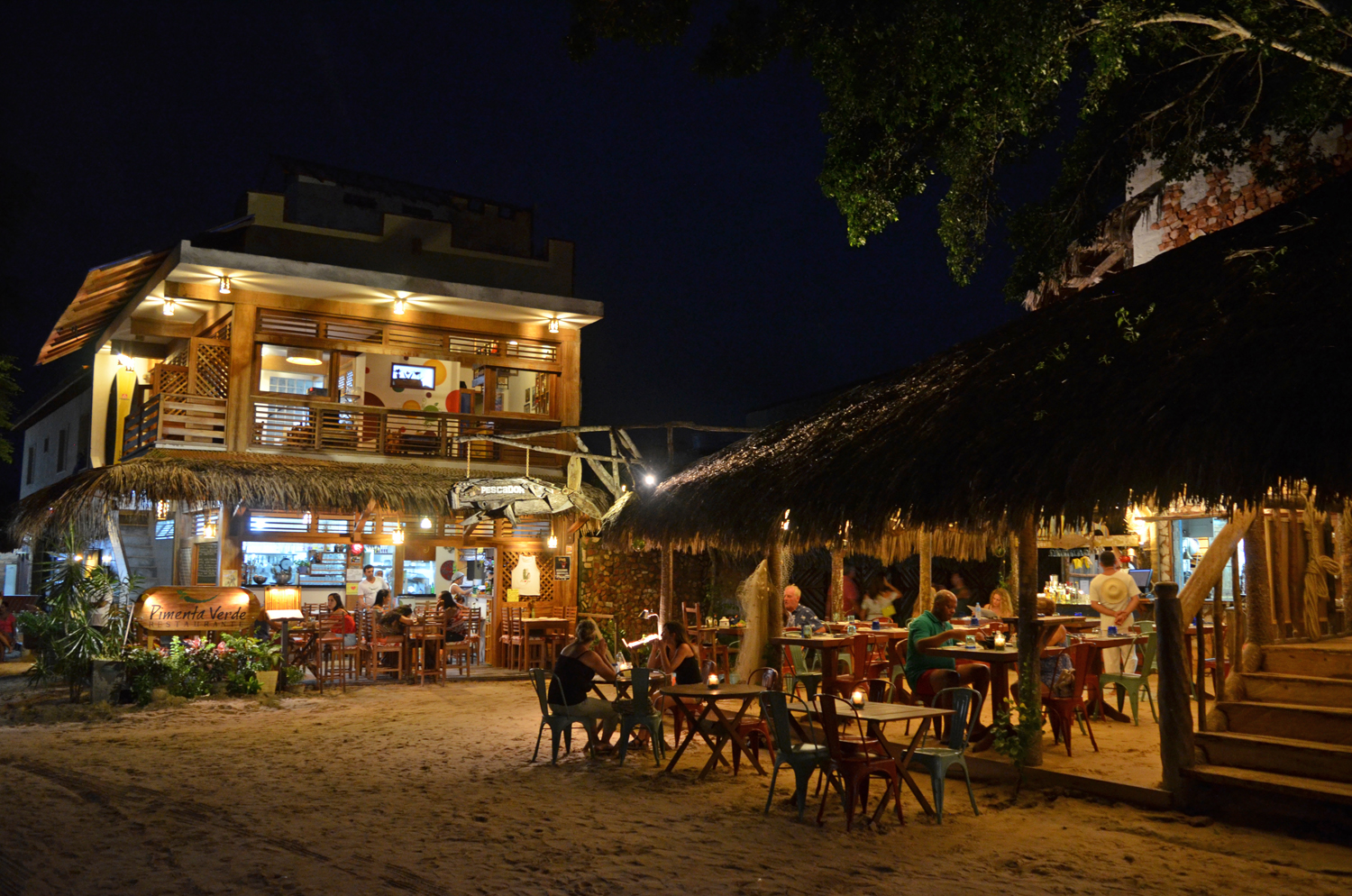 * TIP: There is no bank or ATM machine in the town, so you have to make sure to take out money in Gijoca or Fortaleza!
WHERE TO STAY
Myo Tatoo Bar Pousada: We booked a room at this pousada (homestay) and I am recommending it because it's clean, central and they serve a good breakfast (ripe mangoes and arepas), but the owners were not the friendliest. The place is run by a couple from northern Italy, who fell in love with Jeri and decided to stay there permanently. We paid a total of $63/night here which was a lot, but there wasn't much left when we were looking to book.
Accomodation in Jeri ranges from really cheap to ridicilously expensive, which is crazy because the town has this old fisherman's village meets hippie vibe. Guesthouses asking $400/night just don't really seem to fit in.
Pousada da Ranata: Amazing place! We only discovered this place because we couldn't book 6 days in a row at Myo Pousada. Even though the location is a little bit further from the main area, the town is so small that it doesn't make a difference. The owner was so welcoming and friendly, the food was great and the property was beautiful. Hammocks everywhere! One night cost us $50.
Jeri is not only known for it's amazing sand dunes but also the incredible sunsets. One of our favourite things to was to walk up the Pôr do Sol (sunset dune), buy a fresh coconut and watch the sunset.
PEDRA FURADA
This is stone arch has become a symbol of Jeri. It is also considered one of the richest archeological sites in the world and on of the most ancient sites in the Americas - 40,000 years!
LAGOA PARAISO
We took a buggy ride through the dunes to reach this paradise lagoon. It was a relaxing spot, with a couple of restaurants but the pictures we saw online looked better than in real life. Still worth going to chill in the hammocks.
WHERE TO EAT
There's a bunch of places to eat and good food everywhere, but here are some good and cheap recommendations:
Jeri Muum: Small local place serving steak, grilled fish, chicken etc. We usually ordered a grilled chicken/fish with rice and beans for $5.
Palhoca do Caldo: This place served the best soups for really cheap. We ate here a few times! Unfortunately, I didn't really get the best photo.
SAMBA ROCK: This was the best place to go for a few caipirinhas and chill out to some reggae or forró.
Those were our top 3 favourite places that we visited in Brazil. We did visit Porto de Galinhas after Jeri, but i wouldn't say it was our favourite. Even though the beach was beautiful, and rated one of Brazil's best beaches, it was a little overrated in my opinion and very crowded. Good spot of surfing though!
PORTO DE GALINHAS
We took the bus back to Fortaleza and flew to Recife for $65/pp. From the airport, we took a private airpot car for $47 straight to our hostel.
Hostel: We booked 5 nights here and paid $58/night for a private room with AC and breakfast. It was centrally located too.
* A little side note: We started to notice a trend Brazil - for breakfast, people really loved to eat their sugar. Even though eggs were usually an options for breakfast, there were at least 10 sugary options. Whether it was some sort of juice, muffin, cake, pancake - it was sugar overload!
Since Porto de Galinhas means Port of Chickens, there are chicken statues and symbols all over the town including the phone booths.
After 5 nights in this lively town, we headed to the airport. From Recife we flew to Sao Paulo and from their waited to board our flight to Buenos Aires, Argentina. While waiting around, we went to grab a coffee at Starbucks and I was so excited to see brigadeiros on their menu. It was Starbucks branded too!
Overall, we found it safe to travel around Brazil. You need to be a lot more careful in the big cities, but that goes for all major cities in South America. In small towns and villages, you don't have to worry about a thing.
HERE'S THE BREAKDOWN OF HOW MUCH WE SPENT FOR 29 DAYS:
Accommodations: $1,425
Food: $1,037
Domestic Transportation: $1,344
Misc: $205 (activities, toiletries. etc)
Tourist Visa: $195 ($98/pp, you have to apply ahead of time)

Total: $4,206
Daily Average (per person): $72.5

*Excludes one-way flight from Sydney, Australia ($825 each)
**Currency exchange 02/03/2016: $1 (CAD) = 2.83 Real
Make sure to check out the FULL GALLERY and the VIDEO!