January 7, 2016 - January, 25th, 2016
We fell in love with Indonesia almost instantly. It's been on our list to visit for a long time and we couldn't wait to get there! When I say we visited Indonesia, I mean that we only really saw a fraction of it including Bali, Lombok and the Gili Islands.
I knew that a lot of islands made up Indonesia, but I didn't realize that number was over 17,000 islands. The archipelago is home to 700 languages and roughly 90% of it's citizens are Muslim. However, Indonesia has other religions such as Hinduism and Buddhism. A large majority of people living on Bali are Hindus and Buddhists, whereas Lombok and the Gili Islands are predominantly Muslim.
GETTING THERE
TIP: Not sure if you need a visa for Indonesia? Check Your Visa Requirements at iVisa.com! You can process a visa from a computer, smartphone or tablet. It's that easy! Travellers no longer need to research or get frustrated dealing with different Governments. Travel agents, Destination Management Companies and Corporates can use iVisa.com to process any travel visa. We provide the best solution in the market.
The cheapest flight we found was with AirAsia from Bangkok, Thailand to Denpasar, Bali. The cost of the plane ticket was roughly $170/pp. Upon exiting the airport, we were swarmed with taxi drivers asking us where we needed to go. We ended up paying 200,000 rupiah ($19) to get us to our hotel in Seminyak, which was a rip-off. We later found out that we could have used UBER, which is incredibly cheap in Bali. Our other option was to take a public bus for 35,000 rupiah ($3.50) which ran every 15 minutes.
TIP: The best and quickest option is to use UBER to get around Bali. It is safe and cheap! However, there aren't a lot of cars available in less touristy areas.
SEMINYAK
We had about 3 weeks in Indonesia and we just wanted to pick two or three places and chill out. Initially, we planned to stay in Seminyak for 10 days and make it our home base. After doing some research we decided to shorten our stay in this city. Seminyak is alright, but it's not worth staying there for 10 days. Even though it has some amazing shopping and really good cafe's and restaurants, it's actually quite expensive and a bit tacky in some areas. Seminyak is also home to many luxurious spas and resorts, so if you have the money to spend, it's the place to be. Nearby, you will find Legian Beach which is cheaper. Another option is Kuta Beach, which is probably Bali's most famous beach, but also somewhat trashy and very touristy.
ACCOMMODATION
There's very cheap and very expensive accommodation in Seminyak. We wanted to stay at a nicer place so we spent $43/night with buffet breakfast at a supposedly 4 star hotel called Savoyya Resort Seminyak. The hotel was brand new and still undergoing some construction, so we ended up getting a good deal. Normally, the rooms are a lot more expensive.
WHERE TO EAT
We found the price of food in restaurants to be complete extremes. There were a lot of ridiculously priced restaurants and then really cheap ones. The best and cheapest place to eat was at a Warung, which is a casual, family run restaurant serving traditional food. These are found everywhere. Here's some traditional Indonesian food which you could get for $3-6.
There are also a lot of really healthy food cafes serving fresh fruit, greens and all kinds of superfoods. If you are vegan, vegetarian, gluten intolerant or whatever else, Bali is the place for you! We really enjoyed Cafe Organic, Down to Earth and Nalu Bowls even though they were pretty expensive for Bali.
Some of the best coffee we had up until the point was in Indonesia as well. After all, it's world famous. No matter where we went, we could always count on having a good cup of joe. There are also hundreds of really nice and independent coffee shops, usually owned by Australians. Two of our favourites were Revolver Espresso and Souq.
I got in touch with an old coworker who recently moved to Bali and we set a date to meet up and catch up. One day after breakfast we were waiting in the lobby for Steve and Aaron to pick us up. They drove right up to the hotel entrance looking all tanned and stylish on their scooters. I cold tell right away that Bali was treating them right. We hopped on the scooters and drove to a nearby beach town called Canggu. It didn't take us long to realize that this was the place to be. Canggu is definitely Bali's hidden gem, but it's only a matter of time before it becomes a Seminyak or Kuta. Let's hope not anyway.
On our way there, we took the scenic route and drove by some beautiful rice paddies.
RIght away I could tell that Canggu was really special. It was quieter, laid back and a lot less touristy than Seminyak or Kuta. There are so many cool, hipster cafes, really good restaurants AND it's way cheaper than what we expected.

We arrived at Steve and Aaron's house and when we walked into their living room, both of our jaws dropped. Their place was beautiful. If I lived here, I would never want to leave!
Since they knew how much we love and appreciate good coffee, they took us to a really awesome cafe called Hungry Bird. This place had cheap and good food, yummy coffee and even better coffee designs!
Another awesome hang out is Mavericks Berawa. This place has a rooftop pool bar and it's the perfect place to enjoy a nice cocktail and watch the sunset. Definitely worth a visit!
ULUWATU
If we were to do it all over again, we would book accommodation in Canggu or Uluwatu. We preferred the overall vibe at both these places over Seminyak or Kuta. Not only does Uluwatu have some of Bali's best beaches but it's also a surfer's paradise. A lot of people consider this place to be one of the best surfing destinations in the world.
On top of that, it's home to Pura Luhur Uluwatu temple, which is said to be one of the biggest and most important temples on the island. It's also located in the most perfect place - on a steep hill, 70m above sea level. This was our favourite place to watch the sunset! We had an opportunity to watch a traditional Balinese dance which happens between 6pm-7pm, but we never made it on time. It's suppose to be beautiful especially with the sunset as the backdrop. The entrance fee to the temple is 40,000 rupiah ($4).
Another temple that we didn't have a chance to visit, but heard great things about was Tanah Lot, which is located 20km from Denpasar.
Fun Fact: Each of Bali's temples face either the sea, the mountains or towards the sunshine.
GETTING THERE
From our hotel in Seminyak, we took an Uber which cost us $11. Considering that it was a good 30 minutes away, it was a really cheap ride. Once we got there, we went to check out the Monkey Forest which cost us 20,000 ($2) rupiah each.
We were warned about the monkeys here. People told us to put away our sunglasses, hats and cameras because they were pretty crazy and aggressive. We didn't find them to be so bad. We just made sure to keep our distance.
This monkey was not a fan of selfies. :(
Once the sun went down, we didn't really figure out how we were going to get back to Seminyak. We were planning on taking an Uber, but we needed wifi to do that. Not only did we not have wifi, but both of our phones died! We walked to the parking lot at the Monkey Temple hoping that we could catch a local bus back or take a taxi. We also found that Uber cars were not allowed to pick up people from this area, so even if we had a connection, and Uber ride was not an option in this area. So, we waited around a bit trying to figure out what the cheapest option would be and our ONLY option was to take a taxi. Soon it was pitch black and only a few taxis were left in the parking lot. We asked how much a ride would be and they told us $40! Not only were they trying to rip us off, but they were so rude. We were stubborn and determined to find another way. Eventually, we were the only ones left there. There isn't much in the area and only a few homes were around. We walked in pure darkness for about 5 minutes until we reached a house with a small shop in front of it. We asked if we could charge our phones and they were kind enough to let us do so. At this point, there were no taxis around and we asked the owner of the home if he could drop us of in an area that was about a 5-10 minute drive where we knew we could get wifi and use Uber. He ended up charging us $7 for basically a 5 minute ride. You're probably wondering why we didn't just walk for 15-20 minutes. Because there was literally nothing and no one around and the roads were not lit. We just didn't feel like it was the safest thing to do.
The man dropped us off in an area that had a few restaurants and hostels and we managed to charge our phones and connect to the internet. We tried to get an Uber but no cars were coming up on the app! On the map, within the app, we noticed an area that had a lot of cars and we needed to get there. A young Balinese guy sitting behind us overheard our conversation and he actually offered to give us a ride there on his scooter. So, the three of us hopped on the scooter and hoped to make it in one piece. It was quite the ride, but we made it safely. The guy didn't want any money. We couldn't believe how nice he was. We thanked him, went into a nearby cafe and FINALLY got an Uber to pick us up. It cost us $8 and our total trip back was $15. Not sure if it was worth the hassle, but it definitely made for a good story. :)
PLANNING OUR TRIP TO THE GILI ISLANDS
A lot of you have probably never heard of the Gili Islands and it's not surprising why. Basically they are three tiny islands located in the northwestern part of Lombok, another Indonesian island just east of Bali. The islands include Gili Trawangan (also known as Gili T), Gili Air and Gili Meno. I remember having a picture of these islands as my desktop picture for the longest time, so it was pretty cool to be able to visit them.
There were agencies everywhere advertising boat rides to the Gili Islands, but we just wanted to shop around and find the best price. In the end, we ended up paying 550,000 rupiah ($55) for our return tickets - Seminyak to Lombok, Lombok to Gili T and Gili T to Ubud.
We got picked up early in the morning and got dropped off at the pier which I believe is called Surabaya. From here we took a fast boat. The boat company is called Semaya One and it has two departures a day. We made the mistake of not grabbing a seat in the back or on the roof, so we ended up roasting in the middle. It felt like 1000 degrees in there! After an hour, we arrived at Gili Trawangan.
GILI TRAWANGAN
Arriving on the islands was interesting. There was no pier, so everyone on the boat had to throw off their bags and jump onto the beach. Gili T is known as the 'party' island and the biggest of the three. If I was to compare it with the Thai islands, Gili T is extremely laid back with a few happening bars.
What's really amazing about these three islands is that there are no motorized vehicles which means it's very quiet. The most popular mode of transportation are bicyles and a horse and carriage. There are also no dogs, because it's apparently too hot for them and there's not enough fresh water. Another random observation was that all the cats had stubby tails. At first we though people cut them off for some cruel reason, but it's actually due to genetic inbreeding.
WHERE TO STAY
We found a really nice hostel that was very central to everything called Gili Orchid Guesthouse. We paid $30/night with breakfast and really enjoyed our stay there. One night the owner of the guesthouse made us a really good, and traditional meal!
One of the staff members was nice enough to even take us snorkelling!
One of the most popular things to do on the island other than scuba diving and snorkelling is to rent a bike and explore the island. In about 1.5 hours, we made a complete circle. As we rode around the island, we spotted many beautiful beachfront restaurants and cafes, locals selling arts and crafts and all kinds of fancy boutique hotels.
We stopped at one of the restaurants to have some lunch and had this delicious meal which only cost us a few dollars!
And of course, we chatted with some friendly locals. Island people are always the nicest!!
We heard about a viewpoint on the island which was suppose to be a nice place to watch the sunset, so we decided to look for that one evening. It was an easy and short hike but the viewpoint wasn't as nice as I thought. There were too many tree branches in the way and you really had to get in there to see anything and take a decent photo. Nonetheless, it was beautiful.
As we were coming down the hill, we heard something in the bushes and Mike was convinced that a goat was coming at us, so we sprinted down the hill only to find out that a small goat just wanted to play! This little guy was the cutest thing ever. Might need to get a pet goat!
I cannot say enough good things about this island. It was the perfect place to relax and enjoy really good food. And of course, the sunsets!!
GILI AIR
For about $2, we hopped on a small boat and arrived on Gili Air in no time. This island is a little bit smaller and much quieter than Gili T. The beaches here were just as beautiful with white sands and crystal clear waters. It's also very popular for scuba divers and we notived a scuba shop on almost every corner.
WHERE TO STAY
We found a really nice place to stay near the pier called Firda Homestay. For $25/night we had a nice room, with breakfast and wifi. The family that owns this place is one of the nicest we've met.
We spent a few days here mainly soaking up the sun and snorkelling.
WHERE TO EAT
A few of our favourite places include Easy Gili Waroeng for really good, and cheap local food!
Another favourite smoothies and healthy bowls was Coco Bliss! I can still taste this dish in my mouth. I will never forget how good it was.
A few others that are worth mentioning are Warung Padang and Mowies (awesome spot to watch the sunset)!
On the opposote side of where we were staying, we found a few really cool beach bars to chill out at. None of them were crowded, so you could really enjoy some quiet, alone time.
And of course, here's a few friendly locals always smiling and willing to help out.
Staying on Gili Air for 3 nights was not long enough, but it definitely helped us recharge. Not only did we enjoy the beaches, yummy food but we also met some really nice people. We also watched some of the most beautiful sunsets....ahhh.
GILI MENO
This is the smallest island of the three and the quietest. There are only a handful of hotels and it's known as the honeymoon island. We decided to skip it.
UBUD
Ubud is the spiritual heart of Bali. Once you arrive in the centre, you notice it almost immediately. There is just something about this place. My first impression was that it was a very artsy and spiritual town that attracted a very eclectic mix of people. You have the hippies, the entrepreneurs and the culture seeking backpackers who come to the same place to take in a bit of history, culture and to eat well, like...REALLY well. It's also become a yogi's paradise, with yoga studios on almost every corner.
Ubud comes from the word ubad which means medicine in Sanskrit and it's no wonder why it's been the centre of holistic wellness and alternative medicine for hundreds of years. It's a place that truly heals the body, mind and soul - for some anyway.
Most people I talked to really enjoyed Ubud. But, there are some who think it's changed a lot. They say it's no longer this special, charming village that it once was. I can see why. There's quite a few big name stores and chain restaurants on the main street and more are popping up every year. It's kind of unfortunate because I think one of the main reasons that attracted people to this town was the very lack of these kind of establishments. Nonetheless, I think Ubud is still doing a good job in preserving it's traditional and cultural style. Either way, I fell in love with it immediately.
Ubud is about an hour from the main airport in Bali and it's surrounded by rice fields, Hindu temples and a dense forest. Most guesthouses and cafe's have beautiful tropical gardens and Buddha statues. No matter where you are in Ubud, you can feel the creative and spiritual vibe!
WHERE TO STAY
We booked a private room at Lila Cita Inn and it was absolute paradise. For $37/night we ended up having a huge room, delicious breakfast, wifi and a beautiful garden to relax in.
WHERE TO EAT
EVERYWHERE! You can't go wrong in Ubud. The food here is incredibly healthy and fresh. There are so many good restaurants serving traditional Balinese food and they were usually the cheapest. Then you have the vegetarian, vegan and organic restaurants that are typically owned by Australians and they tend to be pricier. That being said, no matter where you eat, it's worth every penny.
Our favourite restaurant serving traditional Balinese cuisine is Warung Biah Biah. The food is delicious and super cheap! You can't go wrong with this one.
Juice Ja Cafe: We loved this place as well because of the yummy food and cheap prices. They have a mix of Indonesian food, healthy eats and options for vegans and vegetarians.
Atman: This place is ideal for health conscous people. It's good for those looking for gluten-free, vegan and vegetarian options. The food and smoothies are really good. Great coffee. The prices are mid-range.
Seeds of Life: Another place for for the health conscious eater. The prices are mid-range.
There are also a TON of places that serve really good coffee. As I mentioned before, Indonesian coffee is quite good and you can get a good cup almost anywhere. In Ubud, our favourite coffee was at Seniman Coffee Studio. These guys really know their coffee!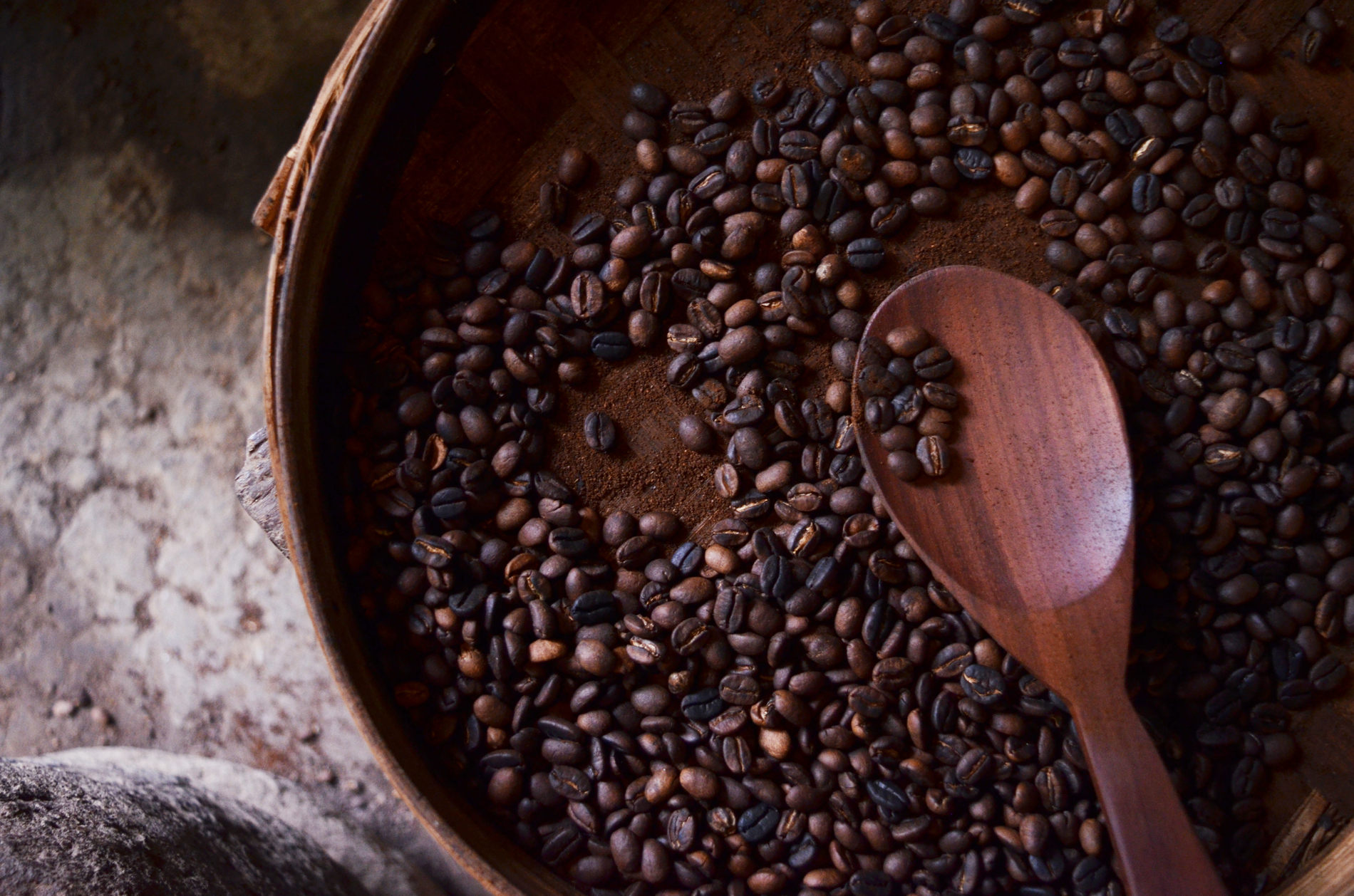 TEGALALANG RICE TERRACE

One of the most popular tourist attractions is the Tegalalang Rice Terrace. It's a beautiful place to check out and convenient becauase it's close to Ubud. However, it's overcrowded with tourists on a nice day. In a way we lucked out because we went on a rainy day and there was practically no one there.
We got an Uber ride to the rice terrace and it cost us about $6. Trying to get an uber to get back to Ubud was a little more complicated but we managed to get one.
At one point it started to rain really hard and we found shelter at the Rice Terrace Cafe. It had a beautiful view but it was very overpriced. In fact, all of the cafe's in that area are.
SACRED MONKEY FOREST SANCTUARY
This was my favourite place in Ubud. I swear I could have spent hours walking through this forest and photographing all the crazy monkeys. So what's so special about this place? Well, the forest sanctuary is actually a complex of Hindu temples and it's also considered a nature reserve. As you approach the sanctuary, you start to notice monkeys all over the place. They are on the roofs of restaurants, walking across power lines and sliding down traffic light poles. It's incredible!
When you walk in through the entrance, you feel like you are miles away from a town. It feels like you are in a tropical rainforest. There is also a small entrance fee of 4,000 rupiah ($4).
But the best part of it all is that this forest is home to 650 macaque monkeys!
Some of them are cute and you can get really close to them. Others are really mean and aggressive, so you really have to watch your stuff. They will steal your hat, sunglasses, phones and whatever they can get their little hands on. We didn't really have any major problems EXCEPT when I spent a little too long photographing one of the babies. I guess the mother wasn't too happy so she chased me for a bit and started pulling my pants down! Luckily, I didn't moon anyone. Hehe!
I took so many pictures of the monkeys. If you want to see more, check out the full gallery section! We spent about 2 hours walking around and I didn't want to leave. It's definitely a must see place when in Ubud.
MARKETS AND SHOPPING
The shopping in Ubud (and all of Bali) is amazing. Not only are there beautiful markets but there are a lot of boutiques that sell some of the most beautiful jewellery I've seen in all of South East Asia.
DAILY RITUALS AND BALINESE BELIEFS
One thing that I fell in love with were the offerings or gifts used to please the various gods and demons of Balinese Hinduism. They take on so many different forms and can be found everywhere on sidewalks, in front of homes, shops and on statues. We would regulalarly see locals dressed in traditional ceremonial clothing carrying baskets of offerings which usually consisted of flowers and fruit. However, they could include anything from cake and meat.
The offerings usually happen twice a day and are mostly done by women. The women are usually the ones who spent a lot of time making these offerings. The ones you see on the ground are always offerings to demons. You will never see these inside temples or shrines. These are usually made up of four types of rice and placed on coconut leaf baskets. Before I knew what they were, I would accidentally step on them on sidewalks. Oops! Apparently, you shouldn't step on one while the incense is still burning because the scent is still rising to heaven.
Offerings to the gods and ancestors are usually placed in high places and never on the ground. They can contain anything from cake, cigarettes and favourite foods.
Overall, this country left such a good impression on us. It should definitely make your list of top countries to visit.
HERE'S THE BREAKDOWN OF HOW MUCH WE SPENT FOR 18 DAYS:
Accommodations: $598
Food: $733
Domestic Transportation: $202
Misc: $200
Tourist Visa: $145 (free for Canadians for the first 30 days; costs apply onwards)

Total: $1,733
Daily Average (per person): $48

*Excludes one-way flight from Bangkok to Denpasar ($170 each)
**Currency exchange 07/01/2016: $1 (CAD) = 9,861 Rupiah!
Check out all of our photos from Indonesia and the VIDEO in the video section!