January 25 - March 1
So I finally managed to get through all the photos from Australia and I was able to narrow them down to 800...from about 3,000. I'll be sharing a couple of hundred with you here. :)
But before you storm off to the photo gallery, I'm going to tell you a little bit about our adventures and misadventures in this beautiful country, plus a few tips on what to check out and of course how much it all cost. *Spoiler: It's expensive. Very expensive.
Tip: Not sure if you need a visa for Australia? Check Your Visa Requirements at iVisa.com! You can process a visa from a computer, smartphone or tablet. It's that easy! Travellers no longer need to research or get frustrated dealing with different Governments. Travel agents, Destination Management Companies and Corporates can use iVisa.com to process any travel visa. We provide the best solution in the market.
CAIRNS
Neither of us really wanted to leave Bali. I could have stayed there forever. At the same time, I was really excited for Australia!
We flew from Denpasar, Bali to Cairns, Australia with Air Asia and paid $180 per person. After 4 hours, we were finally in an English speaking country again. It was weird. We noticed two things immediately: 1.) we understood what everyone was saying and 2.) we could drink the tap water! Ah, the one thing I will never take for granted again.
We then got a taxi to drop us of at the Greyhound Bus terminal and from there we were going to head straight to Mission Beach. We didn't actually spend any time in Cairns (pronounced Caynes. I still can't say it properly). We heard it was nice, but with only 5 weeks in the country, we had to skip it.
GETTING AROUND
We did some research and found that the Greyhound Bus Pass was the most affordable and comfortable way to travel around Australia. It cost us $475/pp from Cairns to Melbourne. We could hop on and hop off as much as we wanted as long as we moved in one direction.
MISSION BEACH
We booked a hostel in Mission Beach which is a small town in northern Queensland. It's well known for it's beautiful beaches, nature and as a gateway to the Great Barrier Reef.
I have to admit that I was a bit nervous about being in northern Queensland. We all know that Australia has a reputation for having the most poisenous species in the world and that pretty much anything can kill you. So, for the first little while I was very aware of everything around me. If I saw an insect of any kind, I would freak out! Was I overreacting?
I don't know, but the local guys at the hostel didn't make us feel better. They told us that we could only swim in a certain area of the beach because the rest of the ocean had too many jellyfish. They also told us to avoid the area where the river was, because a few crocodiles live there. So, we basically avoided most things. Everything was a tease. You could admire from afar but you couldn't actually enjoy any of it.
Check out the massive jellyfish below!
WHERE TO STAY
We booked a couple of nights at Absolute Backpackers. For $57/night we got a tiny room with nothing more than a bed in it. It was tiny! This just made me realize how spoiled we were in South East Asia.
We ended up meeting a few nice people who gave us some tips on where to go and just like that it was time to move on to the next place.
Would I go back to Mission Beach? Meh, it was alright. I would't go back unless I was driving through.
Airlie Beach
We packed up our stuff and caught the next bus to Airlie Beach. The bus ride was long and there was nothing in sight except miles and miles of land and maybe the occasional wallaby, which I often mistook for a kangaroo. Airlie Beach was probably one of my favourites and maybe that's because it's so close to the famous Whitsunday Islands and the Great Barrier Reef.
WHERE TO STAY
We found a decent place to stay on AirBNB. For $55/night we basically had a small home to ourselves. The owners made the garage into a home, so we had a room, bathroom and kitchen all to ourselves. Not a bad deal for Australia! We also made all our meals at home. We really couldn't afford to eat out. We would make breakfast, pack a sandwich and fruit on the go and then make dinner when we came back. It was the best way to stay on budget.

After shopping around for a snorkelling trip to the Whitsunday Islands and we ended up booking a tour with Ocean Rafting. It cost us $140/pp for a full day trip. Considering that our budget is $100/day, we were already WAY over budget. Welcome to Australia!
However, we knew that sometimes we had to sacrifice the budget and spend a little more on some activities and make up the money later (by starving for a week or two. Jussssst kidding!) :)
We got picked up early in the morning and dropped off at the dock. The staff introduced themselves and starting telling us about the safety rules. They also told us that we had to wear stinger suits because the area where we were going to be snorkelling had quite a few jellyfish. It wasn't just any kind of jellyfish - it was Irakandji - the world's smallest and most venomous box jellyfish in the world! The average size of the bell is less than 1 inch and the tenticles can be as long as 3ft! The worst part is that they are clear and almost impossible to see.
We suited up and got ready for the first site. Both me and Mike were pretty nervous but we jumped it anyway.
We saw all kinds of life underwater, but mostly small colourful fish and coral reef. I was trying hard to find the turtles, but I didn't have any luck until the second site.
Once we reached the second snorkelling spot, I was already more comfortable in the water so I didn't hesitate to get in. I swam around for quite a while and then a few of us in the water spotted a turtle!
We followed it around for a while until it reached a big, scary drop. That was my cue to turn around and head back to the boat. Only then did I realize that Mike was not behind me and that he never actually got into the water. Apparently, the tour guide jumped into the water and scooped out a jellyfish in a plastic bottle. After he showed it to a few people on the boat, including Mike, they all decided skip snorkelling. But not me...I was dodging Irakandji and following the turtles until I could no longer see the boat. Thankfully, I made it back alive.
WHITEHAVEN BEACH
The next stop was pretty incredible. Since I'm a major beach bum and I've seen quite a few nice beaches, I have to admit that this one made my top 3 list. Whitehaven Beach is a 7km long beach on the Whitsunday Islands and it's one of the most beautiful beaches I've ever seen. The sand was so white and soft and the water was crystal blue! The only unfortunate thing is that you are only allowed to go their with a tour, which means that you probably won't be going there more than once on your trip unless you feel like spending over $100 to just visit the beach.
We relaxed for a couple of hours, had some lunch and just took it all in. One thing that really sucked was that we had to wear are stinger suits while swimming in this beautiful water!!! Ugh! Kind of ruined the whole experience, but it was still worth it!
ROCKHAMPTON
Our next stop was Rockhampton, or Rocky, as the Aussie's call it. It's not really worth a stop for more than a few hours. There is not much in the city itself, but there are a few surrounding areas to check out. The only reason we stopped here was to visit an old friend I met some years back. He welcomed us with open arms and we ended up staying with him for a few nights.
Tom took us to a beautiful coastal town called Yeppoon which is known for it's beaches and nearby islands. Once we got there we drove on the beach and get this....the beach had speed signs! You don't see that everyday. It was pretty cool and worth a stop if you're every on a road trip in northern Queensland.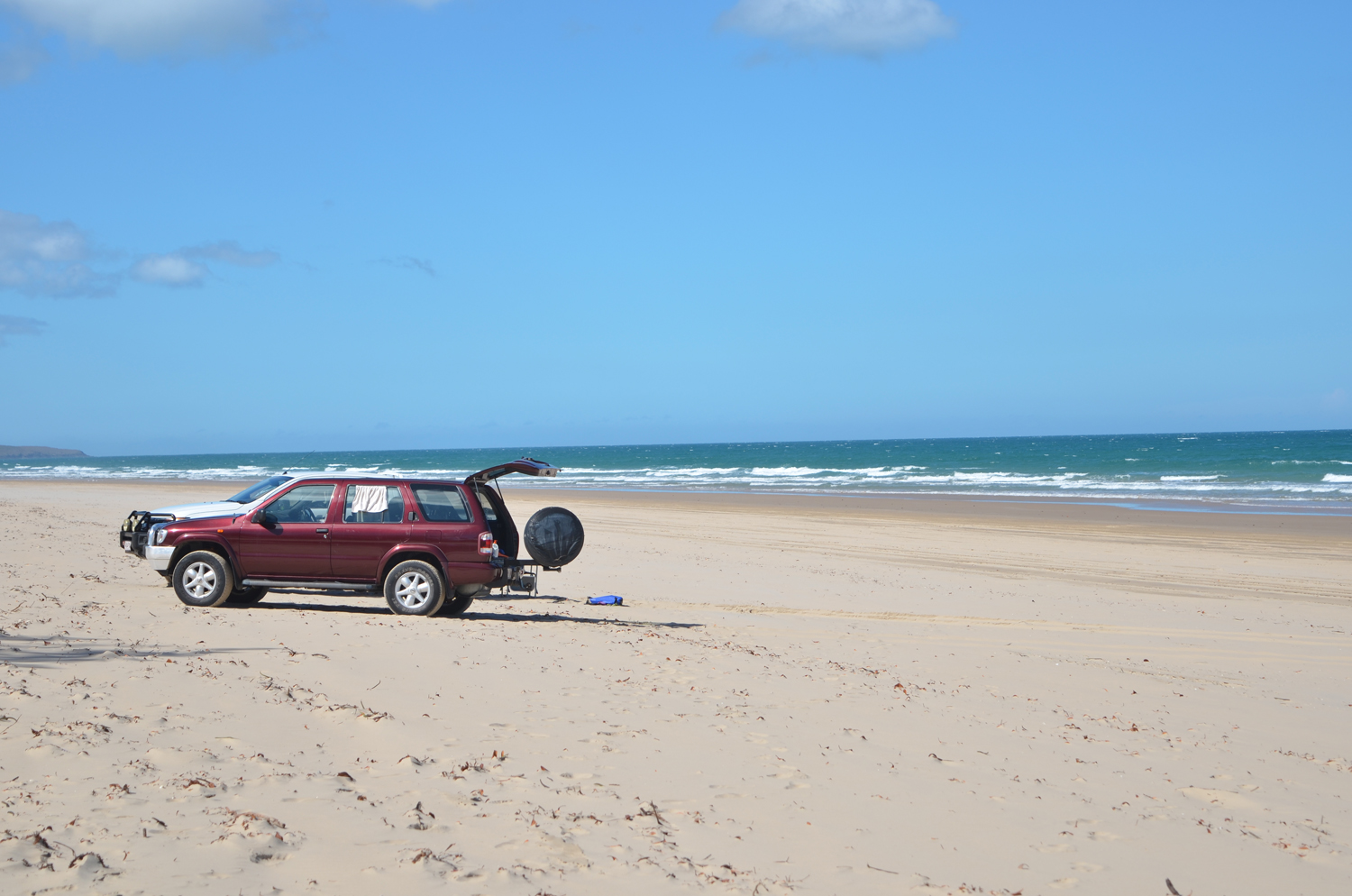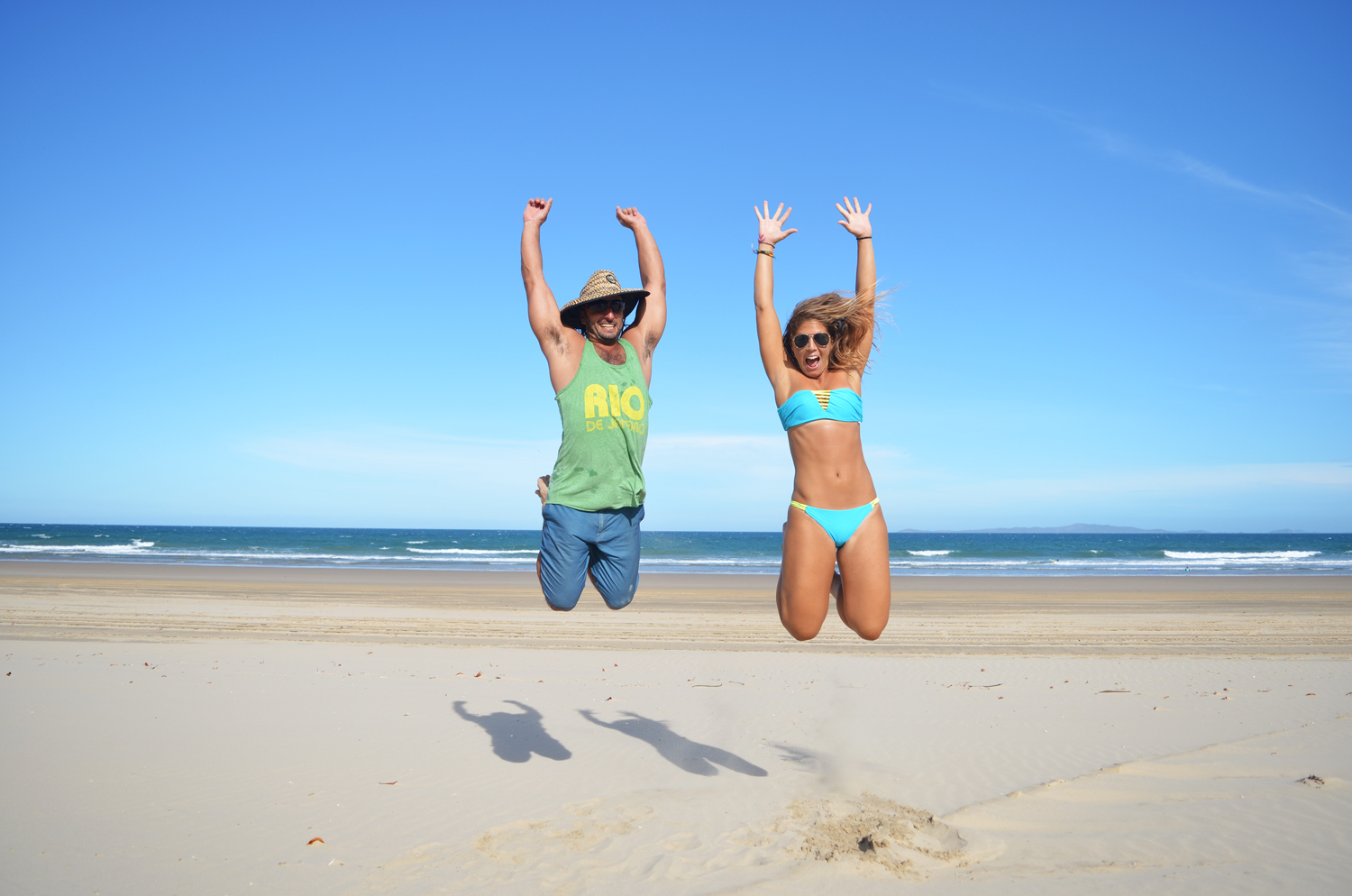 We've been asked a lot if we've ever been robbed on this trip and surprisingly our scariest moment was in Rocky. We were almost mugged 3 timed in one day, so we didn't feel safe walking around at all especially after sunset. The town seemed to have a lot of low income residents and ex-convicts. Sorry Tom, but you are going to have to visit us next! :P
GOLD COAST
We took and overnight bus from Rockhampton to the Gold Coast, which was roughly an 8.5 hour bus ride. Even though these buses were very comfortable, equipped with AC and wifi, overnight buses are never easy. No matter how comfortable the seats are, we always woke up sore and tired.
We made a quick stop in Brisbane and headed straight for the Gold Coast. Once we got off at the station, we got connected to the free wifi (gotta love free wifi when you don't have a data plan!) and called an Uber. He dropped us off at Mike's cousins house, which is where we were spending the next week at.
SURFER'S PARADISE

This was Mike's second time in Australia and even though he wasn't a huge fan of Surfer's Paradise, I made him come with me to check it out. It ended up being a lot tackier than I imagined. Not exactly sure what I was expecting, but it was very touristy. The beach itself was really nice and the waves were huge! The boardwalk was full of people walking and exercising and the condos along the beach reminded me a little bit of South Beach, Miami. Not bad!
I should also mention that this was one of the only sunny days we had in the Gold Coast! I couldn't believe it. We had more rain here than in Ireland!
Getting Around
We took buses and trains to get around. For $10, we got a Gold Coast Explore Card which is basically like an unlimited day pass for trains and buses. Otherwise, you pay about $6 each way to get around.
There was a bunch of really good coffee shops in the area too and in fact, the best coffee we've had so far has been in Australia. I think there was only one Starbucks in Surfer's Paradise and the rest were really awesome independent coffee shops! There was no time to check them all out but a couple of favourites were Elk Espresso and ESPL.
We almost never ate out in Australia because it was too expensive. We bought groceries and prepared everything. Sandwiches and veggie/fruit snacks were our go to meals. We also bought a small cooler that we took everywhere in Australia. We knew that we wouldn't be flying within the country, so we decided to get one especially because we were spending a lot of time on buses. We were slowly accumulating more bags and things and we knew that we had to get rid of it all when it came to our next flight. We didn't want to or could afford to pay for extra luggae weight.
The only thing we really spent money on was coffee...because COFFEE. :D
We did manage to check out one place called Grocer & Grind, which served very delicious and healthy food! Yumm.
GOLD COAST NIGHT QUARTER
There's a really cool night market that happens every weekend and it's totally worth checking out. It's got all kinds of food trucks, food stands, live music and art. We loved it!
We tried different kind of food, listened to some great music and had a really good time!
BURLEIGH HEADS
This was my favourite spot that we visited in the Gold Coast. When i was picturing Surfer's Paradise, Burleigh Heads is what I had in mind. The Gold Coast suburb has a very chill atmosphere and is known for incredible surfing conditions. It's a great place to do some hiking, but if you just want to chill out, it's the perfect place to grab a coffee and watch all the surfers. #drool
Nook Espresso is a really cute coffee spot where locals get their coffee from. It doesn't have a seating area and it's tiny (hence the name), but the coffee is perfect.
Of course, it was raining again, but we made the most of it!
And then I saw this guy....:O Guranteeeeeed it was poisonous! :P
BYRON BAY
After a week in the Gold Coast, we packed up out stuff and jumped on another bus to Byron Bay. We have now officially left Queensland and entered New South Wales.
WHERE TO STAY
We found a place on Booking.com that was right across from the beach. It was a bachelor with a small kitchen, bathroom, wifi etc. It cost us $100/night and we stayed 3 nights (not long enough!) It didn't come as a surprise, but the accommodation was not cheap in Byron Bay. In fact, it was the most expensive town up until this point. It's no wonder though - Byron Bay is a popular holiday destination and famous for it's surfing, amazing beaches and diving. It didn't take us long to realize why everyone loved it here. Sure, the beaches were great but it was the vibe about this place - a mix of surf and hippie culture and some really great musicians! There was just something in the air. Loved it!
Cape Byron Lighthouse
One of the biggest attractions in Byron Bay is the lighthouse. It sits on Australia's most easterly point and one of the best spots for whale watching. Getting there is pretty easy. We walked along the beach until we reached a set of stairs that let us pretty much to the top. It's a good 30-40 min walk/hike.
The hike up is definitely worth it. We did it twice because it rained one of the days but because it was also a good workout.
Even though every beach along the coast was beautiful, we enjoyed it here the most. There were so many deserted spots. It was incredible!
Also, there's a ton of good restaurants and most of them cater to those who are healthy conscious. Check out Byron Fresh Cafe!
NEWCASTLE
This city is one of the most underrated place we visited. No one recommended it and that's probably because no one has ever been there. It's got a stunning coastline, cute little cafes and restaurants and a pretty interesting history. It's also home to one of the biggest surfing competitions in Australia.
WHERE TO STAY
We booked a private room through Booking.com and only booked one night. It cost us $65/night. We soon discovered that we should have at least stayed a few nights because it's actually a pretty cool city. We couldn't extend our stay since we made plans to be in Melbourne a few days later.
MEMORIAL WALK
The Memorial Walk bridge is a really nice coastal walk and a must see. It was built as a memorial for the man and women who served in WWI.
The walk took us down to the beach, which was beautiful and full of surfers.
To sum it all up, Newcastle is a city worth checking out! Don't miss it!
CANBERRA
We made another quick stop in Canberra, which is the capital city of Australia! I can't say much about it because we didn't spend enough time there. However, on the night that we arrived, there was some cultural festival going on so we went to check it out! It seemed like a decent city but not as exciting as the others.
MELBOURNE
Melbourne is the coolest city. It has so much to offer. The way i describe it to people is that it's kind of like a mix of Toronto and Montreal, with an ocean, nice beaches and so much more. This is one city you don't want to miss when visiting Australia.
We planned to stay here for a week, and lucky for us, we had family friends to stay with! Thanks Zeljko and Suzana! :)
Because we were flying to South America from Sydney, we took the bus directly from Canberra to Melbourne, leaving Sydney as our last stop in Australia.
We had such a great time in Melbourne especially because we knew so many people. It was a week of reconnecting with friends we haven't seen for a long time - some for over 20 years!
There's a lot to see in Melbourne and just like any big city, one week is not enough to see it do it all. We just wanted to stroll around and stumble upon interesting streets, cafes and plan as little as possible.
A couple pictures above is a Degraves Street. It's very colourful and jam packed with coffee lovers like ourselves. The second you walk into the street, you can smell the fresh coffee beans! Mmmmm!
A few of our favourite coffee shops in the area are: Brother Baba Budan, Patricia Coffee Brewers, Dead Man Espresso and so many more!
GRAFFITI
Maybe this isn't everyone's thing, but Melbourne has some pretty awesome graffiti. We went to Hozier Lane, which is an icon of Melbourne. The art changes frequently and it's very exciting, colourful and even thought provoking.
Captain James Cook's Cottage
This was kind of a random thing we decided to do but it ended up being really fun an interesting. In case you don't know, James Cook was a British explorer and his parents built a cottage in Melbourne which is located in Fitzroy Gardens. The cottage was built it 1755 and eventually shipped to Melbourne, brick by brick.
Today, it's a popular tourist attraction and a pretty cool thing to see. We spent 30 minutes walking in and around the house and that was enough time to see everything. There was also a small entrance fee of $7.
QUEEN VICTORIA MARKET
There are so many good markets in Melbourne but we decided to check out the Queen Victoria Market. This is where we met up with my Colombian friend Juan, who I met in Toronto but he's currently living in Melbourne!
THE WORLD'S BEST COFFEE CULTURE
Yup. It's true. Melbourne had the best coffee culture! No matter where you go, it's nearly impossible to get a bad cup of coffee or find a big coffee chain. The people here know what they are doing and there's no fooling around when it comes to the perfect cup of joe. To the people in Melbourne, it's a sense of price and a way of life. Starbucks? What's that?
WHITE NIGHT
There was always something going on in this city and it was hard to pick and choose. We went out with some friends to check out the White Night (very similar to Nuit Blance in Toronto) which was an art festival that celebrated culture and creativity. It was great and free! :) The weather was pretty crappy. In fact, something that everyone should know before going to Melbourne - each day has 4 seasons so be prepared! The weather is crazy!
GREAT OCEAN ROAD
I'm so glad we got to do this and I'm even happier with the company we had! Thanks Donna for being such a great tour guide :) The drive from Melbourne to the 12 Apostles is about 4 hours, but because there were so many things to see in between, we had to make sure and leave early!
We got some yummy coffee and started the road trip!
MAITS REST FOREST
This was one of out first stops. It was a short walk with beautiful fern gardens and rainforest trees. It was also free! Yay, we love free things, especially in Australia where we couldn't afford anything.
12 APOSTLES AND LOCH ARD GORGE
The route to the 12 Apostles (I believe there is only 9 now) is absolutely beautiful and almost all along the ocean. It's no wonder they call it the Great Ocean Road!
About 5 hours later and we finally arrived. When I saw the famous rock formations, it was hard for me not to stop and think 'I can't believe we're here.' In fact, I found myself thinking that very often on this trip. We were all in awe.
Montsalvat
I've never heard about this before and i was Suzana who decided we stop by and check it out. I'm glad we went because we probably wouldn't have thought of it ourselves. Montselvat is Australia's oldest artist community - a place where art is made, taught and exhibited. It's a creative hub set amid unique buildings and it's located about 30 minutes from central Melbourne.
ST. KILDA
This is a must see place when in Melbourne. Located a short distance from the city, St. Kilda is one of the coolest places in Melbourne. It's got a nice beaches, cafes, live music and more!
And just like that, the week was over. We packed up and headed to Sydney! We actually travelled by train because our Greyhound pass didn't allows us to travel back the way we came from. Luckily, we found a good deal online and only paid $30 for our train ticket.
SYDNEY
This was our last stop in Australia. Once again, we were lucky enough to have friends and family in the city that could show us around and also offer accommodation. Our friends Gergana and Adam were kind enough to let us stay with them for a week, so once we arrived at the station we took a train and a couple of buses to finally get to Collaroy Beach. Their cute little apartment was literally across from the beach!
Collaroy Beach is about 15km away from Manly Beach and about 35km from downtown Sydney. We actually really liked the area. It was away from the big city and it had a small town kind of feel. Plus, we had the beach at our doorstep and it was always pretty empty.
This neighbourhood was perfect if you wanted to get away from the crowds of Sydney. There were a few adorable neighbourhood cafe's and a nice farmer's market that we checked out on the weekend!
MANLY BEACH
This is another beautiful seaside suburb just outside of Sydney. It's always busy and a great spot for surfing. We both preffered this beach over the famous Bondi Beach.
We hung out at Manly Beach a few times and the easiest way for us to get there was to take a local bus. We got an Opal Card and loaded with money and we were able to use it all over the city.
Manly Beach was a much busier than Collaroy and there was something going on all the time. There were a few pedestrian only streets packed with shops, cafe's and restaurants - perfect place for tourists.
One of the days, when we were strolling along, we walked by a cafe and recognized someone that was staying at the same hotel as us in Koh Phangan, Thailand. We never spoke to the guy, but both me and Mike recognized him. What were the odds that we would see someone from Thailand in Manly Beach?! Not very good. Anyway, we thought we'd approach him and say hi. After exchanging a few words, we sat down and had a coffee with our new Brazilian friend, Cristiano. He too, was travelling for a year - another coincidence! He also has a blog/travel site which is in Portuguese, so if you understand the language, check it out: Locomotiva Viajante.
Not only is Manly Beach a nice place to go for a swim, but it's a great place to go for a stroll by the water. We actually met up with some family that I haven't seen in a long time. My cousin Ivan and his girlfriend took us around Manly and a few other spots.
A few more shots of family wand wandering around Sydney.
Bondi Beach
If you haven't heard of it, Bondi Beach is one of Australia's most famous beaches. It's best known for its surf and sandy beaches, but also trendy restaurants and bars. According to the locals, it's always busy but we totally missed the crowd. We came just before the rain started, and it was pretty deserted!
Besides the beautiful beach, Bondi has a wall that's covered in graffiti art. Some of the stuff is really beautiful and it's kind of an attraction itself. Each one has a story behind it...some of national symbols, Australian history and others are just for fun. Mike's favourite was of Arnold Schwarzenegger. :P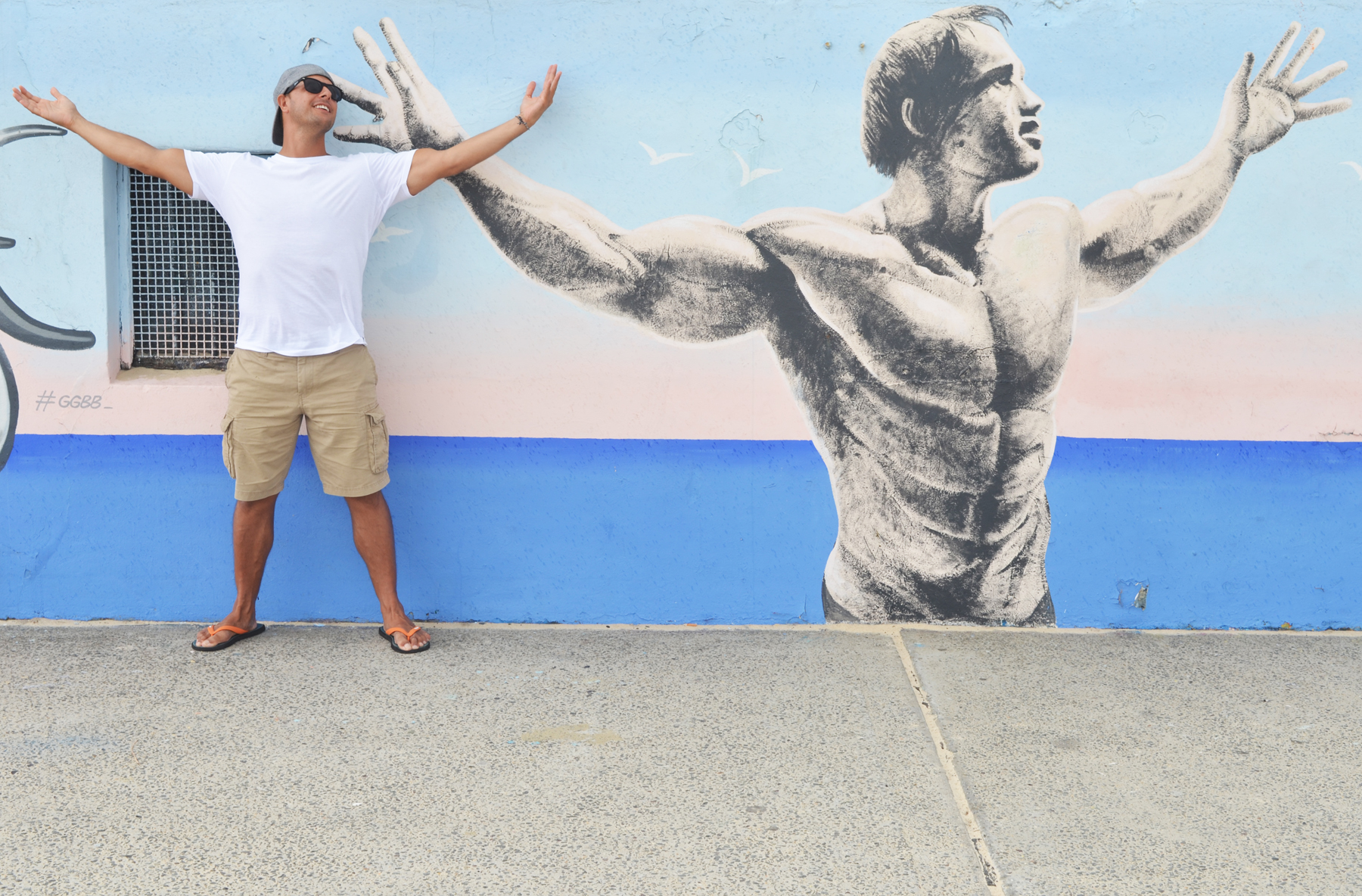 On one of our lasts nights in Sydney, Mike went night fishing with Adam and they caught a few sharks from the shore! Don't worry - they released them right away. I know I won't be night swimming in Australia any time soon! In fact, the whole time we were in Australia, I think Mike went into the water 3 times. He definitely wasn't taking any chances! Ha!
The week went by really fast. We saw as much as we could without getting too overwhelmed. Sydney is a cool city. The weather is perfect and the beaches are amazing, but the city didn't impress me as much as Melbourne. I thought that Melbourne had a lot more culture and diversity. However, it's definitely worth a visit. We'd go back for sure!
Once again, we packed up our bags and stuffed all of our belongings in our two backpacks. We were starting to get exhausted packing every few days, especially when your bag is completely stuffed and you don't even have room for an extra sock!
We hopped on the bus and got dropped off at the train station. From there, we took the green line directly to the international airport and used our Opal cards to pay for the fare. We were there in no time. And that was that. Time flew by so fast! Another month gone. But at least we weren't going home yet. We were heading back to the Americas, but not North America for a while. First stop in South America.....BRAZIL!
HERE'S THE BREAKDOWN OF HOW MUCH WE SPENT FOR 36 DAYS:
Accommodations: $861 (very low for Australia. Staying with family and friends helped!)
Food: $1,372
Domestic Transportation: $1,436
Misc: $1,178 (activities, toiletries. etc)
Tourist Visa: $40 ($20/pp, electronic travel authority visa)

Total: $4,886
Daily Average (per person): $68

*Excludes one-way flight from Denpasar to Cairns ($180 each)
**Currency exchange 25/01/2016: $1 (CAD) = 1.04 AUD!
Check out all of our photos from Australia and the VIDEO in the video section!