I was craving another adventure. Surprise, surprise!
A year hasn't passed since the big trip around the world, and I was already itching to go and see something new. Nicaragua was at the top of the list. When I told people where I was going, they didn't get it. 'Why Nicaragua?' they said.
I heard a lot of great things about Nicaragua. Even though its the biggest country n Central America, it's not as frequently visited as its neighbouring countries, but that's slowly starting to change. Nicaragua has a lot to offer, trust me! If it's not on your radar yet, it should be.
Tip: Not sure if you need a visa for Nicaragua? Check Your Visa Requirements at iVisa.com Today! You can process a visa from a computer, smartphone or tablet. It's that easy! Travellers no longer need to research or get frustrated dealing with different Governments. Travel agents, Destination Management Companies and Corporates can use iVisa.com to process any travel visa. We provide the best solution in the market.
Toronto to Managua
I convinced my cousin to join me on a 2 week trip. We purchased our flights pretty last minute so we ended up paying $750 CAD/pp for a return trip with United Airlines. Not the best deal, but if you look early enough, you can get flights as low as $500-600 CAD.
Our 8 hour trip to Managua turned out to be 15 hours. The first flight to Houston was delayed so we missed our connection. It was a GREAT start to the trip! But once we finally arrived and stepped outside of the airport, the humid air made us quickly forget just how tired we were. It felt so good to be somewhere warm again.
We decided not to spend any time in Managua. Since we were pressed for time, we made the decision to skip the capital city all together.
There is a $10USD entry fee which we paid at the airport.

Currency
You can use American dollars or Nicaraguan córdoba throughout the country. It might be a little bit harder to get ripped of if you have córdobas. We didn't exchange any money in advance. Who does that anymore anyway?! We used ATM machines to withdraw cash and never had any issues.
GRANADA
We landed in Managua close to midnight and we arranged a taxi pick-up through the hotel we were staying at. The ride cost us $45USD from the airport in Managua to our hotel in Granada and it took approximately 1 hour.
WHERE TO STAY

Casa Cubana
If you're not on a tight budget, stay here. We paid $75USD/per night. Our room was literally the size of a small house. The staff was really friendly, especially Esther, a fellow Canadian living the dream in Nicaragua. She gave us all kinds of tips and we became friends instantly. I cannot believe we don't have a picture together. :(
Breakfast was delicious every morning and always different. My favourite was the eggs, rice and beans, plantain, fresh juice and of course...coffee!
Other cheaper options for accommodation are Hotel Glifoos ($35USD/night) and Emily Hostel ($25USD/night).
Granada is a beautiful city! It's very colourful and full of Spanish colonial architecture. Lady of the Assumption Cathedral is something that you won't miss. It's right in the middle of the town. You can go to the top for $1USD.
There's a lot of people in the main square selling all kinds of things - from hammocks, sunglasses to drinks and deep fried goodies. You can also pay for a city tour in a horse carriage. If this is your thing, there's no shortage of them in the main square.
Just around the corner from the main square is Calle la Calzada, which is kind of the main street, filled with cafes, bars and restaurants. However, there's good restaurants all over the town.
WHERE TO EAT

You can get good, traditional Nicaraguan street food in the Mercado Municipal, but if you prefer a sit down and don't care if it's not Nicaraguan food, here's a few that we really enjoyed:

Pita Pita
Ridiculously good middle-eastern food. I believe it's run by an Israeli couple and their food is to die for. Don't miss it! I didn't have a chance to take a picture, because inhaled our food so fast!

Garden Cafe
Another great spot. Good food, coffee and a really chill atmosphere. They serve a bit of everything, including Nicaraguan food.
Cafe de los Suenos
This place was a favourite for coffee and snacks. They have good food as well, but it's a better spot for a coffee break!
Espressionista
This cafe is about a 5-10 min walk from the main square. It's not very busy, but it's perfect if you want to get away from the hustle and bustle of the main square. Good coffee too!
We also heard great things about El Garaje, but we never had a chance to try it out. They serve organic food and they are only open for lunch. It's suppose to be a bit hard to find, but from what we heard, the place is worth the search!
The Mercado Municipal is also a must see, especially if you like wandering around and checking out all the random things for sale.
Miravalle Canopy Tour
If you've never been zip-lining, this is a good place to try. It's fun, but if you've tried it elsewhere, it might be a little underwhealming. There was nobody else there that day, so we had the whole place to ourselves. It cost us $30USD/each.
CHURCHES AND PARKS
My favourite thing when I travel is to just wander around and stumble upon places. I hate planning things out too much. This way, you'll discover all kinds of shops, churches and friendly locals.
LAGUNA DE APOYO
This crater lake is also a nature reserve and it's located only 20 minutes from Granada. Worth a visit! We decided to spend the day there, so we arranged a shuttle for $14USD/each. We got dropped off at Hotel el Paraiso, a beautiful property with stunning views of the lagoon. It's also a great spot for kayaking and scuba diving among other things.
BUY A HAMMOCK AND SUPPORT A GOOD CAUSE
Who doesn't like a hammock!? They sell them everywhere in Nicaragua but if you want to support a good cause, get yours at Tio Antonio Centro Social. This place is much more than a hammock store. Here, kids that are mute and deaf have the chance to work and make some money. If you visit the store, you can actually see the whole process. If you don't like the hammocks on display, they can custom make one and even ship it home. We got ours for $45USD.
ISLA DE OMETEPE
I can't say enough about this place. Isla de Ometepe is magical! The island is situated on Lake Nicaragua and it's famous for the twin volcanoes, Volcan Maderas and Volcan Concepción. It's known to have very fertile soil, a wide variety of wildlife and clean water. We were told that Isla de Ometepe is the only place where it's safe to drink the water from the tap.
Concepción is the only active and perfectly cone-shaped volcano. Maderas is on the south side and it's the one that most people hike because it's easier and more shaded.
GETTING THERE
We had a shuttle pick us up from out hotel in Granada and for $10USD/each, we got dropped off at the port in San Jorge. We purchased a one way ticket to Ometepe for C$50 (approx $1.70USD). We took the big ferry which was pretty comfortable. We were told to stay away from the small boats because the waves can get big making it a rough ride. It takes about 1 hour to get to the island.
We arrived at the port in Mayogalpa, a small port city on the north east side of the island. We were suppose to stay at Hotel Casa Moreno, which was right in the centre, but we decided to stay on a different side of the island.
There are basically, four main areas on the island: Mayogalpa, Altagarcia, Balgue and Mérida. Mayogalpa is the busiest and it feels more like an actual town. There are a lot of hostels, restaurants and bars. If you want to be where all the action is, stay here. If you prefer a more relaxed vibe or if you want to stay on a farm, Mérida and Balgue are a better option. Balgue was our favourite!
We stayed right on Santo Domingo beach, which is the strip between Altagarcia and Balgue. We wanted to be in the middle of everything and close to a beach. Either way, we needed some form of transportation to get around. I had no idea how big the island was!!! You definitely can't walk or bicycle from one part of the island to the other. There were local buses, but they didn't run very frequently, so renting a moped or ATV was the best option especially if you want to go from one end of the island to the other.
FUN FACT: Lake Nicaragua has bull sharks that have adapted to fresh water life. We only found this out after the fact!
We were lucky enough to have met a new friend, Isaac, who had a car and drove us around everywhere! He rented a car in Managua and brought it over on the ferry to Ometepe. Thanks Isaac! :)
WHERE TO STAY

Xalli
We stayed here for 3 nights. It cost us $55USD/night. The property was really nice and right on the beach. The rooms had AC and breakfast was included in the price. It's located close to Balgue.
Casa Moreno
A good option in Mayogalpa. The cost is about $25USD/night with breakfast.
Little Morgan's
A cheaper option and a good place if you want a party!
WHERE TO EAT

The food really impressed us in Nicaragua, but especially on Isla de Ometepe. There is a farm on almost every corner and all the food tastes so fresh. Also, I think I had the best tasting chicken in my life in Nicaragua! The beef was good too.
Cafe Campestre
Oh Cafe Campestre, how I miss you! Everything on the menu was amazing. This place comes up as one of the best restaurants on the island and it makes sense why. All of their food is organic. They use seasonal ingredients, most of which they supply from their farm in Balgue. They have amazing salads, juices and smoothies AND the best brownie you will EVER have. Make sure to try the Funky Monkey smoothie!
Xalli's
This is where we stayed and they just happen to have a pretty good restaurant. They serve breakfast, lunch and dinner!
If you're in Mayogalpa, try out any of the locally run restaurants. They don't look like much from the outside, but you can get really good meal for a couple of dollars. This place in the picture below was always busy with locals and tourists. Unfortunately, I don't know the name. It might not even have one. There is a disco ball in front and it's off the main street. Happy searching! :)
HIKE A VOLCANO
We had options to hike up Concepción or Maderas and a group of us decided to go with Maderas. It was an easier hike and we would get a nice view of the other volcano. If we had more time, I would have liked to hike Concepción. I kind of regret not doing it because the weather was so perfect. There were no clouds above Concepción, which would have made for a perfect view of the island. :(
It took us a few hours to get to the look out point, but we stopped a lot and took thousands of photos. We paid our guide $11USD/each even though we didn't really need one.
Ojo de Agua
This is a natural spring pool filled with water that comes from volcano Maderas. Swimming in the water is suppose to be therapeutic, which sounded pretty cool to us, so we went to give it a try. The place ended up being a major tourist trap, but we found some rum and coconuts so it was all good.
RENT A BYCICLE
We rented a bicycle one of the days and just explored Balgue. The terrain is pretty hilly, so we got a nice workout!
PUNTA JESUS MARIA
This is the perfect place to catch the sunset. Located near Mayogalpa, Punta Jesus Maria is a narrow strip of sand stretching out into Lake Nicaragua. You can get a view of both volcanoes from here.
On our last day, we took a taxi to the port that was near Santo Domingo. It's a good option if you don't want to drive all the way to Mayogalpa.
PLAYA MADERAS
The next place we were heading to was Playa Maderas. I read that it was suppose to be a pretty cool spot with a nice beach, relaxed atmosphere and the perfect place to chill. It's located 20 minutes from San Juan del Sur, an old fishing village, which is now a pretty lively and busy city. Playa Maderas sounded like a better option for us.
We got off the ferry in San Jorge and waited for our taxi. It cost us $40USD, which is kind of expensive. We could have taken a us from Rivas to Maderas for a quarter of the price, but the taxi was more convenient.

Maderas Village
I found this place on instagram and i have to admit, the pictures sold me. It looked like a really nice place. We booked 5 nights here and pre-paid for two. The first night we were staying in the King Cabana which cost us $150USD/night! Kind of ridiculous, but it was hipster and cool and the place to be. This price didn't include breakfast (most places include breakfast in their nightly rate.)
The breakfast options are healthy and delicious. Dinners are communal and cost $13USD. It was actually a pretty cool set up because it forces you to make new friends.
The second day, we got moved to a smaller room because it wasn't available the first night. It was also large, 2 floors and very spacious.
The beach was about a 5 minute walk down a very steep hill. You definitely need a 4x4 to get around if you plan on driving around. The beach was beautiful but it felt very small in comparison to the other beaches we visited.

We decided leave Maderas Village a few days early. Even though we were glad we checked it out, we thought it was too expensive and cliquey. We didn't feel cool enough to be there ;)
POPOYO
Because we were leaving Playa Maderas a few days earlier, this meant that we could actually check out a beach town called Popoyo. In the end, this place up being our favourite spot. Our cab ride from Maderas Village to Popoyo was $80USD, and t was 1.5 hours away.
Popoyo is a very quiet, rustic beach town. What we loved about it is that the beaches are very wide, especially Playa Guasacate where we were most of the time. There is not much around, but it's the ideal place if you want to relax, surf, surf and SURF.
WHERE TO STAY
Hotel Casitas Pacific
We initially booked 3 nights at Casitas Pacific, but because we loved it so much we stayed an extra night. The property was beautiful, rooms were clean and had AC. Breakfast was also included. We paid $55USD/night.
A few other good options are La Vaca Loca and Popoyo Beach Hostel.
WHERE TO EAT
Viento Este
This small restaurant/bar was part of our hotel. It's literally a small shack, but they serve the best pizza. They are only open a few days a week (Tuesday to Friday). Great atmosphere at night! We also ate breakfast here every morning. What a view! :)
La Vaca Loca
This place is a bed and breakfast. They have a really cute cafe on the first floor. They serve excellent coffee, smoothies, juices and healthier food options. They also have weird hours and are only open Thursday - Sunday from 8am-1pm. I guess there's just not enough people around!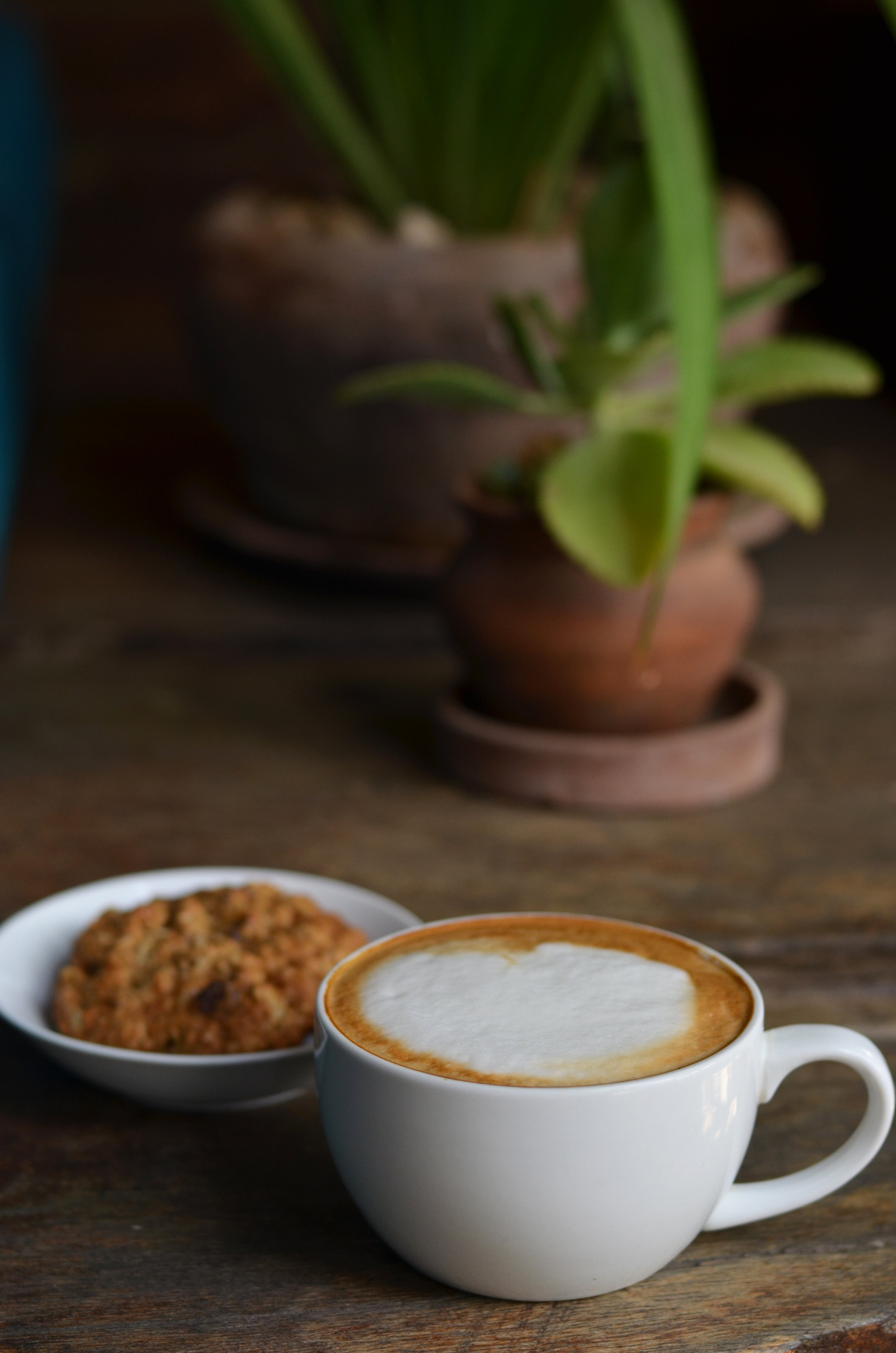 Magnific Rock
This hotel and restaurant is located on a hill, right in front of a beautiful rock formation. The restaurant has incredible views of the ocean and it's probably one of the best places to catch the sunset. Food is pricey but good!
Apart from relaxing on the beach and surfing there's not much else to do here. A few places might be happening at night, but it's all very low key. Either way, we loved it!
SAN JUAN DEL SUR
There were shuttles from Popoyo to San Juan del sur, but we decided to take a taxi for $45USD. We got dropped off at our hotel, which was in the dead centre of the town. The beach in San Juan del Sur sucks, so I would not stay here if you are looking for a nice beach. In fact, I think a day trip or 1 night in San Juan del Sur is enough. If you're looking for a good nightlife, this is the place to be.

WHERE TO STAY

Barrio Cafe Hotel and Restaurant
The hotel was in the perfect location. Rooms were clean, breakfast was AMAZING and included in our room rate of $65/night. We had some issues with the front desk staff, but it was an overall good experience. The restaurant alone was worth the stay.
Casa Oro Hostel
Another great option. Central location, good food and rooms. This is also where you can grab a shuttle to nearby beaches.
WHERE TO EAT
Simon Says
This place is really unique and tacky, but the atmosphere is great!. They serve a variety of smoothies and freshly squeezed juices as well as Middle Eastern cuisine. Really good music too!

Barrio Cafe Hotel and Restaurant
A more expensive option, but the food is excellent and portions are large.
La Lancha and Asados Juanita
Both of these are locally run restaurants. You can get grilled fish and bbq chicken/beef dinner for $4-5. They are both located near the market.
The Beach House
Beautiful spot on the beach. The best place to have drinks at sunset!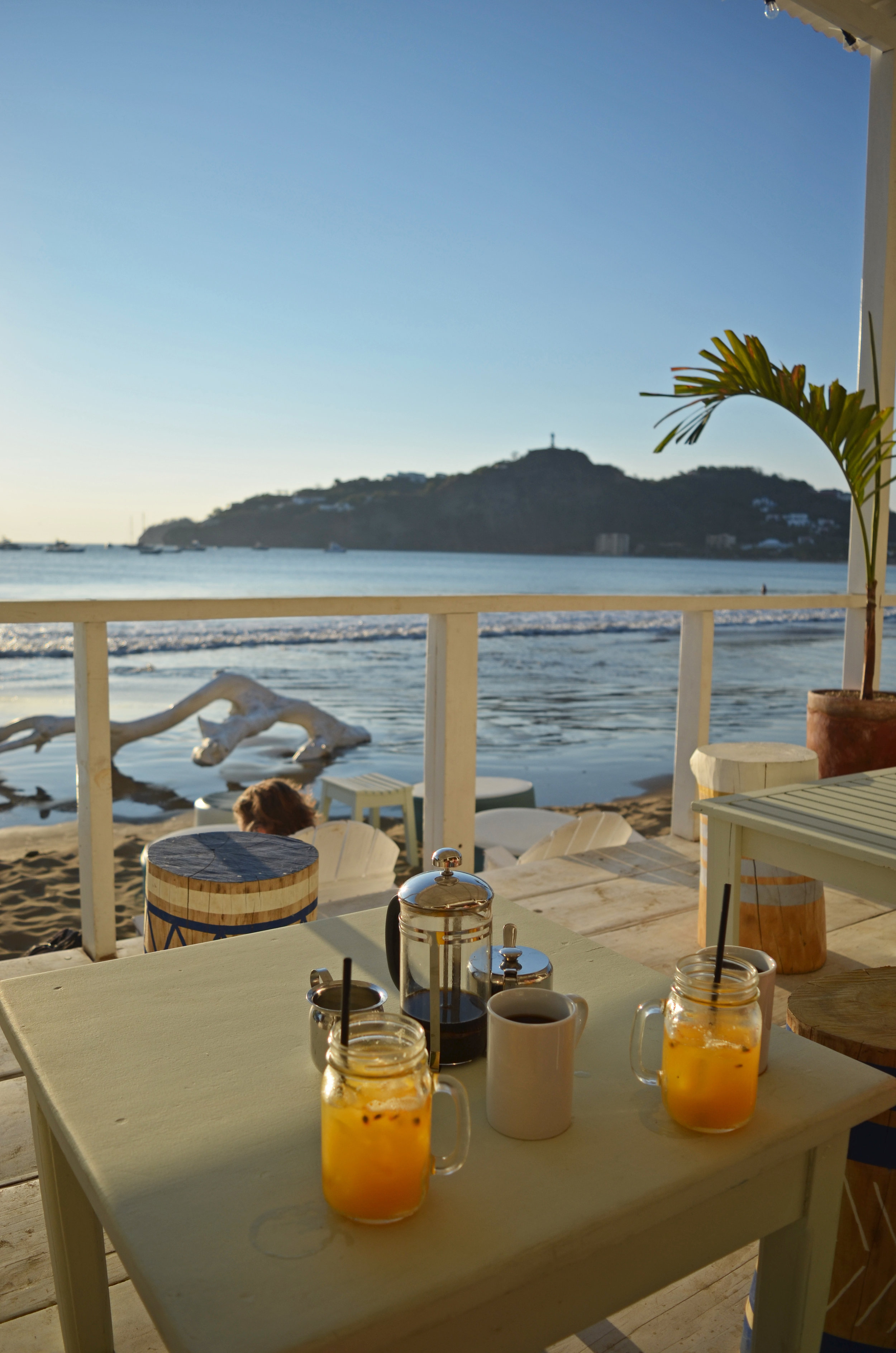 Apart from wandering around town and checking out all the souvenir shops, the main attraction in San Juan del Sur is The Christ of the Mercy. I believe it's the second largest Jesus statue in the world, after the one in Rio de Janeiro. It's located on a hill above the bay of San Juan del Sur. The best way to get up there is by taxi or a long walk.
PLAYA HERMOSA
Since we didn't like the beach in San Juan del Sur, we decided to take a shuttle to Playa Hermosa. It was a 20minute drive to get there and it cost us $10USD for a return trip. This beach is famous for being in the show Survivor. It is a very wide and empty beach, with only one restaurant. It's worth checking out especially if you are staying in San Juan del Sur.
On the day that we were heading back home, we arranged a taxi from the hotel to the airport for $90USD. He picked us up at 11pm and the drive was about 2.5 hours to the airport in Managua. On the way there, we got stuck in traffic, but not the kind of traffic most of us are used to. We were lucky enough to witness an old religious tradition called Caretas Peregrinas where people fill up their wagons with all kinds of things and embark on a pilgrimage from Masaya to Rivas.
There were so many wagons - I was sure that we weren't going to make it to the airport. Luckily, we left early enough and ended up making it just in time.
I would love to go back to Nicaragua. It's beautiful, cheap and safe. A lot of people compare it to Costa Rica and although they are similar in a lot of ways, Nicaragua has its own charm. I found that Nicaragua has a lot more culture and it's definitely cheaper than Costa Rica. If it's not on your list of countries to visit, it should be now! :)