AUGUST 26 - SEPTEMBER 12
We were pretty excited to get to Croatia. I knew that once we reached the Adriatic coast, the food, beaches and family wouldn't disappoint. We landed in Zadar close to midnight and we took a bus to the centre, which was only a 15 minute ride. The bus ticket was 50KN (Croatian Kuna), which is around $10CAD.
The bus dropped us off right at the harbour by the old city. Across the bridge I could see my cousin Tanja and her husband waiting for us! We couldn't have picked a better time to visit Zadar since Tanja and Dejan were on their summer vacation. For the next few days, we were going to enjoy the sun, check out a few islands and eat as much seafood and figs as we could.
ZADAR AND KORNATI ISLANDS
We weren't wasting any time. The next morning, we decided we were going to spend the day exploring the Kornati Islands. It was a full day excursion and it cost us 260KN/per person ($50CAD).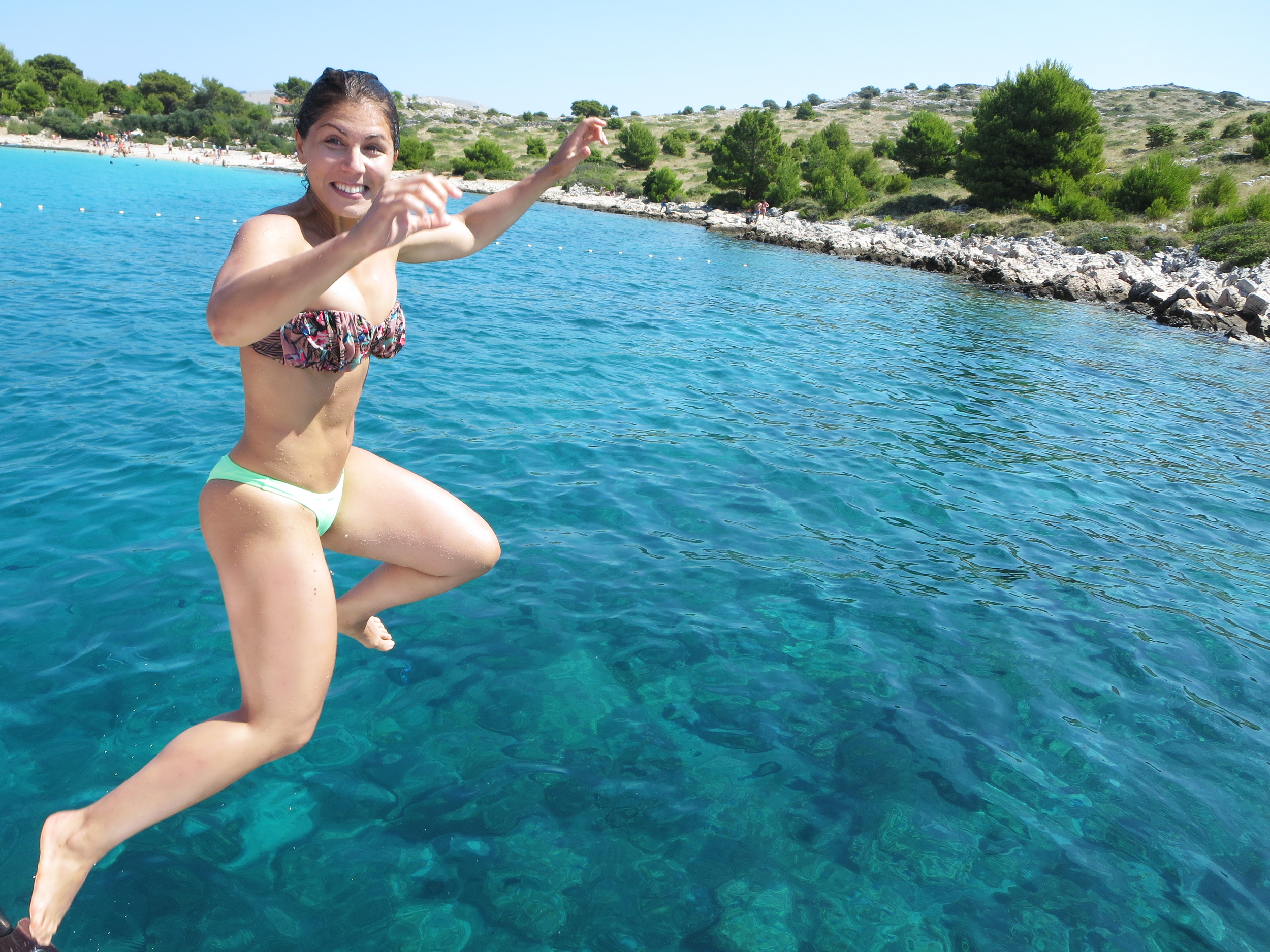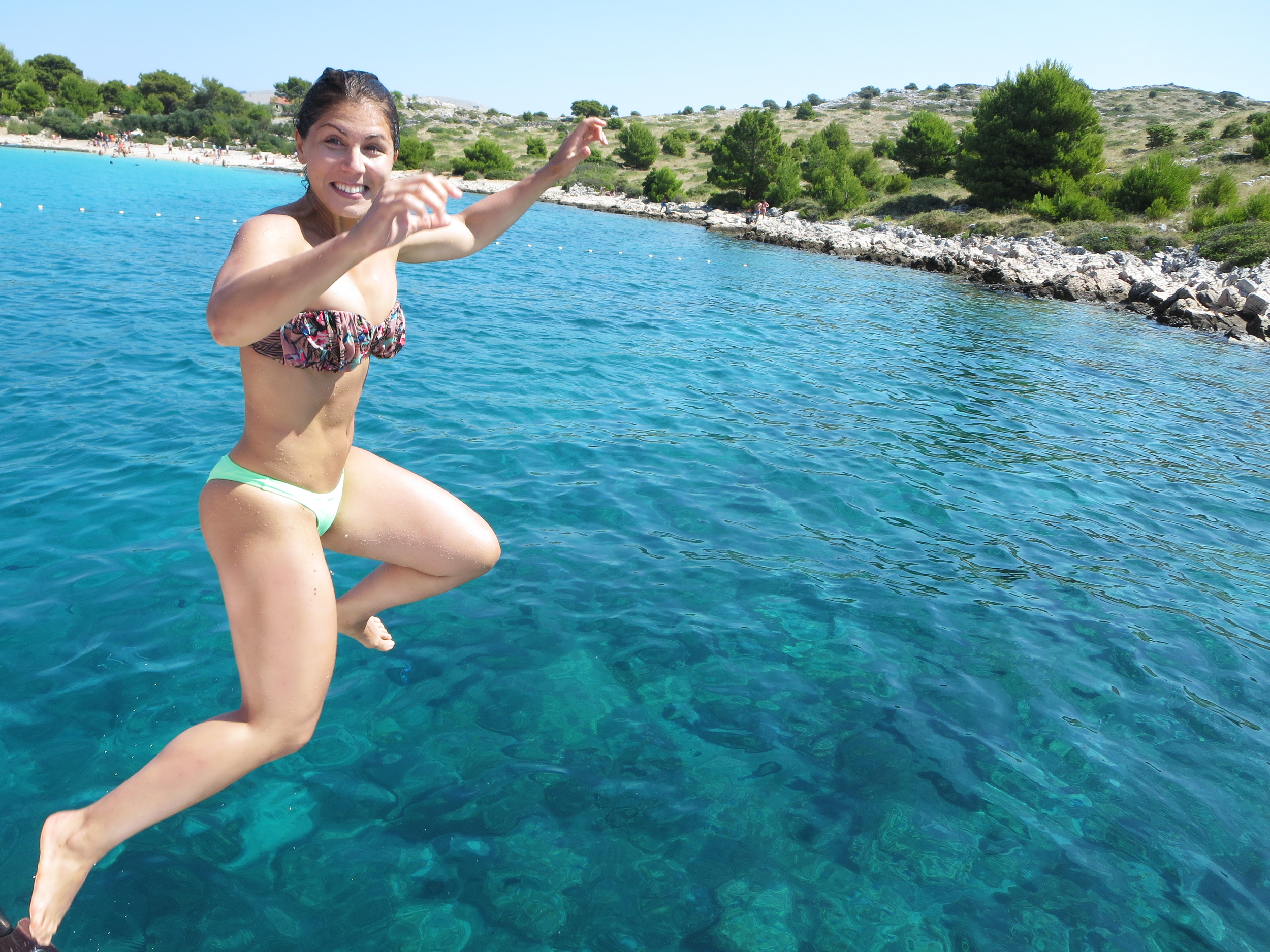 Halfway through the day we stopped on one of the islands and lunch was prepared for us. Homemade wine, bread, fish and salad were waiting for us at the table. Mmmm...
It's not surprising that Croatia has become such a travel hotspot in the last 5 years. It's got one of the most amazing coastlines in the world and over 1,000 islands! If you love a warm climate and the outdoors, this is the place for you. The Adriatic Sea, the spectacular beaches, and the mountainous ranges will leave you in absolute awe.
It has a rich history and the food...oh, the food. Where do I even begin?
Croatia has always been popular with Europeans, but since the last time I was here, I've noticed many more North American and South American tourists. I was also shocked at how expensive everything has become. However, Zadar was probably one of the cheapest cities we visited. It's also a very beautiful and underrated city.

Zadar is the perfect city to explore on foot. You can wander around the marble streets and check out medieval churches, Roman ruins or you can people watch all day from one of the many cafes.
One of the things worth checking out is the Church of St.Donat which was built in the 9th century on the site of the ancient Roman forum. It is also one of the largest examples of Byzantine architecture in Dalmatia. Today, It is no longer used for religious purposes but for musical events because of it's amazing acoustic features.
Since I lost some of my pictures, I don't have any to share but The Sea Organ and Greeting to the Sun is another cool thing to check out. The Sea Organ (Morske Orgulje) consists of a series of underwater tubes beneath the marble steps that descend into the sea. Each tube creates a different tone and together they form a pretty amazing soundtrack of the sea. The great thing is that it's free!
Not too far from the Sea Organ is the Greeting to the Sun. It's basically a circular installation made up of 300 multi-layered glass plates and solar cells that, come nightfall, light up. Pretty cool!
There's lots to do in the city, but if history is not your thing you can take many day trips to the surrounding islands or check out some of the nearby waterfalls. I should also mention one very important word - PEKARA, which means bakery. As long as you have a Pekara near you, everything will be fine and you definitely will because there is one on every corner. You can find all the baked goods here that your heart desires. In all my travels, I've discovered that Croatia, Serbia and Bosnia have the best bakeries in the world. I'm pretty sure I've now convinced you all to go. :)
SPLIT
Our next stop was Split - a transport hub to the central Dalmatian islands and roughly 150km south of Zadar. We only spent half a day here because we had to catch a ferry to Hvar. Nonetheless, we made good use of our time and wandered around the old town. Since we had our backpacks with us, we were hoping to store them somewhere and sure enough we found a baggage storage right near the bus station.
Walking up and down the marble streets, you're bound to end up by the Diocletian's Palace because the ancient fortress is now the old town of Split, with shops, cafes, restaurants and apartments. The palace was built between the 3rd and 4th century by the Roman Emperor Diocletian in preparation for his retirement.
For you Game of Thrones fans, queen Daenerys' throne hall was filmed in the basement halls of the Diocletian's Palace.
After sweating buckets walking around Split, we went back to the harbour and got on our ferry to Hvar. It took about 1.5 hours and cost us 50 Kuna/per person. We bought the tickets through.....and just like in the other European countries we visisted, if you book online you'll get a better deal.
HVAR
I think I witnessed the most amazing sunset going from Split to Hvar. The sea was calm and the sky as clear as it can get. All you could see was this perfectly round sun dip below the horizon. It was magical.
We were approaching the marina and I could already tell what this island was going to be like. The bars were blasting music and the restaurants were packed with people. Young people were everywhere. This was a party island!
We got off the ferry with our massive backpacks, pulled up google maps and tried to figure out where exactly our hotel was. Well, we found the way but it was a hell of a hike! It felt like the longest walk of my life, only because it was 40 degrees and we had our huge packs. The apartment was located in the hills and about a 15-20 minute walk from the centre.
Once we reached our destination we were greeted by the host, Smilja Divkovic, who was extremely friendly. She even brought us two bottles of Karlovacko to cool off. The apartment was perfect - one bedroom, one bathroom, kitchen and small living area and a huge balcony with access to grapes, figs, lemons and pomegranate. It couldn't get better than that!
But it did. We had the most comfortable bed! If you're thinking about visiting Hvar and don't mind staying a short walk from the centre, this is the place to go. It's definitely the best value for your money. Check them out: Apartments Divkovic.
We were in a hurry to get to the beach the next day, so we got our grocery shopping done as fast as we could and we set off to find the perfect sunbathing spot. The prices were a little better than France, but not by much. Croatia was definitely not as cheap as I remember! However, you can eat prosciutto, burek and drink wine for pennies.
Don't expect many sandy beaches in Croatia. Most of them are rocky or pebbled, but they are still beautiful. It's what I was used to as a kid anyway, so it wasn't a surprise to me. You also have to watch out for sea urchins because they are everywhere! I've stepped on a few in the past so I became a pro at avoiding them.
We spent the whole day working on our tans. We decided to go back to the apartment, make some dinner and then check out some of the bars in the old town. Since it was the end of the high season I was expecting the bars to be pretty quiet but It was just the opposite. The centre was very lively and people were out partying until the morning. Although Hvar is more of a party island, it's suitable for anyone. You can have a relaxing vacation and eat some of the best seafood in your life, or you can party all day and night especially at the famous Hula Hula Beach Club and Carpe Diem. The price of drinks and entry fees were a little to steep for us, but if you're going on vacation for a couple of weeks then it's pretty standard. The city is also popular for yachts sailing around the Adriatic, so if you have one make sure to stop in Hvar.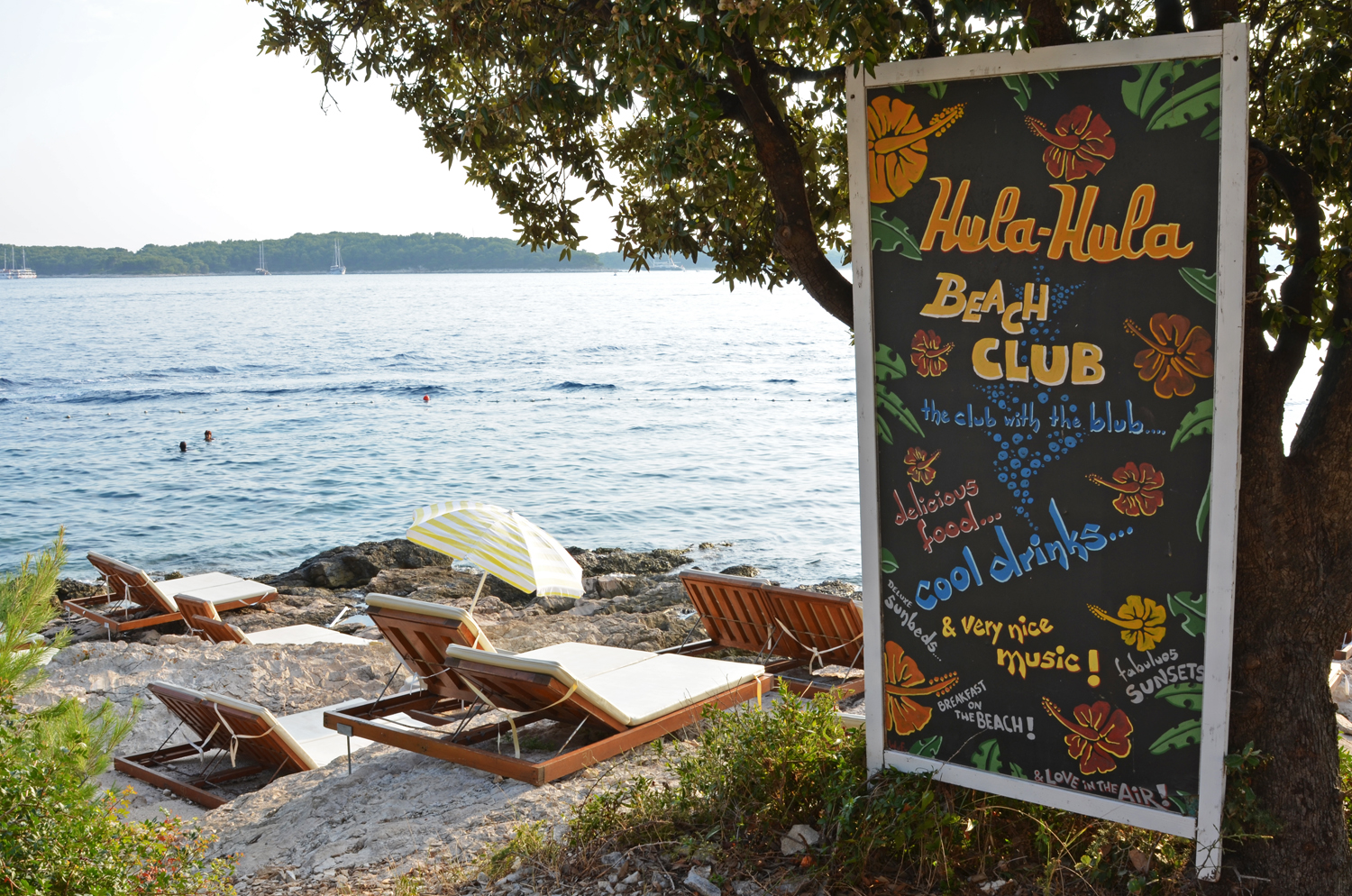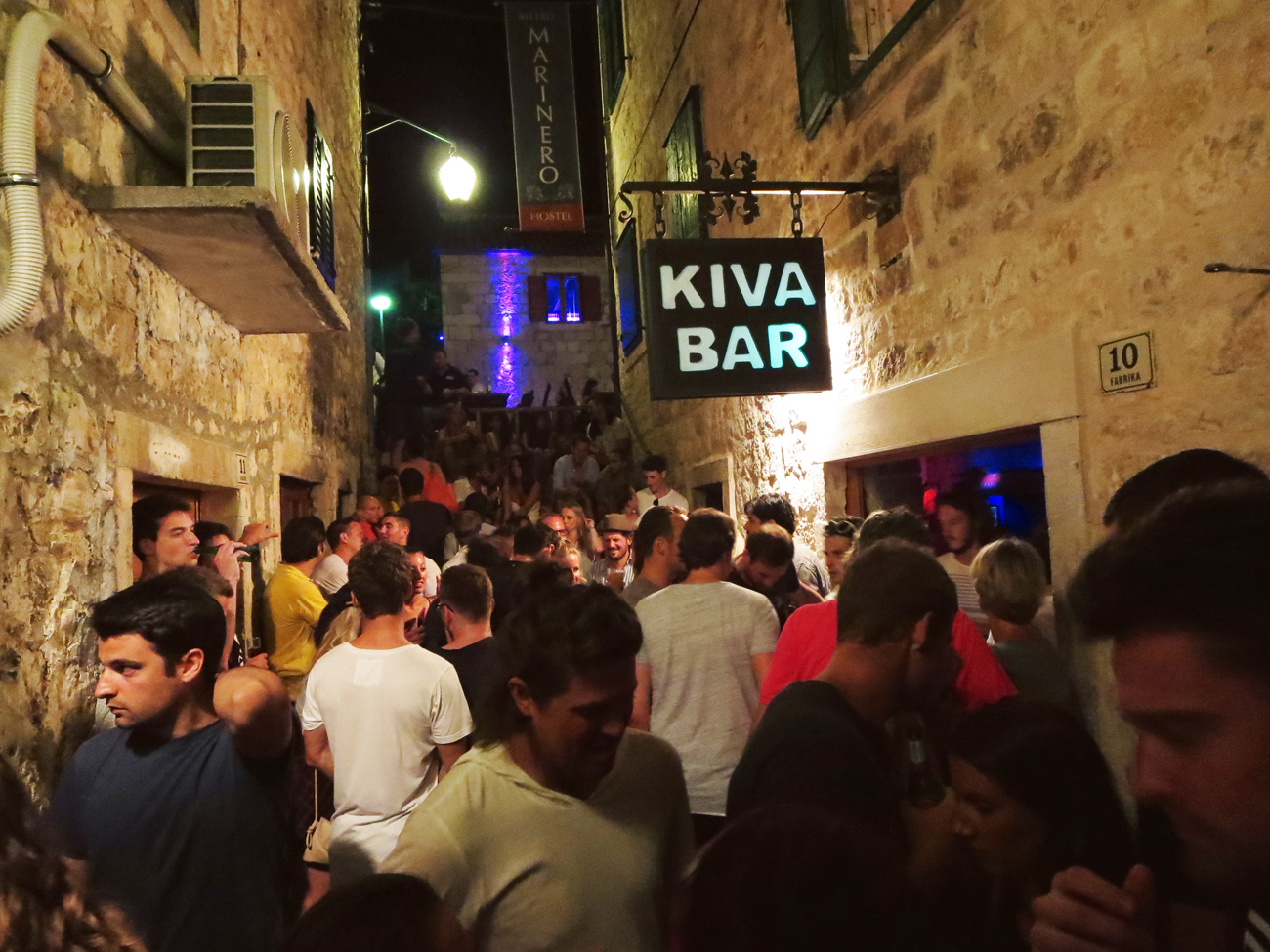 The next day we were ready to hike up another hill and check out the Spanish Fortress (Fortica Spanjola) above Hvar town. It was built during the Venetian rule, in the mid 16th century and today it's one of the main tourist attractions. From the top, you can see the Pakleni Islands, the town itself and the comings and goings in the harbour. Even though it was scorching hot outside, the panoramic view from the top was worth the hike! The entry fee is 30 Kuna ($6 CAD)/per person.
We spent a few hours at the top, roamed the medieval streets and finally sat down for a nice coffee. No matter where you go in Croatia, you will find a good cup of coffee. And people LOVE their coffee. In fact, people will sip on coffee for hours and hours. The same goes for Bosnia, Serbia and the rest of the Balkans. Coffee drinking and people watching is definitely a favourite pastime around here. Now I know why I turned out the way I did. Now, where's my coffee?
 
We were starting to feel hungry and we figured we'd treat ourselves to a proper meal. Up until now, we haven't really had a nice, sit down dinner. Someone recommended a restaurant called Marinero which was reasonably priced and had amazing food. Each of us had an appetizer, a seafood platter, two potato salads, wine and water. This all cost us 80$! What a splurge!
The only annoying thing we found was that a lot of places didn't accept credit cards, not even fancier restaurants like this one.
We woke up pretty early the next morning, worked out on our terrace and as we were heading out the door, our very hospitable hosts asked us if we would like to join them for lunch. We were kind of hungry but also curious of what they were making. We sat down and a couple of German guys, who were also staying at Apartments Divkovic, joined us. Ferdo poured us each a glass of homemade white wine and we waited for his masterpiece. In his outdoor, brick oven he cooked a variety of veggies with beef. It was just as mouthwatering as it looks!
The meal followed up with some coffee, more wine, beer and then homemade grappa. We were screwed. Drinking in the extreme heat left us all absolutely hammered and we were loving it.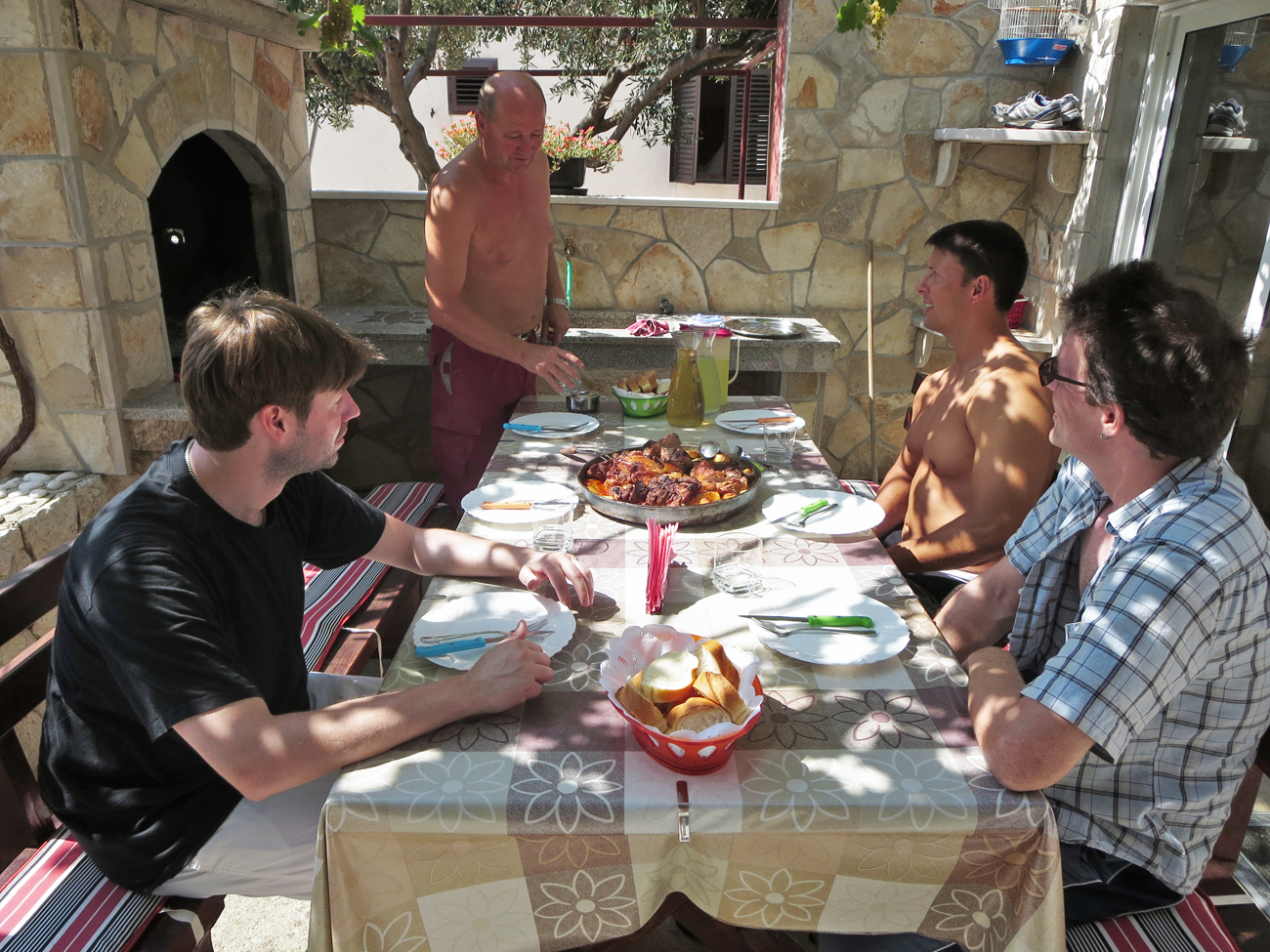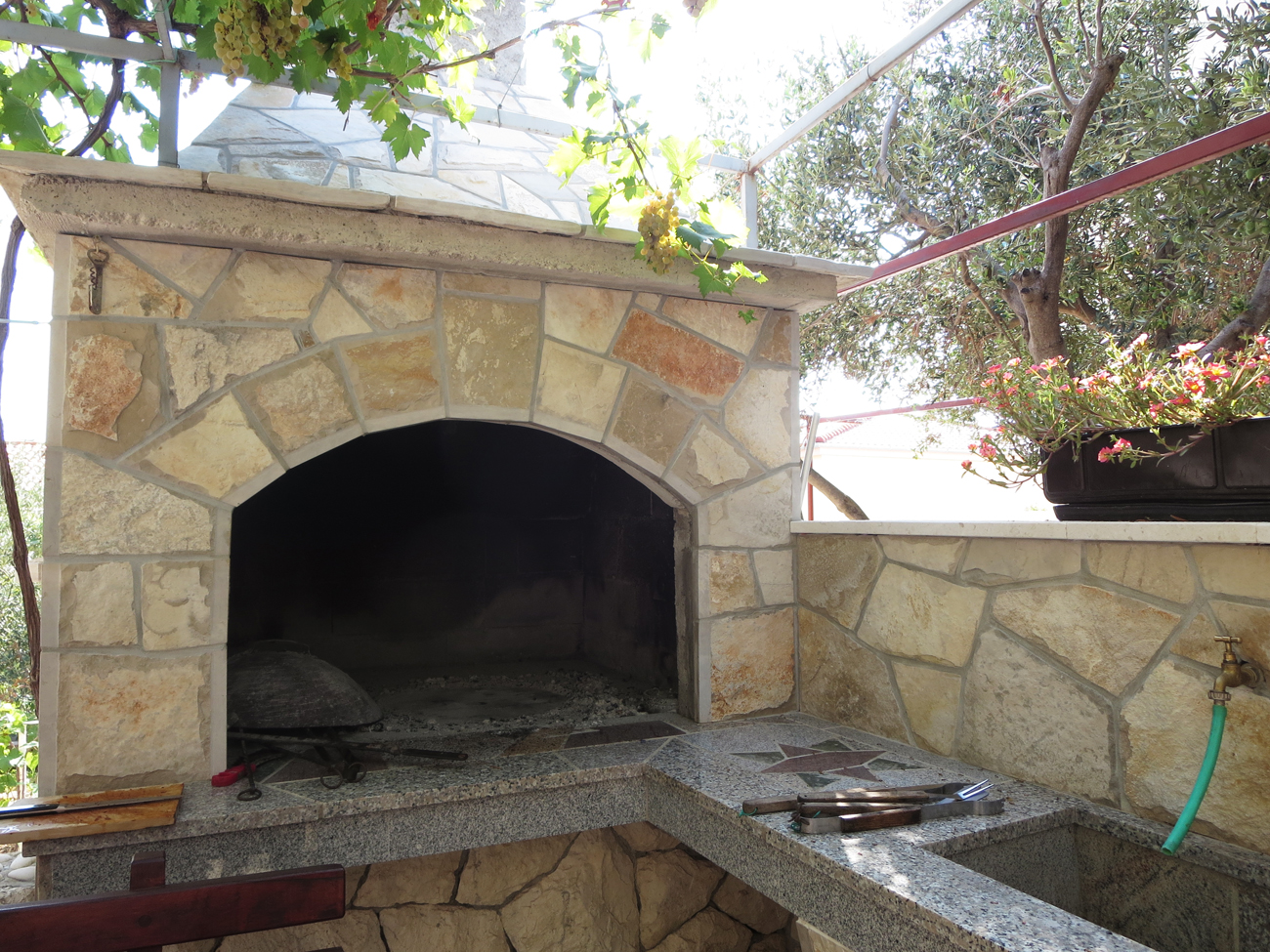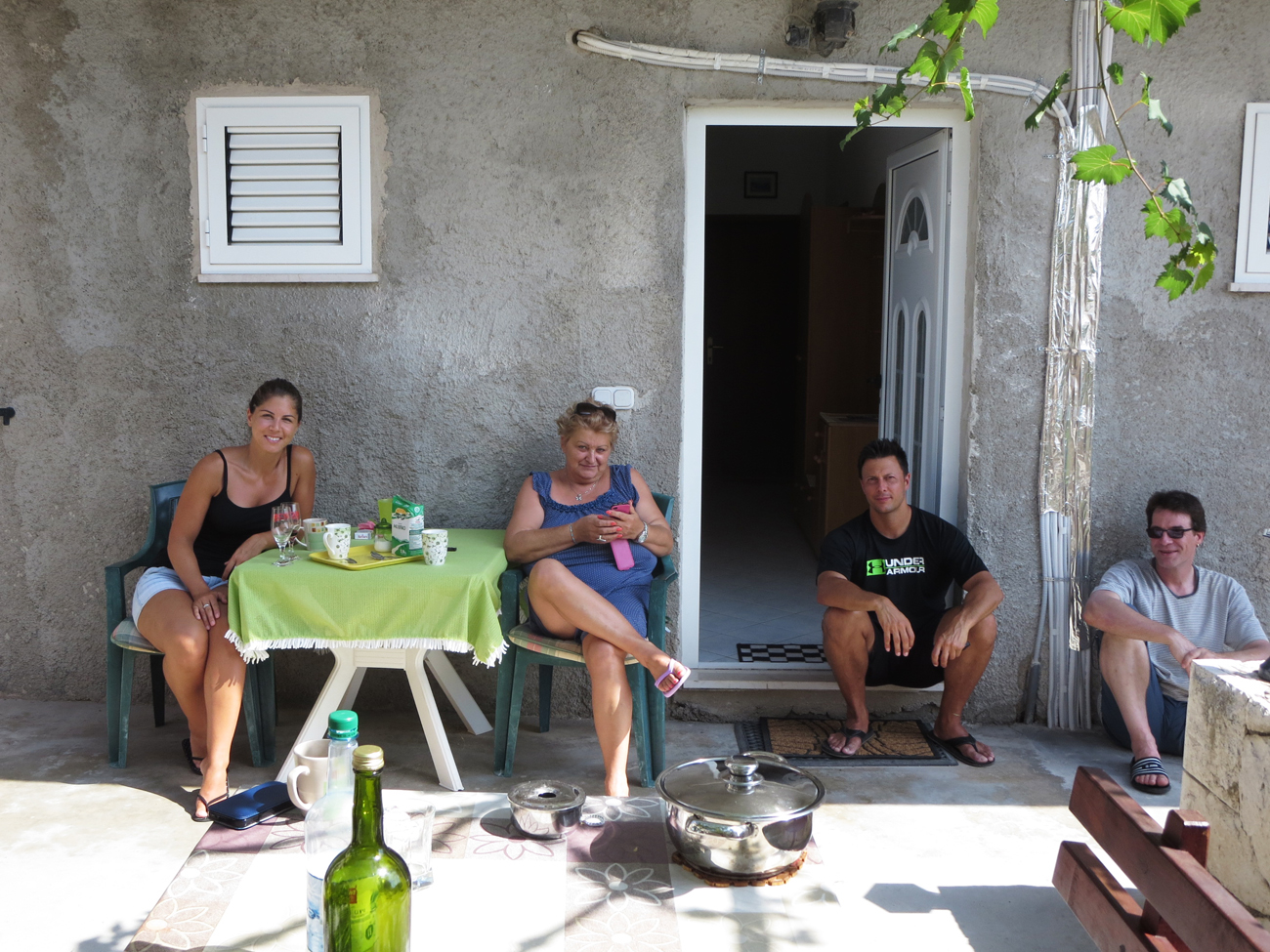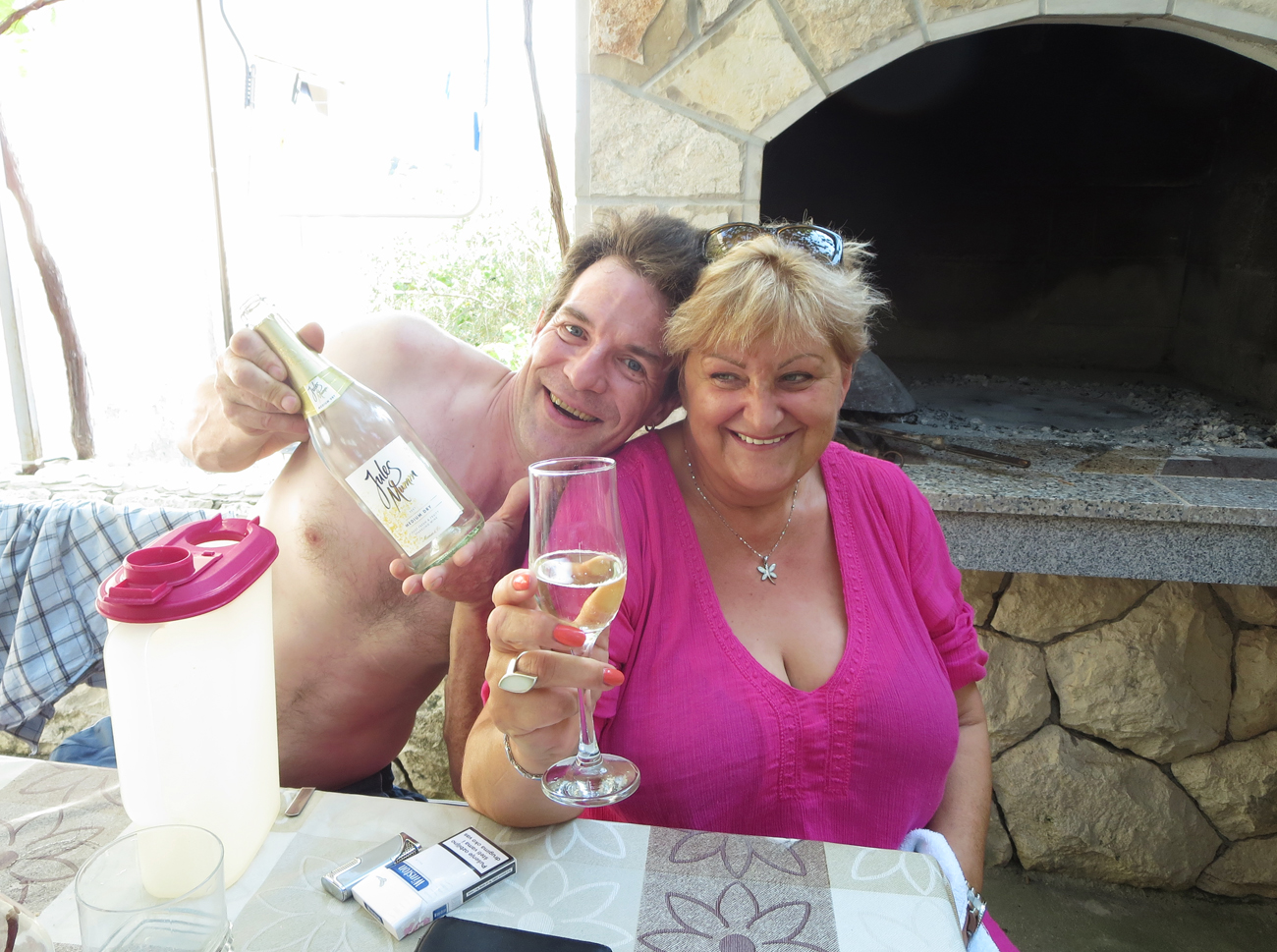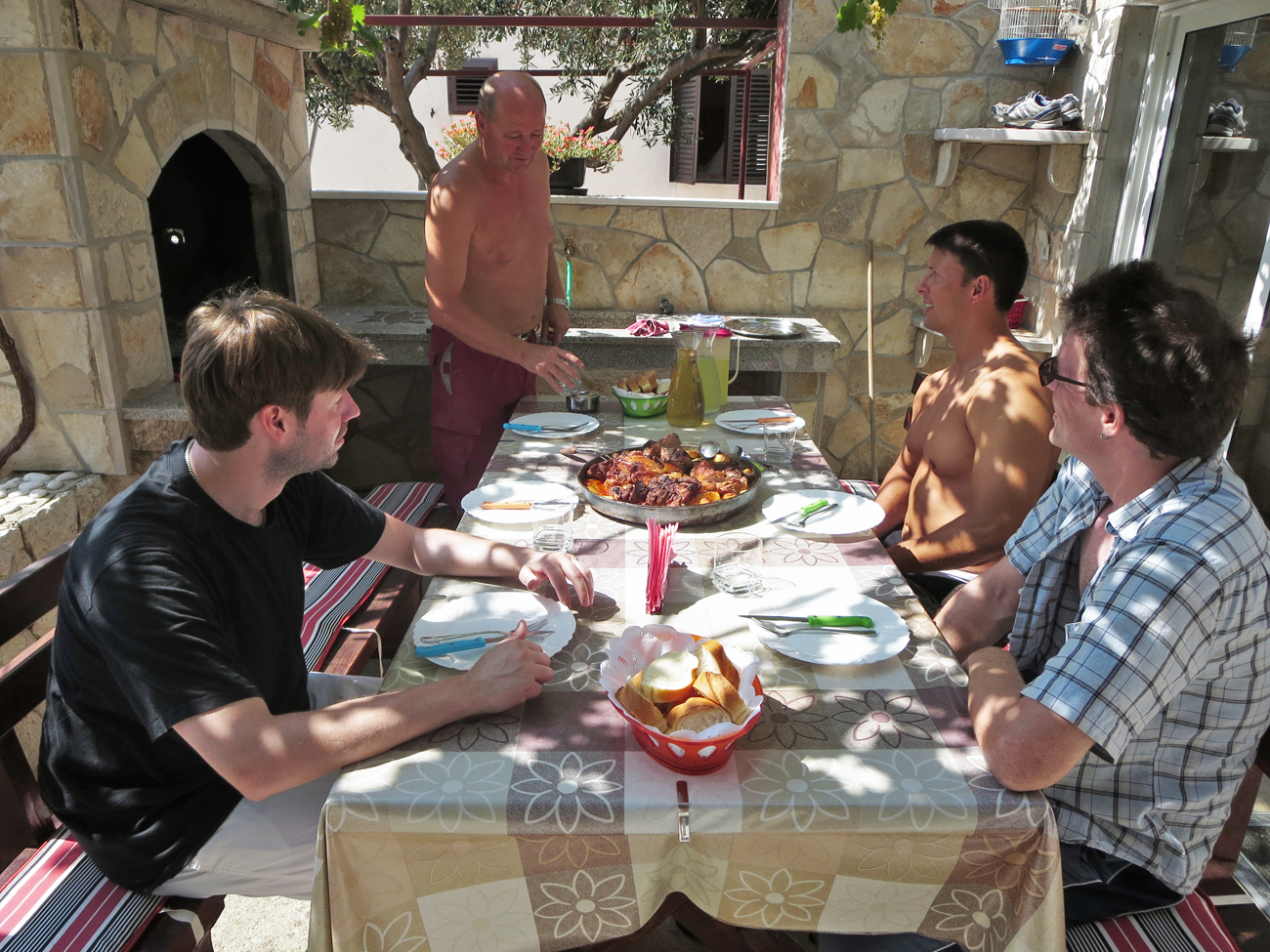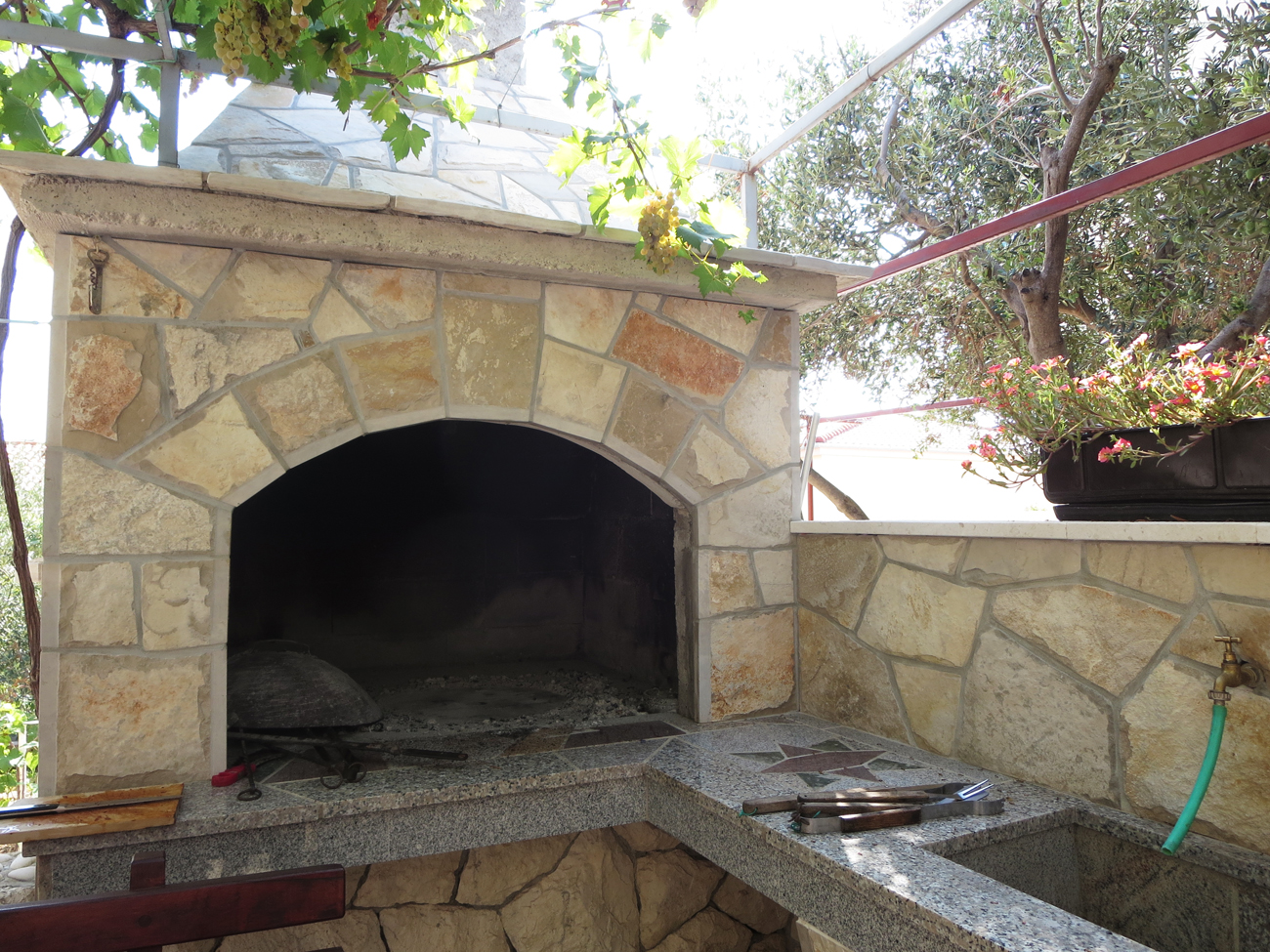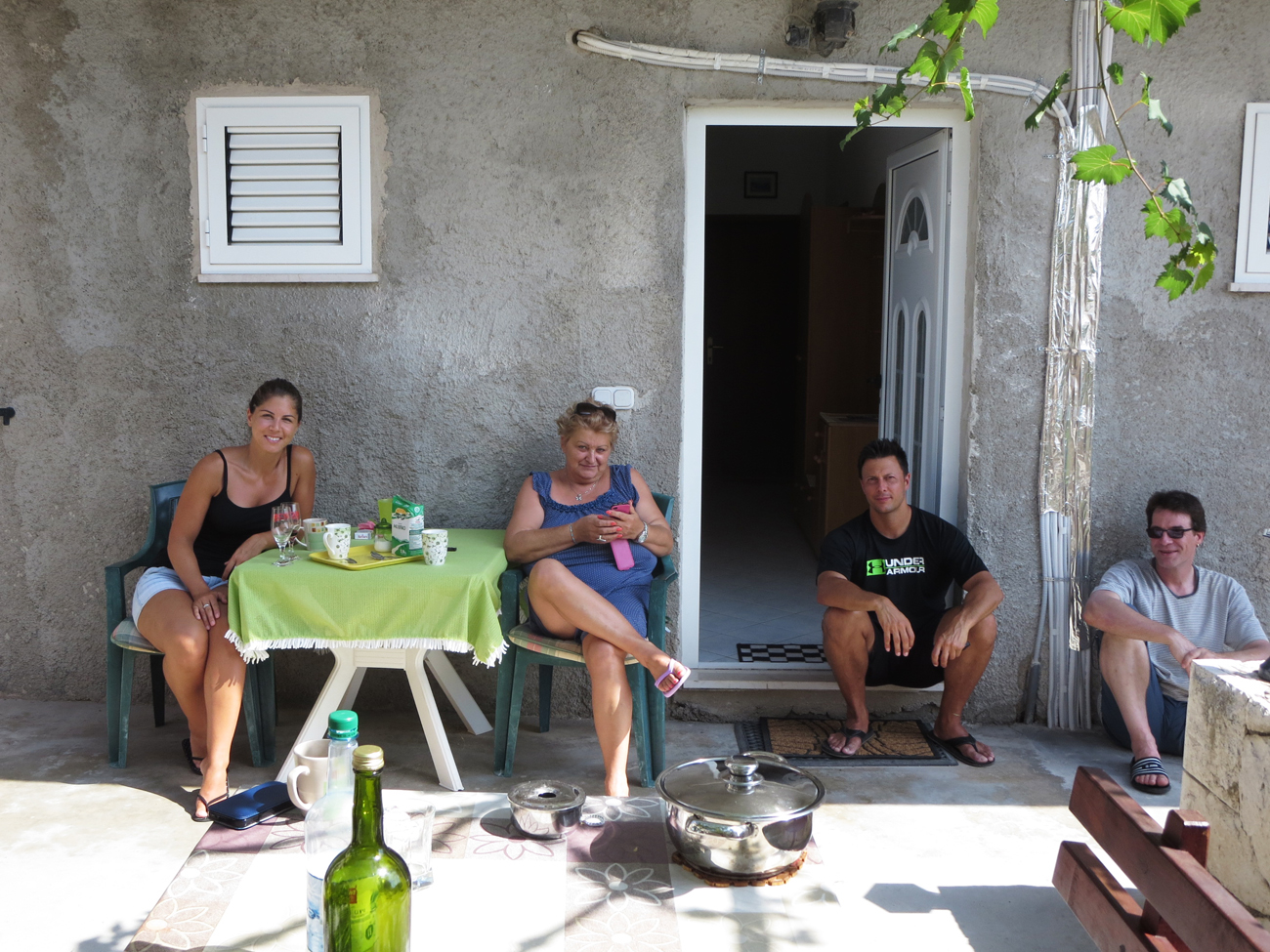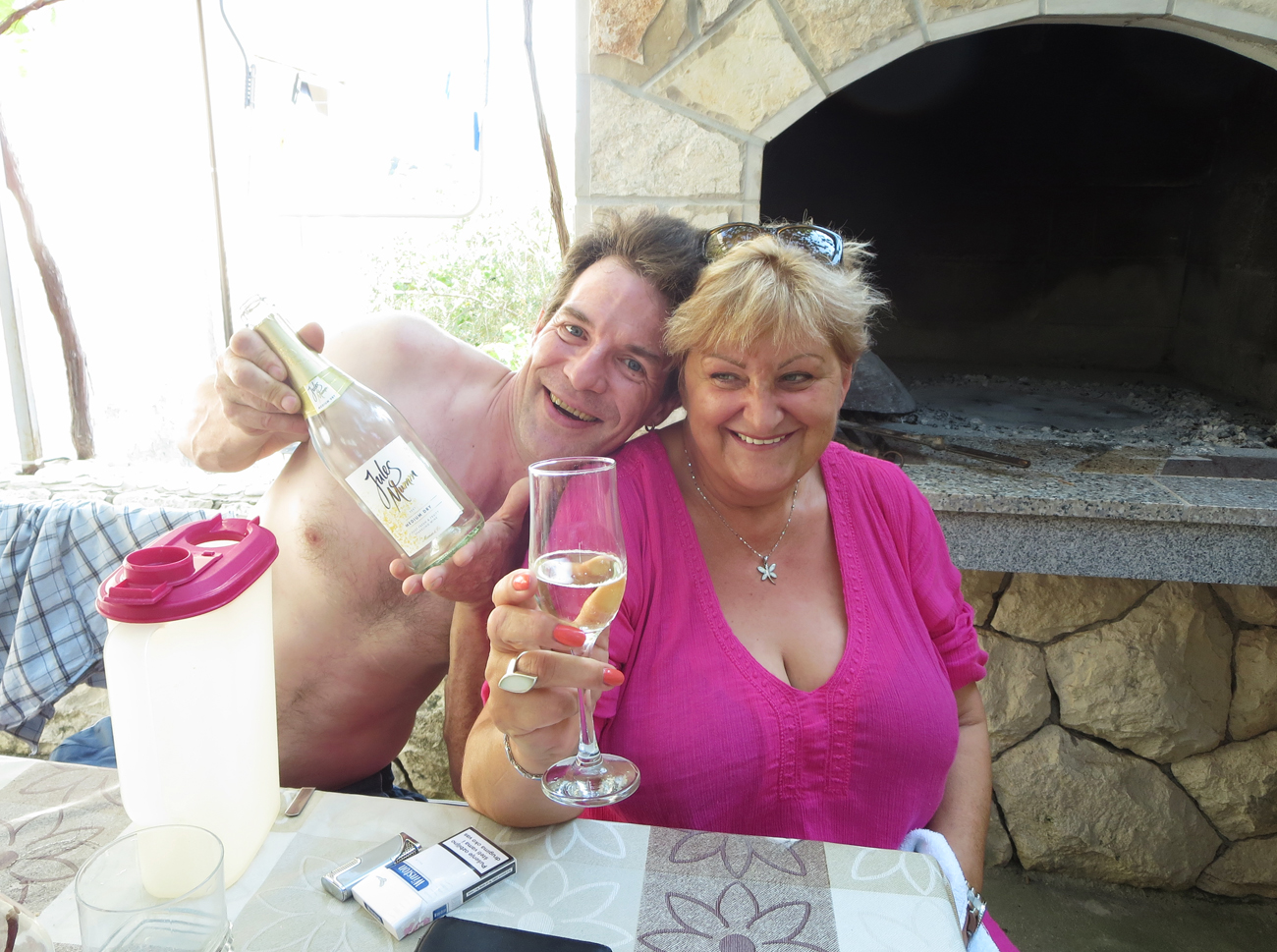 A few of us decided that it was a good idea to go for a swim so we all stumbled down the hill to reach the sea. One of the German guys slipped and scraped his leg on a rock leaving him with a pretty bloody knee, but he didn't seem to mind. The guy just wanted to keep on drinking. He was German after all.
The following day was just as sunny and beautiful as the day before. This meant that it was another relaxing beach day. As we were heading out, Smilja and Ferdo had another meal prepared for us! We couldn't believe how hospitable they were. So we joined them again. After all, how can you refuse this meal?
Our 5 days in Hvar were amazing! It's definately more crowded any geared towards partygoers, but there really is something for everyone. You can have your peace and quiet or just the opposite. Also, just the sunsets are worth going for.
VELA LUKA AND KORCULA
We were heading to the island of Korcula next. Our ferry ride was about an hour and cost very little. Once again, we booked this online. We docked in Vela Luka, which was on the very west end of the island. This town is well known for it's production of olive oil and sardine factory.
The vibe here compared to Hvar was like night and day. It reminded me of cottage country in Ontario - very beautiful but maybe a little too quiet for us. Even though it was the beginning of low season, I couldn't see this town being very busy even in the summer months. If you want to party, this is not where you want to come.
We were staying in this town for 5 nights, but we had two different hotels because we couldn't find one that was available for all 5 nights and within our price range. It was going to be a bit of a hassle, but we were used to it by now. Once we got off the ferry, we got picked up by our host and she drove us to the apartment. We found her place on AirBNB - small apartment with a kitchen, washroom and wifi and it cost roughly $45CAD/per night.
You really don't need more than 2-3 days here even if you just want to relax. To fill up our days we decided to plan day trips to two smaller islands called Osjak and Proizd.
The first day was pretty low key. We wandered around the town, ate some really good burek and of course, had great coffee.
On the second day, we took a taxi boat to Osjak. It cost 20KN ($4CAD). You can walk around the island in 30 minutes or less and it's the perfect place if you want to be away from civilization. There are no washrooms or restaurants so we had to pack a lunch. It was pretty much just us and this gecko on the island. Very exclusive.
Vela Luka is much cheeper than Hvar so we were happy about that. The average price for a beer and a glass of wine was 15KN ($3CAD). A cheap meal would cost you anywhere from $5-$15.
The following day we headed to Proizd. This island was 40 minutes away from Vela Luka which meant that the taxi boat was more expensive but not by much. Even though Proizd had a small restaurant, we brought a lunch anyway. Once we got to the beach we grabbed some chairs and then we realized that we had to pay for them. we decided to spent the $15 dollars in exchange for some comfort.
We spent the whole day here relaxing. The sea was turqoise and crystal clear.We couldn't have asked for anything more perfect.
It was time to switch apartments. We packed up our stuff and walked to our next destination. This place was closer to the town centre and the ferry port, so the location was much better. Once we got settled, we decided to rent a scooter for the day and check out the town of Korcula, which was on the east end of the island. The rental price for the scooter was approximately 128KN ($25CAD).
Here we goooo!
The drive was absolutely breathtaking. We stopped every 10 minutes to take a photo. The first stop we made was in Prizba, a small town that was suppose to have an amazing beach!
After a couple of hours swimming and tanning, we packed up and continued our little road trip! Here's a few shots on our way to Korcula.
It took us about 1.5 hours to get to Korcula because we stopped a few times to take pictures. Once we got there, we noticed that the town was livelier and not as spread out as Vela Luka. It actually reminded me a lot of Dubrovnik.
One thing is for sure - the town of Korcula is rich in history as well as Gothic and Renaissance architecture. It is also said to be the birthplace of Marco Polo, so it's worth a visit!
You can walk around the whole town in less than an hour, but once you get lost in the narrow streets exploring the hidden cafes and shops you'll find that your whole day has passed by. We packed a lunch and ate by the water, and then we decided to spend some money on a coffee. Gotta keep within the budget! ;)
We both wanted to check out the Marco Polo's house. We paid 20KN ($4CAD) to go inside and I'm not sure if it was worth it. You don't need to spend more than 10 minutes in there. As you walk up the squeaky, old stairs you can see a variety of paintings on the wall, but there really isn't much else. Once you reach the top, you get a nice view of the city and that's about it. If you miss it, it's not a big deal.
We got back on the road before the sunset in hopes that we would make it to Vela Luka at a decent time. The ride on the way back was brutal. We froze our butts off. Neither of us thought about bringing a change of clothes even though we were both aware that it was starting to get chilly in the evenings. We actually had to stop a few times to try and warm up.
After a long ride, we made it back to Vela Luka. We ran into the nearest grocery store and bought some soup hoping that it was going to warm us up. Shortly after that, we passed right out. At this point I knew that one of us, or both of us, were going to get sick sooner or later. We just had to wait and see.
A couple of days later, we packed up and got ready to catch our ferry back to Split. The ticket cost 68KN/per person ($13CAD). Unfortunately, we had to take the long way to Dubrovnik. For some reason, the ferry company cancelled their services between Korcula and Dubrovnik for all of 2015, which by the way, would have taken up to 2 hours maximum. Instead, we had to take a ferry to Split and then a bus to Dubrovnik. This took the whole day! The bus ticket cost us 104KN/per person ($20CAD) and we purchased it right at the bus station.
The beauty of this well preserved, walled city never gets old. No wonder it's known as the Pearl of the Adriatic! I've visited Dubrovnik a few times now and it's still one of my favourite cities in Croatia.
The Old Town of Dubrovnik was founded in the 7th Century by refugees from Epidaurus in Greece and is a UNESCO World Heritage site due to its historical significance. It is probably one of the most visited cities in Croatia and also the most expensive. Since the 13th century, Dubrovnik has been an important sea power and it was the only city-state in the Adriatic to rival The Republic of Venice. As soon as you cross over the drawbridge and walk through the Pile Gate you will find yourself entering an ancient city that is overflowng with amazing architecture. You can't miss the Minceta Tower and Fort Lovrijevac - an impressive structure built on an outcropping rock.
Once you're within the city walls, you will notice elegant Boroque Churches, cafes and restaurants serving top-notch seafood. Be prepared to break the bank especially if you plan on buying anything on Stradun. One thing is for sure, Dubrovnik is very expensive, so save up if you plan on visiting.
On our way down from Split, we actually had to pass through Bosnia to get to Dubrovnik which meant that we had to stop and go through passport control. The town we stopped in was Neum, which is the only coastal town of Bosnia. It is also the town where I used to spend summer vacations as a child.
Once we got to Dubrovnik, we walked a good 45 minutes to our apartment to meet our landlord. Another one of Mike's brilliant ideas. The area we were staying in was called Lapad which was a 30 minute walk from the old town. It was actually a really nice area and also cheaper than staying close to the old town. We were planning to spend the next 3 days roaming the streets of Dubrovnik before heading to Neum, Bosnia.
There's so many things to do in and around Dubrovnik but one of the main tourist attractions is climbing the city walls. Each ticket cost 100KN ($20).
The other is the Stradun (the main street in the Old Town) which is entirely made of white marble and with beautiful late-Renaissance houses on each side of street.
If you're a big Game of Thrones fan, Dubrovnik is a must see town because it was used as the main filming location for King's Landing. Some of the locations include Fort Lovrijenac, Minceta Tower, Pile Harbour, Island of Lokrum and Trsteno Arboretum (24km north-west of Dubrovnik).
We spent our 3 days in Dubrovnik in the old town. We had some great seafood, lots of coffee and took a few hundred photos. Unfortunately, on our last day Mike started to feel pretty sick. I had a feeling that our scooter adventure in Korcula was catching up to us.
The next day, we packed up and made our way to the bus stop. We were on our way to Bosnia!
Would we recommend Croatia? Absolutely! I've been a few times and I can't wait to go back. This was Mike's first time and he loved it. Even though it's probably the most expensive country in the Balkans, you can still do it on a budget. The people are also very friendly but not everyone speaks English especially in the smaller towns. Since I speak the language, we had an advantage. I also think there is more to Croatia than just Dubrovnik. If we stayed longer, I would have loved to check out Baska Voda, Trogir and a few other islands. But, like I always say: We'll just have to come back!
Here's the breakdown of how much we spent for 18 days:

Accommodations: $800
Food: $616
Activities: $147
Domestic Transportation: $230
Misc: $85
Tourist Visa: $0

Total: $1878
Daily Average (per person): $57

*Excludes one-way flight from Paris to Zadar ($90 each)
**Currency exchange 08/26/2015: $1 (CAD) = 5 Kuna
Don't forget to check out the full gallery below AND the video!